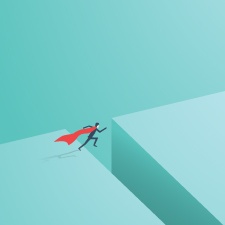 Franklin D. Roosevelt said, "The only thing we have to fear is fear itself." When I talk to wirehouse advisors about going independent, I often hear fear in their voices. Will their clients follow them? Will they get the support they need? Will they be able to pay the bills? If you have these same fears, I'm going to show you why your perception about going independent may be wrong. In fact, there have never been more options to help you make the right choice for you—and your clients.
But First, a Bit About Me (and Commonwealth)
You might say I'm biased. That's fair. I work at the largest privately held Registered Investment Adviser–independent broker/dealer in the nation: Commonwealth Financial Network®. We allow advisors to affiliate with us in the way that makes the most sense for them—offering choices from dually registered to RIA-Only. For more than 38 years, we've worked to create an environment where affiliated advisors can build the practice—and the life—they've envisioned.
Our platform includes unified, integrated technology; free practice management support; marketing assistance; and a deep bench of wealth management professionals offering guidance on retirement plans (at both the individual and plan sponsor level), investments, insurance, and advanced planning. Our more than 1,700 advisors across the country rely on the personalized and indispensable service we provide through our 2.2:1 advisor-to-home office staff ratio—because it means they can turn around and offer the same to their clients.
So, yes, I talk up the benefits of going independent—and going independent at Commonwealth—every day. And that's why I can say that some wirehouse advisors may have the wrong idea about this channel.
What You May Have Wrong About the Independent Channel
Recently, I spoke with a few advisors who made the leap from wirehouse to independence. And what they told me confirmed my beliefs.
For years, these advisors were told that the independent model didn't measure up to the wirehouse model. They were taught that their success was tied to their employer's money, marketing, research, and breadth of product, service, and support. More, their clients wouldn't feel safe away from a big-name firm.
But these advisors were also compelled to work only with ultra-high-net-worth clients (i.e., in the $50 million range), leading them to turn away many clients who could potentially benefit from their services. In each conversation, one thing was clear: the wirehouse model seemed to place shareholders first, executives second, middle management third . . . and clients last. This corporate attitude became stifling to these advisors, even toxic. And they dreamed of an environment where the client could come first—and where they could build their firms on their own terms.
A Few Benefits of Independence
As I said, these advisors held preestablished beliefs about the independent channel. But as they did their due diligence, the fears they had about technological capabilities, product choice, and the security of a consistent paycheck slowly abated as they learned about a few benefits of independence:
Clientele: Wirehouse advisors often have to turn away clients who don't meet exceedingly high minimums. In the independent channel, advisors can set their own minimums. They can work with clients with $5 million, $1 million, or $100,000 to invest. This profession is built around helping people meet their financial goals, and the freedom of the independent model allows advisors to put clients first.
Transparency and opportunity: The advisors I spoke with believe there is more transparency in the independent world about client fees. Plus, they have greater access to product options, including alternative investments, and financial planning resources than they did at the wirehouse.
Service: The service experience that they can provide to their clients as independent advisors is vastly different from the wirehouse model. Because independent advisors are in charge of staffing their own office, they can hire as many people as they like. And their staff members are equally empowered to provide a higher level of client service.
Ownership: As business owners, independent advisors are the decision makers. They manage their human capital, their benefits package, how their firm is structured, their marketing and branding, and more. It all plays in to making the firm a great place to work for staff—and a great place to work with for clients.
Succession: Last, but certainly not least, independent advisors are free to focus on growing their business over the long term, with the goal of selling, to whom they want, when they are ready to retire.
What Else Is Out There?
Change is hard. Transitioning your business, repapering your client accounts, and setting out on your own is a daunting prospect. Finding the right partner firm to work with makes a huge difference in the level of service and support that you can provide to your clients. You may want to manage your client portfolios yourself, or you may want to outsource to institutional money managers. You may want a robust technology platform that allows you to manage all aspects of your clients' financial lives, or you may want to leverage your own preferred software. Different firms can meet different needs, so keep an eye out for the firm that can support you now and as your practice evolves.
Then, ask yourself:
Do I have an entrepreneurial drive?
Do I want more control over my own business?
Do I want to create my own service model for my clients?
If you answered yes to these questions, then you need to consider transitioning to an independent firm that can help you develop the business you've always wanted. If you have worked to build strong client relationships, they will follow you wherever you go. Don't let fear stop you from reaching your full potential as a financial advisor.
Advice from Those Who Have Walked This Path
If you need more convincing that the advisors I spoke with are happy with the change they made, I'll leave you with this advice, in their words:
"Never in your career will you be able to make such a positive change in your life. If the idea has even remotely entered your head, you can change your life, the lives of your clients, and the lives of everyone around you by moving to a place of better culture and better control by going independent."
— Matt Ramer, AIF®, MOR Wealth Management
"You will wish you had done it years before. It is always the right time to go independent."
— Stephen Shipley, Cottonwood Capital Advisors
"If you move to the right firm, the financial freedom will come—like any good long-term investment."
— Jay Rubottom, CFP®, Cottonwood Capital Advisors
Are you struggling with the idea of going independent? What else is stopping you from taking the leap? Share your thoughts with us below!