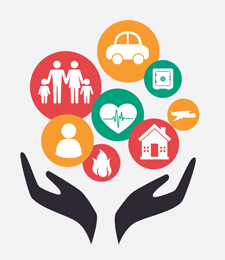 Most advisors have discussions with their clients every day about the state of the markets, their portfolios, or their retirement plans. These usually positive interactions serve to reinforce your value as your clients' trusted financial professional.
But when was the last time you had a positive, satisfying insurance conversation? For that matter, when was the last time you had any conversation about risk management? It's not a sexy topic; I get it. But it's absolutely vital to the health of your clients' financial plans.
Why You Can't Afford to Ignore the Conversation
It's easy to become complacent about the insurance conversation when the markets are performing well. But you know how much damage a bear market can do to a financial plan. An unexpected death or health care crisis has the potential to be much worse. While market-related losses can often be recouped over time, losses resulting from death, disability, and illness cannot. In the absence of an insurance policy, an unexpected death or medical crisis can be catastrophic to the family and prevent the client's entire financial plan from executing as intended.
There's a bright spot in all of this gloom, however: Although they may be reluctant to admit it, a lack of insurance, especially related to disability and long-term care, tops the list of clients' concerns. In fact, in the 2013 Merrill Lynch Retirement Study, 52 percent of respondents cited health care expenses as their biggest worry in retirement. Outliving their money came in a distant second, at 34 percent.
All of which means that your clients may very well be receptive to the insurance conversation—if you position it correctly.
Positioning the Product
To start, let your clients know that it's your responsibility to consider risk management and that it will be part of the planning process every year. Life, disability, and long-term care insurance are the primary types of insurance that most clients will need to consider, so be sure to position the benefits of these products in a way that makes the most sense for your clients.
Life insurance. If the unexpected happens, income tax-free life insurance benefits can help keep a family afloat financially. Life insurance can ensure probate-free transfers of wealth, as well as provide living benefits with access to cash values or riders designed to pay benefits in various scenarios prior to death. It can also be used as a diversification tool, offering exposure to "asset classes" that would be difficult to recreate with other investments and helping to balance out a portfolio in volatile markets.
Disability insurance. An abrupt loss of income due to an illness or injury can make it difficult or impossible for a client to cover basic living expenses. Disability insurance replaces some or all of the client's income stream, enabling the family to function even in the face of a major medical event.
Long-term care insurance. Do your clients realize that the cost of long-term care can be crushingly expensive? Long-term care expenses can erase inheritances and bequests, diverting income and assets from the client's estate to the health care system. Long-term care insurance provides an income stream to cover all or part of these expenses, protecting the client's family, finances, and legacy plan.
Having the Conversation
You'll be happy to learn that discussing risk management is very similar to discussing your clients' other financial planning needs. It all boils down to these questions:
"How do we plan so that you don't run out of money?"
"How do we allocate assets to maximize outcomes?"
Asset allocation is a concept that clients readily understand, and risk management vehicles, such as life insurance and linked-benefit long-term care policies, can play an important role in this area. These policies remain part of the client's balance sheet until needed; at that point, they contribute significant liquid assets.
From there, you can move on to questions specific to risk management, such as:
"What is your plan for your heirs upon your death? What if it is an early death?"
"What is your plan in the event you become disabled, chronically ill, or frail?"
"How can we best protect your family?"
"What worries you about your plan?"
If clients are still resistant to planning, ask, "Are these risks you're willing to take? What would the consequences be to your family and finances?" Once you know their concerns, you can discuss the most efficient ways to allocate assets to cover life risks.
Finally, be sure to present insurance solutions that are affordable. After all, it's far better to cover some of the risk than none of the risk to help ensure the health of your clients' financial plans. Partnering with a firm like Commonwealth can provide you with access to appropriate, cost-effective solutions that you and your clients will feel good about.
Do you avoid risk management discussions? What are your biggest hang-ups (e.g., lack of support or knowledge, something else)? Start a dialogue below.