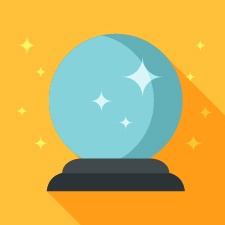 It all started a few years ago. An advisor called to talk about what he was seeing among his newly retired clients: "I work with them for a decade or two and get them financially ready for retirement. Then, I watch them retire and they aren't always happy." The advisor asked if I knew of any resources that might help clients answer the question, "Who do you want to be when you retire?"
I'm not generally at a loss for words, but I was at that moment. As soon as I hung up, my gut was churning with irrational emotions: Why did the advisor call me? Did he think I was ready to retire?
A New Perspective
This conversation really got me thinking about retirement in terms other than financial. I have occasionally heard some of my New Age friends say things like, "Put your issue out there and the universe will answer." Whether it was the universe, serendipity, or something else, in came an e-mail advertising a course on a statistically validated and reliable tool to assess retirement readiness. Well, that sounded interesting!
I soon learned that the assessment helps individuals look at retirement from several different perspectives to determine whether they've accounted for what life will be like:
Work and career in retirement
Health and well-being
Finance
Interpersonal relationships
Leisure and lifestyle
Personal development
After applying it to myself, to a number of advisors contemplating their own retirement, and finally to the "A" clients of a few advisors, I was hooked. I ended up publishing several articles on the hot topic of advisor retirement and offered value-added workshops for advisors' clients on preparing emotionally for retirement. Along the way, I've had a few "aha" moments that may prove prescient for you and your clients.
Time Is on Your Side
Baby boomers have always been harbingers of change. We fueled the proliferation of new schools in the 1950s, were key participants in the counterculture and women's liberation movements of the 1960s and 1970s, poured ourselves into our careers, and raised a generation of trophy kids. Now, we're ready to change traditional notions of retirement. Keep in mind that at 65, you still have 37 percent of your life ahead of you! Once people actually absorb what that means, they are more likely to actively plan for how they want to spend all that time.
"Retirement" Is Becoming an Oxymoron
Merriam-Webster defines retirement as "the act of ending your working or professional career." But data from Merrill Lynch/Age Wave indicates nearly 50 percent of people have worked or plan to work in retirement either in the same capacity or in a different field. Working in retirement is becoming so common that we now have nomenclature like "retirement 1, "retirement 2," "retirement 3." In fact, for some years, Mitch Anthony, author of The New Retirementality and a past keynote speaker at Commonwealth conferences, has been saying, "Retirement is an unnatural condition! Even if you can afford to retire, the worst thing you can do is withdraw completely from the race."
There is certainly an opportunity for you to continue working in your practice—assuming you remain healthy and mentally sharp, you have a legal continuity plan documented, and someone else has taken over leadership responsibilities if you're pursuing a lifestyle practice.
Letting Go Can Be Difficult
Many of us identify ourselves by our work. This passion for our livelihood serves us well while we're working, but it can present a challenge as we near retirement. In fact, in a recent Journal of Financial Planning article I wrote with Maria Considine King, "Preparing for an End-of-Career Transition," we talk about Elizabeth Kübler-Ross's five stages of grief, which apply just as much to the loss of a loved one as they do to the end of a career you've loved.
The numbers at Commonwealth certainly give credence to the difficulty of letting go of your life's work. Of 1,215 advisors who did more than $200,000 in production in 2015, the average age was 50.9, with 477 advisors in their 50s, 264 in their 60s, 55 in their 70s, and 4 in their 80s.
But do we really continue to work in our chosen field because we love it or because we haven't put effort into planning what comes next? Dan Rather, who spoke to Commonwealth advisors at our annual National Conference, has reinvented himself four times in his nearly six-decade career in broadcast journalism. His latest incarnation can be seen on his Facebook page, through which he reaches more people than ever before.
So, I encourage you to imagine feeling 10 times as much gratification from work than you do now. It might help to ask yourself the following questions:
What would you be doing?
Which of your talents would you be using?
What did you want to do when you were in high school?
Are you choosing to live on old dreams or are you creating new ones?
Find Your (New) Passion
Data shows that people are happiest in retirement if they participate in four to five specific activities they care deeply about. This includes everything from work, to a hobby, to exercise or sports, to volunteer opportunities, to going back to school.
I certainly have been guilty of not putting enough time and energy into my own outside passions, but I recently discovered Boston By Foot, a 501(c)(3) organization that offers a number of walking tours in the city. I went on all of them several years ago and enjoyed them so much that I went on all of them again a year later. I was ready to sign up a third time when it occurred to me that I should look into becoming a volunteer guide myself. From the lectures and tests required to become a guide, to the physical activity, to the storytelling, to the chance to meet new people from all over the world, I see now that this is the closest I've come so far to a passion replacement.
Imagine Your Best Self
Being your best self in the last 37 percent of your life probably has more to do with attitude than anything else. Know that preparing for retirement may take some soul searching and risk taking before you find alternative ways to use your energy, passion, and gifts. And, just like planning for your financial retirement, planning for your emotional retirement should happen long before it's time to take that step.
As for me, I'm still trying to figure out who I want to be in retirement, but I know for sure I want to be a lot more like Betty White than Archie Bunker! In the meantime, I remain passionate about my career and work with advisors, so don't expect any announcement regarding my retirement for quite a while. Certainly not until my husband and I are done paying for grad school—our financial advisor recommended that!
How do you help your clients prepare emotionally for retirement? What steps have you taken to prepare yourself? Please share your thoughts with us below!