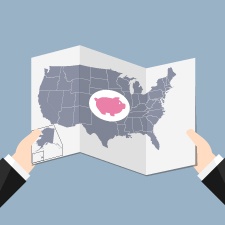 In recent years, not having enough money for retirement has become Americans' number-one financial concern, overtaking health care costs and saving for college, according to Gallup. This concern hasn't gone unnoticed by federal and state governments. We've seen the Department of Labor's (DOL's) Conflict of Interest Rule, Congress's consideration of the 401(k) in tax reform, and the rise of state-sponsored retirement plans for businesses.
No doubt, we can all agree that we've been forced to read far more than we care to about the DOL rule. The entrance of states onto the retirement stage, on the other hand, is a developing story that financial advisors would do well to learn more about.
State-Sponsored Retirement Plans
As many as 30 state legislatures have considered creating a state-sponsored retirement plan; to date, however, only 8 states have passed legislation to enact one. Maryland and Oregon are developing programs but so far haven't put a structure in place. Washington and New Jersey have formed small business marketplaces to bring together employers and retirement plan providers. Massachusetts has rolled out its CORE Plan for nonprofit organizations, though it doesn't extend to private-sector for-profit companies.
The states with the most robust efforts in this arena are Connecticut, Illinois, and California. In fact, all three require employers to offer a state or other qualified workplace retirement savings plan to employees, and each will soon introduce its own product:
The Connecticut Retirement Security plan will phase in during 2018 and cover businesses with 5 or more employees.
The Illinois Secure Choice plan will begin a pilot program in 2018 for employers with 25 or more workers.
The California Secure Choice plan will phase in over three years, likely starting in 2018. It will be based on the size of the employer. Employers with 100 or more employees will have 12 months to comply; those with 50 to 100 workers and 5 to 50 workers will need to comply within 24 and 36 months, respectively.
Despite mandating employers to offer their workers the state plan or an alternative, only Illinois will auto-enroll employees and at 5 percent of their pay. All three options will be non-ERISA plans, and none will allow for employer contributions.
Each of the three plans has implemented a default investment. Connecticut and Illinois have designated target-date investments but have yet to select specific managers. California is taking a different path. Its only investment option, at least initially, will be U.S. Treasuries. Though it's certainly prudent to offer employees a low-risk option, one wonders whether that is the most appropriate choice for workers in their 20s, 30s, or even 40s. State officials say they are looking into additional options, but this early investment restriction will surely encourage mandated employers to seek alternatives to the state plan.
The Coverage Gap
If these early-adopter states see "positive results," more states will follow their lead. But what will positive results look like? In other words, what are these state programs looking to achieve?
First and foremost, they are trying to close the coverage gap in workplace retirement savings plans. According to the Bureau of Labor Statistics, in 2017, only 46 percent of private-sector employers with 1 to 99 workers offered a workplace retirement savings plan compared with 89 percent of private-sector employers with 100 workers or more. The percentages are much smaller for businesses with fewer workers.
Of course, none of us needs an employer-sponsored plan in order to save. Each year, a worker whose employer doesn't offer a retirement savings plan can make a fully deductible contribution of $5,500 to his or her own IRA. Recent surveys have shown, however, that IRA availability doesn't replace access to a 401(k).
For example, according to findings from the 2017 Wells Fargo retirement study, employees ages 50 and older with access to a 401(k) plan have saved six times more for retirement than those without access to such a plan. That's a median of $300,000 per worker saving in a 401(k) compared with only $50,000 for each worker saving on his or her own! Moreover, 89 percent of workers ages 30 and older with access to a 401(k) plan said they wouldn't have saved as much for retirement without access to their employer's plan.
Is a State-Sponsored Retirement Plan the Best Option?
If the retirement plan coverage gap isn't likely to be closed by IRAs alone, does that mean a state or federal program is the best option? Connecticut's comptroller has asked and answered this question in an insightful way:
Do we need a PUBLIC-SECTOR solution or a PRIVATE-SECTOR solution?
A private-sector solution should be the first answer to the retirement security crisis—however, the private market has simply failed to reach nearly half of our workforce, despite their efforts. Half of Connecticut employers not offering any retirement plan said they would select a private-market option if the program is implemented—so it would actually increase business in the private market. The goal is not to compete with or replace the private market, but to fulfill a significant unmet need in the market.
Does this assessment apply to Illinois, California, and other states developing plans with mandates? "It's probably not too far off [the mark]," says Commonwealth advisor Bryan Crabtree of Crabtree Financial Services in Normal, Illinois. "If a state makes its plan simple enough, it will be attractive to some employers." But "some" isn't good enough to close the gap. And many Illinois business owners have little confidence in their state and would want control over their retirement plans.
A Private-Sector Solution
If a state option won't fly with many business owners, what might a private-sector solution look like? And where will private-sector employers turn to get advice about developing their own workplace retirement savings plans? Very likely, to their financial advisors. Here are some solutions to consider.
Because states won't be uniform in deciding which plan types will qualify as alternatives to the government options, the most likely offering will be an employee-deferral product—probably a SIMPLE IRA or a 401(k) plan.
SIMPLE IRAs require relatively little administrative oversight by the employer—other than the payroll deferrals—but they require employer contributions. Employers can choose between a 2-percent contribution to all eligible employees or a dollar-for-dollar match of the first 3 percent of an employee's deferral. If no employee defers, it wouldn't cost the employer anything to maintain the plan.
401(k) plans require more administrative oversight and input from the business owner, though they have more design flexibility and capability than SIMPLE IRAs. An employer contribution is not required, but, to take full advantage of the plan, the business owner has more options to consider. He or she can make a profit-sharing contribution or dollar-for-dollar match.
The owner could also get creative and stretch the match formula. For instance, if matching 100 percent of a 3-percent employee contribution doesn't sound attractive to workers, perhaps a 50-percent match of a 6-percent contribution—or a 25-percent match on a 10-percent contribution—would be a better incentive to employees.
A 401(k) costs more than a SIMPLE IRA to administer and implement. If the business owner is willing to cover some of the annual cost for the start-up plan—for example, $2,000 (which is tax deductible)—the cost to the business for investments and advisory fees could be kept under control. The employer might expect to see internal expenses of 1 percent to 1.25 percent.
A less attractive alternative in the long run would be to allow all of the cost of the plan to be paid internally via participant accounts. In that scenario, expenses could run closer to 2.25 percent to 2.5 percent, but there would be zero out-of-pocket cost to the business.
Good News for Financial Advisors
When it comes to the state-sponsored retirement plans, many details still need to be worked out, but the market is there. The future will very likely include a large number of business owners looking for advice regarding these and other options. Which means that, for financial advisors who are prepared, there should be significant opportunities to add both retirement plan types to the business they write. Not to mention the opportunities to manage the individual wealth accounts of the business owners whose employee retirement plans the advisors help to administer.
Which solution do you think will work best to help close the coverage gap in workplace retirement savings plans? What opportunities do you see for your clients and your practice in this space? Please share your thoughts with us below.