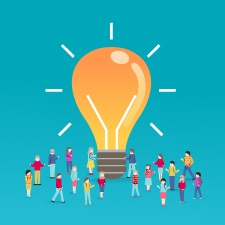 As an advisor, your hard work has a direct effect on your business. You reap tangible results in the form of increased revenue, which can be a strong personal motivator. But what about your staff? They may not experience job satisfaction in quite the same way. How, then, do you inspire them—particularly if they've become disengaged from their jobs?
If you're like many advisors, your first impulse may be to adjust an employee's compensation package. But according to a recent article in HR Magazine, "organizations that try to buy their employees' enthusiasm and commitment are likely to be disappointed." Now what?
Here, we'll discuss what you can do to improve employee satisfaction—without reaching for your wallet. It starts with understanding why your employees chose to work for your firm, plus looking at other levers within your tool belt that you can use to increase employee engagement.
Understanding Motivation
When I ask advisors what they enjoy about their work, common answers include educating their clients on financial planning issues, helping clients reach their financial goals, and inspiring clients toward a better financial path. But as an employer, when is the last time you asked your employees what they enjoy about their work? Or why they enjoy working at your firm?
Keep in mind that uncovering these motivations can be relatively easy or challenging, depending on the individual employee. But what you learn will help you better understand your staff. For example, your employees might reveal that they enjoy interacting with your clients or that they like being part of a smaller office since there's more opportunity to be involved in special projects. Whatever the case may be, once you know why your employees have chosen to work for you, it will help you identify how to improve their job satisfaction.
Improving Satisfaction
Going forward, you can use your employees' feedback to help shape your firm's policies and procedures. But here's the catch: If you find that job satisfaction is not where it needs to be, you don't want to wait until employees' productivity spirals downward before taking action. With that in mind, here are strategies that you can start implementing today in your efforts to move employee satisfaction in the right direction.
Implement a structured performance review process. If you're not doing so already, begin an annual employee review process to provide feedback on job performance. These one-on-one meetings provide a chance for the employee to reflect on his or her work and growth over the year, for you to discuss what new opportunities you have to offer, and for you both to share in past successes and future plans.
Face time with employees is also a key motivator and helps increase job satisfaction. You're likely to gain insight into what employees enjoy about their job, which tasks they want to participate in more, and what they need less of. Of course, you can't completely transform a job description, but sometimes shuffling job activities or simply rotating a particularly unpopular task among team members can do wonders to increase morale.
Share your firm's business goals. Here, you'll want to keep your production goals to producers only, but share with your staff the other business initiatives that go beyond growth. Also, be sure to educate them on how their roles contribute to the firm's overall success. Employees who feel that their work is meaningful and makes a difference to the big picture are likely to feel more motivated and engaged.
Schedule and keep regular staff meetings. At a minimum, it's best practice to conduct a weekly staff meeting. Leave space on the agenda to open up the floor for questions or concerns regarding recent cases. Let your staff know what you're working on, and get updates on the projects they're managing. These meetings are a venue for you to both listen and offer assistance where needed. But, above all, consistency is key: Hold strong to these regular meetings, even if it means rescheduling other appointments.
Add a new perk. If you've had long-tenured employees, you may struggle with how to add interest to their day-to-day duties. Why not add a different perk to your benefits, such as a volunteer day off, flexible work hours, or a telecommuting day? New perks can help reenergize existing staff, plus separate you from the pack when interviewing potential employees.
Offer professional development opportunities. Helping your employees expand their skill set is a great way to show your interest in both their professional and personal development. You might sponsor staff licensure or designations, or even offer to pay for a class at a local community college or resource center.
Ask for their opinion. Staff members are likely the first to answer the phone, so they often have a personal understanding and insight into your client base. As the front line, they are a wealth of knowledge into your clients' lives, and their opinion has value. If you use information they've provided to earn new business or help a client, let them know that they've contributed to this success.
Say thank you. If a client or vendor tells you about a great interaction he or she had with your employee, let the employee know about it and say thank you. It's important to recognize employees' contributions, both large and small.
Offer interesting projects. One major benefit of being a small firm is that you can give staff members the opportunity to put their name on a project that they might never see if they were in a larger, corporate environment. Allow them to own a project and run with it, providing guidance where necessary. Giving employees the freedom to make change that could be impactful to the business can be a huge motivator for some employees.
Engaged Employees, Happy Clients
Ultimately, a satisfied employee is a productive one. And according to Bersin by Deloitte, a research and advisory firm, engaged employees can actually have a positive effect on customer loyalty as well. Bottom line? Employees who are engaged and satisfied with their work are good for you as their employer, your business, and your clients.
How do you keep your employees engaged? Do you hold regular staff meetings? Please share your thoughts with us below!