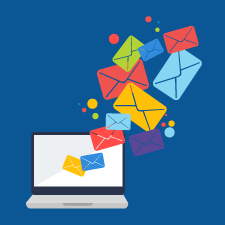 According to a Venture Beat Insight study, for every $1 you invest in e-mail, you can get $38 back. It's why using e-mail marketing campaigns remains one of the best marketing practices, especially for service-based firms. Building your brand and client relationships is imperative to your business, and sending out regular, meaningful e-mails plays a big role in that. For almost a decade, e-mail has produced the highest return on investment for marketers, so if you haven't already, it's time to put this tool to good use.
Build a Strategy
Your e-mail program should help you reach the goals you've outlined for the year in your marketing plan. If you're holding events, mention them in your e-mail. If you're active on social media, talk about it in your e-mail. Likewise, you can promote the content you share by e-mail on your social media pages.
Use your content or editorial calendar to plan out your e-mails. Think about the questions your prospects and clients always ask you, as well as their interests, desires, and needs. Fill in your content calendar with those topics and, when appropriate, incorporate your brand messaging and the unique benefits of working with you.
Choose a Design
You can pick from a variety of e-mail formats, including the following:
Company newsletter: This is the best format to use when you have a lot of information to share. If you've uploaded articles or blog posts to your website, include their headlines or short descriptions in your e-mails and link recipients directly to your latest material. When you have new team members, you can introduce them the same way, including links to their bios. You can also share office achievements (make sure the information benefits clients and isn't simply a brag fest!) or offer seasonal tips.
One-off article: Sharing just one article in an e-mail is best when you want to send advice or helpful information that doesn't appear on your website. Whether you write the content or leverage material from a third party, include a note explaining why you thought clients would care about this information.
Third party-created newsletter: This is best if you don't have content creators in house. Newsletter services such as AdvisorStream and Forefield provide articles covering a range of topics you can organize and send to clients. These services often allow you to add your logo and firm information and include a personal note on the first page.
For all e-mail formats, be sure to include your contact information, as well as links to your social media sites, so that clients and prospects can easily contact you.
Use What Works
When I first received article e-mails from my financial advisor, I thought he'd handpicked the information for me. Before long, I realized that wasn't the case. What seemed relevant was just a coincidence. He had handpicked the insights, but he hadn't segmented his e-mails to only the people who wanted them—I often wasn't interested in the content he sent. The most effective e-mails always follow these best marketing practices:
Be relevant. The more relevant your e-mail is to its recipients, the more likely they will read it. E-mail marketing campaigns have endured because personalization is possible. Your clients receive very targeted e-mails from other senders, and they expect the same from you. Use content they care about, or your messages will be deleted.
Be personal. When you share a market update because you think it's relevant to some of your clients, add a personal note. It could be about you or your office or a sentence from the update that would be the most helpful to your audience.
Be divisive. I'm not talking about sharing controversial commentary but about segmenting. Segment when you can by grouping clients based on demographics or lifestyle similarities. If you're already doing this in your CRM system, it'll be easy for you to send out different e-mails to different groups.
If you don't have the time or capacity to segment your lists, and you want to send the same newsletter to everyone, then consider categorizing content within your newsletter. Make it clear through your headers what you'll be discussing in each section, so your readers can skim over information that doesn't interest them. You could do this by noting different life stages.
Be consistent. Consistency lets your recipients know what to expect, and they're more likely to interact with what you're doing. Choose the same type of e-mail format and the same time and day of the week or month to send it.
Studies have shown an insignificant difference on how well e-mails perform based on what day they're sent out, although Tuesdays and Thursdays are commonly cited as the best, and weekends are avoided. Advice varies for what time to send an e-mail, but between 10:00 a.m. and 11:00 a.m. is most cited (in the recipients' own time zone). The early hours before 8:00 a.m. on a weekday also perform well.
Be mobile friendly. Recipients are more likely to open your e-mail on their phone, so be sure to send a test message to yourself so you can see what it looks like on different devices. E-mail platforms like Constant Contact or MailChimp have predesigned e-mail templates optimized for mobile use.
Be succinct. Subject lines with 10 or fewer characters have the best open rates. Construct your subject lines with the following tips:
Using the word "newsletter" in a subject line doesn't communicate value or relevancy, so don't do it!
Subject lines shouldn't be salesy. They should be fairly informal and friendly, suggesting interesting and useful information is inside.
Action verbs can increase the chances of a click-through; try "Get," "Receive," "Find," "Discover," "Start," "Join," "Learn," "Build," "How to," and "Grow."
If you're sharing information, lead with a statistic—numbers in subject lines attract attention.
Start Strong
Having something worth saying matters. Be compelling. Be friendly. Be relevant. If each e-mail possesses these traits, it'll increase the chances that recipients will open it, read it, and continue to open e-mails that follow. E-mail marketing campaigns can be a very effective tool to help you make connections and stay in touch with those important to you. You just need the right strategy.
Does your firm conduct regular e-mail marketing campaigns? What have you found gets the most positive reaction from recipients? Please share below!