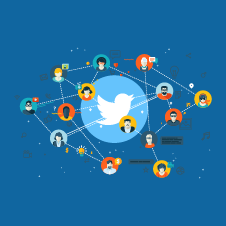 According to a new Putnam Investments survey, 83 percent of financial advisors use social media for business purposes. LinkedIn remains the network of choice, but an increasing number of advisors are turning to Twitter, and for good reason—a study by Pew Research found that 22 percent of U.S. adults use Twitter, and of those users, 42 percent access it daily. So, with your business goals in mind, let's explore some strategies for building your brand through Twitter, including how to mix types of content, build authority, and use Twitter Analytics.
Stand Out
Successful social media strategies are backed by a content strategy that serves your brand and marketing goals. Start by organizing the types of content you want to cover. Three of the most popular are thought leadership, expected content, and personal content. Given Twitter users' interest in the news, thought leadership may be the most successful for advisors, followed by personal content and, finally, expected content. Here's how to leverage each type:
Be a thought leader. Focus on content that supports what your brand stands for, and be a thought leader on this topic all year long. Your target audience should also care about this topic, and they'll feel better engaging with you because of your unique knowledge and depth in this area.
Get personal. To engage clients, prospects, and influencers, let them get to know you through personal content. Write about topics that interest you, such as your family and hobbies. If you enjoy travel, share fun snapshots and tips on where to eat or what to do. Responding to users' personal tweets is another great way to connect with others.
Share expected knowledge. Clients and prospects will expect you to demonstrate knowledge about financial planning. Fill your content calendar with answers to frequently asked questions. Craft your responses for relevance to the audience's point of view. Expected content like this won't differentiate you much from your competition, but that's okay. If you can present a unique viewpoint, do so, but this isn't a priority for this content category.
Build Authority
To position your brand as an authority, address the biggest questions your audience will likely have on topics dear to them. Demonstrate your expertise in the deepest way possible. Don't worry about presenting a unique point of view—what's important is providing relevant, useful answers through well-researched, well-written content.
Here are four ways to amplify your thought leadership on Twitter:
Tweet at least several times a week—daily if you can. Active Twitter users are far more successful than occasional users. Tweeting frequently will help you gain followers and increase engagement. According to Sprout Social, the best times to post are Wednesday and Friday at 9:00 m., and weekdays tend to have more social traffic than weekends. Pay attention to when your audience is most active.
Curate and share content that you find outside of Twitter. Display your expertise by sharing quality, interesting content from third parties. Tag authors and influencers to provide visibility.
Follow and interact with influencers. Company leaders, top brands, journalists, and industry leaders are engaged on Twitter to build their brands, get their messages out, and interact with fans. Build a list of people and brands you should follow, and regularly read, comment, and retweet their content.
Acknowledge and thank your followers, especially those who have influencer potential. Regularly engage with their content. Your brand will be in front of their audience, and they'll appreciate your interaction.
Ultimately, your content should add value to the Twitter community and resonate with your audience.
Leverage Data
I recommend using Twitter Analytics, which is available to all users of the platform. The tool gives you access to a monthly dashboard that provides a summary of your number of tweets, tweet impressions, mentions, and new followers.
Go to the Tweets section from the top navigation section to view a specific date range and detailed engagement information, such as how many likes, retweets, and replies you receive. To clarify any data point, visit the Twitter Help Center.
Custom dashboards. Determining why certain tweets were more successful than others helps you repeat effective strategies and improve engagement. I recommend creating a dashboard of your top five to ten tweets per week to see what's working. It's simple to add categories, such as content type, to your dashboard. Reviewing your data could take less than 10 minutes per week. A custom dashboard helps build your brand—with it, you have the data needed to understand your success or change your strategy.
Audience insights. Twitter Analytics offers an audience insights feature, which collects online profile information about your followers. This includes their top interests, occupation, gender, education, and marital status. Although this data is helpful, it's not highly detailed, given that topics such as "dogs" and "weather" are popular top interests. But if you combine data about top followers with statistics about engagement with your tweets, you'll know if you're reaching your desired audience.
Events information. Tweeting about trending and upcoming events also increases engagement. Twitter Analytics provides an abundance of events information to keep you on top of this angle. Be sure to take note of upcoming holidays and quirky events such as Fight Procrastination Day (September 6) or National Women's Friendship Day (September 15). A list of popular hashtags is available under recurring trends—use them often. Hashtags will amplify your brand's reach.
Give It Time
When building your brand through Twitter, make a 6- to 12-month minimum commitment to create new habits and increase your effort to make the platform work for you. Only after this period elapses should you evaluate your progress or change your course. As with many endeavors, success doesn't happen over days or weeks! You must give Twitter consistent time and energy.
Social media is always evolving, and your marketing efforts should, too. Building your brand through Twitter is the epitome of "social" media—and a fun way to connect with strangers and make new contacts, friends, and followers.
What other social media strategies has your firm used when working to build your brand? What have you found to be the most successful? Please share below!