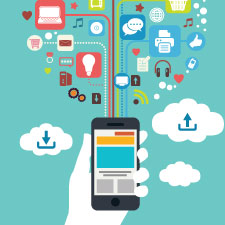 With the influx of high-speed mobile networks and the near-infinite number of Wi-Fi hot spots, we're witnessing rapid evolution in the financial services industry. Gone are the days of being chained to your office, filing cabinets, desk phones, and desktop computers. Between the ubiquity of smartphones and the rising popularity of tablets, the modern advisor is available anytime, anywhere, and through any device.
So, what are some of the hottest trends in mobile technology for financial advisors? Here, I'll discuss some of the top trends I'm seeing, as well as how to leverage them in your practice.
Videoconferencing
One trend I'm seeing is the rise of simple videoconferencing software (e.g., join.me, GoToMeeting) for remote client meetings. Whether you have a webcam-microphone combo, a tablet, or a smartphone, you're now able to easily meet with clients and share data from anywhere.
One reason this software is so popular is the difficulty many advisors face in consistently meeting with their clients. Sound familiar? Another is that e-mail communication often feels too impersonal. Videoconferencing applications for mobile devices are reliable, inexpensive, and high quality; they can also add some personal flair to your next remote discussion. You've worked hard to build and maintain trusting relationships with your clients—distance shouldn't be an obstacle in 2016. Instead, put a face to the voice and even share documents with your clients live, just as if they were sitting right next to you in a conference room.
Tablets
Although tablets have yet to replace the world of laptops and desktops, they're much more common in homes and offices today. But can they actually help your practice, or are they simply fancy toys? On one hand, it's true the vast majority of tablets out there use watered-down operating systems that can't provide the same speed, power, and flexibility of a laptop or desktop computer. On the other hand, Microsoft demonstrated that full functionality is possible with the advent of its Surface Pro devices: fully functioning laptops in tablet form that can run any Windows software.
Still, if all you need is Microsoft Office and to be able to perform functions like checking e-mails and general web browsing, devices such as Chromebooks, iPads, and Android tablets may be more cost effective.
The Cloud
You've probably heard about the cloud, but it's far more than just a buzzword for storage solutions. Today, the cloud serves multiple functions, including storage, backup automation, and even VoIP phone systems. Just imagine having a high-end phone system that connects multiple office sites, uses an automated attendant, and forwards calls to your cell while you're traveling—but doesn't have the massive overhead cost of purchasing, configuring, and maintaining a PBX (the hardware required to run a phone server).
For example, cloud-based VoIP (e.g., Skype and Google Talk) has started to catch fire with advisors, as it's a low-cost, high-impact solution that helps increase your availability to clients. Simply put, it allows you to place calls over the Internet from your business number, even if you're not physically in the office. This accessibility allows your clients to reach you at any time, in any place.
The Commonwealth Solution
In recent years, Commonwealth has made great strides in embracing the modern advisor by pushing our COMMunity Link® Mobile App (for iPhone and Android devices) further than ever before. By downloading this app to their smartphones or tablets, our advisors can:
View their business at a glance on the Home screen
Review a client's portfolio
Confirm a balance transfer
Stay on top of important alerts
Place a trade
Deposit checks by simply taking a picture of the check
Monitor the markets
On the client side, Commonwealth's Investor360°® Mobile App allows clients to securely view their portfolios anytime, anywhere. With a single tap, they have 24/7 access to their holdings information and account balances. This includes recent additions and withdrawals, as well as allocation charts to see accounts by asset class or asset category. It is a seamless way to access their information, with minimal work for their advisors.
The Mobile Office
Never before have we been able to fit such powerful devices in the palm of our hand, and this is just the tip of the iceberg. In the near future, you'll be able to walk into your office and your watch will automatically link up wirelessly with a fully equipped docking station that will greet you, adjust the room temperature to your preference, provide a quick market overview, and serve up a fresh cup of coffee. You'll move from room to room, from office to office, from country to country, being able to seamlessly link your entire world to your current location. Technological development is growing at an exponential rate, and we're about to witness an arms race for a single, unified device that can do it all.
But you don't have to wait. Ultra-high-end tablets, VoIP in the cloud, and videoconferencing on the road allow you the freedom of a mobile office. You strive every day to deliver a level of consistency to your clients, to the point that no matter where you are or what time it is, your clients will always receive the same level of quality. Technology makes this easier than ever before. With a single smartphone in your hands, you could host a videoconference with a client, grab any pertinent documents from your server, perform a full review of the client's financial status, and set your next meeting date, all from a beach or coffee shop!
What mobile technology trends have affected the way you deliver service to your clients? Has videoconferencing changed the way you run client meetings? Please share your thoughts with us below.