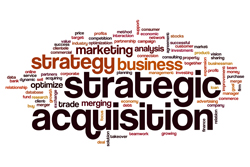 Current industry research suggests that the majority of higher-net-worth investors already have an advisor and are fairly satisfied with his or her services. This means that to gain new clients, you need to have a value-add that makes potential clients see you as someone different—and better.
In other words, you must demonstrate that you can serve as a financial coordinator, as opposed to someone who focuses primarily on accumulation. To help you do just this, I've compiled some tips that will help you set yourself apart from the competition and hone your firm's client acquisition process.
Tips for Improving Your Overall Acquisition
Make big picture improvements to your acquisition process by implementing some or all of the following steps:
Ensure that your website is consistent with your approach, as it plays a larger role than you may think in shaping your prospective clients' opinions of you. It may make sense to e-mail your website address and intake form (and any other important documents) to prospects to help them prepare for the first meeting.
Be careful about what you communicate. If you suggest that you offer estate planning services, you run the risk of alienating the prospective client's attorney, who may assume that you draft wills and other legal documents. Instead, suggest that you coordinate estate planning and income tax planning services with qualified professionals. The point is that everything speaks, and to make broad service offering statements without clearly defining exactly what you do can hinder the role you play within the relationship.
Consider charging a modest fee for financial plans. This is important for the future of your business, especially if you will be spending more time with clients who are in the distribution phase of their lives. Conversely, if you add services into your asset management fee, instead of charging separately, you compromise your ability to offer services profitably. It can also be extremely difficult to make any changes to your fee schedule in the future.
Create a financial planning pricing menu that outlines all the services you offer, as well as the cost associated with each service. This will not only ensure that you get paid for your time, but it will also let new and existing clients understand the depth of your service offerings. When researching your pricing menu, be sure to read our white paper, A Fresh Look at Pricing Your Advisory Business.
Incorporate risk management and asset protection services. Who doesn't want to protect the assets they have accumulated? You may be shocked at how receptive higher-net-worth investors are to insurance and other defensive strategies. Early in the relationship, position these strategies as if they were simply another asset class and cement them into your overall and ongoing financial planning process.
Tips for Meeting with Prospects
When you meet with any prospective client, be sure to:
Ease into the data-gathering process. Not everyone is willing to provide all of their information in the first meeting. For example, some clients may not want to provide their social security number in an initial meeting. Review your intake form to ensure that you're getting the critical data you need to do your job without jeopardizing your client's comfort level.
Take the time to find out about their existing advisor. You need to find out why prospects come to you. What has happened with their existing advisor? Why do they want to make a change? Are they leaving because of performance, lack of service, or some other issue? Understanding this will allow you to differentiate yourself from the existing advisor and capitalize on his or her mistakes. Also, don't assume the relationship is completely over. Change is always difficult, and many clients may choose to stay the course, unless you can clearly demonstrate what makes you different.
Inquire about any other professionals (e.g., tax advisor, CPA, attorney) the client works with. Find out who the primary advisor is, or if the client wants one. In addition, be sure that the client is aware that you plan to contact these other professionals. Find out how and what these professionals charge to ensure that your new client isn't double-billed for any work. And educate the professionals on your process and how you can work together to accomplish the client's goals.
Incorporate a 45-day follow-up into your process. Many clients will be inundated with statements and other materials in this time period, and they may feel overwhelmed. Take this time to reinforce the importance of having a long-term outlook and ignoring any short-term market movement.
Above all, be tactful. When you are reviewing a prospect's existing holdings, avoid making negative comments. It's tempting to want to poke holes in the portfolio a competitor has put together, but, in doing so, you risk insulting your prospective client, who may think you are challenging his or her intelligence for working with that advisor.
Tips for Working with Current Clients
Your current clients can be a great source for new client acquisition, so be sure to:
Allow clients to participate in the financial planning process. Although the majority of your clients hire you so you can take the financial planning concerns off their plates, many will still want to be involved in the decision-making process when it comes to product selection and your overall approach. Be sure to articulate that you use a collaborative approach to financial planning.
Don't focus solely on providing low-cost solutions. If you consistently focus on low-cost products, it follows that the client will end up viewing you as his or her largest expense. Expenses are an intricate part of many decisions you make, but they should not drive the results or heavily influence your ongoing client communications. Take the time to point out the transparent and nontransparent compensation of the underlying products—not to mention the fee you receive. Because some competitors make it difficult to find overall cost, this will help put your client at ease.
Our industry has seen a decided shift in focus from accumulation to coordination. Your client acquisition process will need to evolve to keep up with this shift, so you can continue to set yourself apart from the competition, obtain quality clients for your advisory business, and better position your practice as the ideal place for long-term client relationships. These strategies give you an excellent starting point.
Do you have any other tips for acquiring new clients? What has been particularly successful for you and your firm? Share by commenting below.