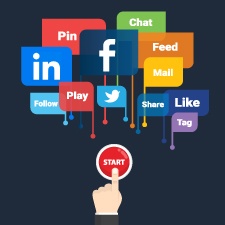 Love it or hate it, social media is a great way to differentiate yourself and connect with clients and prospects. You no longer have to rely solely on phone calls and in-person meetings to connect. Now, you have the option of simply writing something that has the potential to make an impact on many people at once. Think of the possibilities!
Whether you're just testing the waters of social media or use it frequently, the tips I've compiled here will help you in developing an effective social media presence across platforms. Before diving in, let's take a look at just who is using social media today.
Survey Says
According to the Pew Research Center, 69 percent of all American adults use some form of social media, mostly on their mobile devices. Among those with an income greater than $75,000, usage has jumped significantly from 7 percent in 2005 to 78 percent in 2016. The chart below breaks down popularity according to demographics and social media site.
Social Media Usage Among U.S. Adults
| | | | |
| --- | --- | --- | --- |
| | Facebook | LinkedIn | Twitter |
| Men | 67% | 28% | 21% |
| Women | 69% | 23% | 21% |
| 18–29 years | 88% | 34% | 36% |
| 30–49 years | 79% | 31% | 22% |
| 50–64 years | 61% | 21% | 18% |
| $75K+ income | 76% | 45% | 30% |
Source: Social Media Fact Sheet, Pew Research, January 2017
Facebook: Most Popular
With nearly 70 percent of U.S. adults using it, Facebook is the most popular social media platform. Given this large audience, consider these tips on what to post:
Visual and interactive content has the highest engagement (e.g., photos and videos).
Third-party links help share interesting and informative articles and blogs that your audience may not know about.
Posts about community events and giving back programs can help build relationships with people locally.
To encourage engagement, write posts that answer questions you've received, create polls asking your own questions, or showcase a more personal side with "behind-the-scenes" scenarios at work. Perhaps most important, respond to comments personally—use names, show empathy, and connect with your followers directly.
Measure your results. Be sure to pay attention to the number of likes and shares you receive to keep a pulse on your activity. The tone of comments and topics can shed light on what type of content is succeeding.
LinkedIn: Most Professional
Although only 25 percent of U.S. adults use it, this platform provides a professional environment where users share their work experiences and expertise, and the site encourages networking. To present your best professional self on LinkedIn, here are some tips you might try:
Publish your own articles directly on LinkedIn.
Distribute informative pieces for your target audience that demonstrate your expertise.
Showcase professional highlights, changes in your business, and awards you've received. LinkedIn makes it very easy to share images, preapproved videos, and presentations, and then save them to your profile.
Measure your results. You can gauge what content people liked best by the number of likes, comments, and shares you receive. You also have access to page views, which speaks to a heightened awareness. Remember, the number of connections you have on LinkedIn indicates the size of your network—and your influence.
Twitter: Most Timely
Twitter lets you deliver news and information instantly, allowing users to interact with their audience in real time. It's also a great way to reach potential millennial clients, as the site is more popular with younger Americans than it is for people older than 30. Another useful way to use Twitter is to follow local companies to learn what's happening with them and to take advantage of opportunities when they have events or changes to their business.
When it comes to making connections on Twitter, keep the following tips in mind:
The best content is concise and includes relevant hashtags.
Sharing links to original articles with a short caption works well, as does asking questions and posting polls.
Communicate timely information (e.g., news or comments on trending topics), and add images to attract attention and increase engagement.
Retweet posts and reply to comments so you can personally connect with people you follow, as well as with your followers.
Measure your results. View your stats: likes indicate a tweet's popularity, whereas impressions measure how many people saw the tweet without engaging with it. A retweet of your post circulates your content to new people and builds brand awareness, while replies indicate that your followers are invested and engaged.
What's Your Strategy?
A content marketing strategy is a fancy name for a plan that focuses on creating and sharing content that is valuable and relevant to your defined audience or brand.
Be a go-to resource. Your strategy should make clear that you care about your audience's concerns and that you are a go-to resource for answers.
To create an education-based content strategy, ask yourself the following questions:
What's top of mind for your clients and prospects?
What questions do you answer most often?
Can you find opportunities to differentiate yourself?
Celebrate others. Recognize clients, friends, and peers when good things happen to them by sharing their news on social media. Tag individuals on your posts, and those individuals will likely share or like it, which means more exposure for you. Plus, it will build your personal brand as an appreciative, enjoyable person to work with.
Highlight community involvement. If you are sponsoring a charity event or taking part in a giving-back activity, talk about it! Post before the event to generate interest, and include photos to describe it. Tag people and businesses involved to reach a larger audience. Finally, be sure to write about it during and afterward, sharing photos, quotes, and personal reflections.
Where to Begin?
Once you figure out what your content strategy looks like, where should you begin? Here are some simple tips for getting started.
Create an editorial calendar. A schedule can help you stay organized and ensure that your actions are aligned with your business priorities. Here, you might include seasonal topics and holidays throughout the year, which will also provide content inspiration and increase engagement with followers. Of course, some posting will be ad hoc—don't hesitate to mix things up when the inspiration hits!
Take stock of your personal content. What would prospects see if they googled your name? Your LinkedIn profile would likely be a top result, as would your biography page on your website. So, it's extremely important that these sites be accurate and intriguing. Keep in mind that social media can help stack search results in your favor, as well as provide personal information that you want prospects to find. Take a minute to search right now to ensure that your message is consistent, engaging, and informative.
Focus on Your Objectives
If you're not using social media actively now, I encourage you to choose one platform, and focus on these tips to use it effectively. Make a commitment to do it consistently for 6 to 12 months, and then evaluate your results. If you've improved your social media presence, you can decide whether to continue making the same investment—or to add another social media tool to your list.
Regardless of where you are in the process, be clear in your objectives. Do you want to increase your brand presence? Be perceived as an industry leader? Are you actively trying to generate leads? Once you define those objectives and devise a plan to achieve them, you will be well on your way to social media success.
Do you keep an editorial calendar to help keep your social media activity organized? Which social media platform do you prefer to reach clients and prospects? Please share your thoughts with us below!