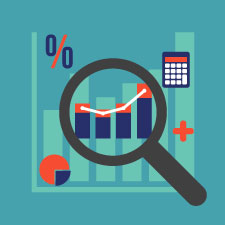 In the process of helping your clients along the path to financial security, have you started using retirement income calculators to help set goals? If so, you're not alone. After all, the simplicity of entering a few assumptions about the future, and then receiving a numeric panacea to your clients' financial concerns, is very appealing. Further, the manufacturers of today's calculators try to differentiate their products by providing additional calculations and fancy reports. But it's the math behind these calculators that is the driving force, and the formulas rely entirely upon the assumptions that you supply.
With this in mind, let's take a closer look at some common assumptions and how they should be considered when using retirement income calculators.
Garbage In, Garbage Out
Calculators can certainly be effective. But the danger lies in providing incorrect values for your assumptions, which could wildly affect calculations. Let's examine the most requested assumptions and what can happen when they are inaccurate or incomplete.
Inflation estimate. The historic average puts inflation around 3.5 percent. This is correct over an extended time frame, but longer periods of higher (late 1970s) or lower (early 2000s) inflation have certainly occurred. And even a small difference in the inflation assumption can result in significant increases to your client's retirement savings need.
Retirement need. Many calculators default to a need of around 80 percent of one's salary prior to retirement. Although work-related expenses will decrease or stop at retirement, what about the cost of the fun things? For book aficionados and Sudoku fans, 80 percent of salary may be sufficient, but this won't be true for travelers and adventurers. And this estimate likely would not be enough for the not-so-fun needs either (e.g., medical expenses).
Investment returns. Long-term historic averages for investment returns have certainly been calculated, but these estimates may mask periods of over- or underperformance.
A difficult economic or market environment at the outset of retirement is a real-world scenario experienced by many.
After years of plugging "average" historic returns into calculators to produce an estimated figure for investment returns, what do you tell these retirees if and when their portfolios take a beating?
Life expectancy. Actuarial tables provide guidelines based on date of birth, gender, and other factors. But highly variable factors like medical history can drastically affect this assumption. Simply put, no one can pinpoint an individual's date of death.
Clearly, determining precisely how much money a client will need to cover the costs of retirement is a daunting task. It is made more difficult by reducing data input to a handful of seemingly simple assumptions.
What's the Scenario?
When it comes to retirement goals—when defined by retirement calculators—the following must be kept in mind:
At least annually, it's crucial to revisit a client's scenarios and to incorporate changes.
It is essential to examine multiple scenarios based on a variety of assumptions.
Instead of entering your best guesses to calculate only one result, what if you entered the most conservative values into the calculator? Then, what if you ran a calculation with the most aggressive assumption? When completed, you would have bookends and could determine a range of possible outcomes within the high and low estimates. This would allow you to better prepare by making the appropriate adjustments.
Assumptions Make a Difference
Commonwealth offers our advisors access to more than 20 retirement savings and distribution calculators, including a retirement planner financial calculator. I used this calculator to demonstrate the effect of various assumptions for a married couple with the following information:
Current ages (husband and wife): 45
Retirement ages (husband and wife): 65
Annual household income: $75,000
Current retirement savings: $250,000
Preretirement rate of return (ROR): 8%
Percentage of income to contribute: 10%
Annual salary increase: 2%
The following table considers two different sets of assumptions, which will help better define a range for our confidence interval:
As you can see, the differences in assumptions between Scenario A and Scenario B are not drastic. But when values are entered for each scenario, the results are rather compelling.
Scenario A. Here, the plan is right on track to reach the couple's goal. In fact, at the end of an 80-year life expectancy, this path would provide a surplus of approximately $345,000, which could be left to heirs or charity.
Scenario B. This scenario, however, shows our couple running out of money before they reach the end of their lives. In fact, they would be broke around age 80, leaving nearly 10 years of life left.
To achieve the goals in Scenario B, the retirement planner calculator encourages us to do one of the following:
Increase annual retirement contributions to around 38 percent of income
Increase preretirement ROR to 11.4 percent
Reduce required income at retirement to 52 percent
Delay retirement until age 74
Although any of these solutions would help our preretirees reach their goals, all are rather severe. Clearly, the above illustration shows how a few small differences in assumptions can be exacerbated in the calculation over time. But, more important, calculating both scenarios will enable you to establish a working reference range with your clients, which you should revisit annually.
Goal Calculations
No calculator can be clairvoyant, of course. But you can maximize your clients' chances of living comfortably in retirement by habitually reminding yourself of their goals and regularly putting in the effort to achieve them. Understanding the limitations of the assumptions behind retirement income calculators is the first step in properly leveraging these tools. Despite the calculator's shortcomings, it is still a fantastic tool to help plan and test different retirement outlooks.
Do you use retirement income calculators in setting retirement goals for your clients? Do you think they produce accurate results? Please share your thoughts with us below.
Source: Tresidder, Todd, "Can You Trust Retirement Calculators?" http://www.advisorperspectives.com/dshort/guest/Todd-Tresidder-Can-You-Trust-Retirement-Calculators.php, August 2011