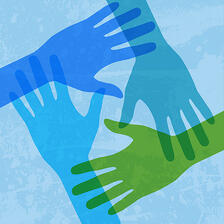 It's no secret—strategic alliances for financial advisors can help catalyze business growth.
Uniting with CPAs, attorneys, real estate agents, and other professionals can add value for existing clients by allowing you to offer more comprehensive services, as well as help you generate referrals for new customers. In short, you can tailor these partnerships to form a unique win-win-win relationship.
Where should you start? What might be ideal strategic alliances for financial advisors? Here are five steps to help you begin this process and ensure that you generate the "right" types of leads for each other.
1) Think Creatively When Building Your Network
Consider who can give you appropriate referrals for your business. For example, if you're looking for affluent individuals in a specific region, team up with a real estate agent who can tip you off when new homeowners move into high-end neighborhoods.
Remember the adage "leave no stone unturned" and go beyond the obvious partnerships—CPAs, attorneys, insurance agents, and the like. Consider approaching alumni groups, retired advisors, charities, headhunters, general contractors, high-end spas, religious groups, consultants, and any other professional who reaches your target market.
2) Present to Prospective Partners
Now that you've decided whom you'd like to partner with, it's time to take action. Research their business and industry, as well as what's unique about their work.
When you meet with prospective partners, clearly describe your target market and ideal customer. After seeing that you're marketing to the same pool of people, they will be persuaded to join forces. Next, illustrate how the relationship will benefit both of you mutually—and how a formal arrangement can potentially increase their revenues over time.
Some professionals will have concerns about losing control of their client relationships. Assuage these fears by discussing your consultative wealth management services—and how their services fit into your comprehensive approach.
3) Determine the Relationship's Structure
You may prefer to form a loose agreement with your business partner. For example, you may decide to refer each other whenever possible. On the other hand, you may decide to create a more formal referral fee-sharing agreement. Commonwealth offers the Commonwealth Alliance Program (CAP), a turnkey structured approach that coordinates professionals in multiple disciplines to work with Commonwealth's Investment Adviser Representatives. You and your partner will negotiate the exact fee.
4) Set Up a Referral-Generating Machine
Once you've formed the alliance, put it to work with strategic marketing campaigns. For example, create marketing materials specifically for your partner's clients. Promote each other on your websites. Introduce your partner to your clients with a letter or postcard. Research different marketing techniques to promote your strategic alliance. Track your efforts, measure successes, and pinpoint what works.
5) Plan for Ongoing Communication
Creating a successful strategic alliance takes patience and consistent effort. To ensure that you keep each other top of mind, create a plan for communicating consistently. You may schedule a meeting every six months, call each other every two weeks, or reach out via e-mail more frequently. No matter what you decide, dedicate that time to nurturing your alliance and improving your efforts.
Strategic alliances for financial advisors won't succeed immediately—they require consistent efforts and nurturing over time. With smart and persistent teamwork, however, you can add value for clients, reach new prospects, and even generate additional revenue. Pretty powerful, don't you think?
Are you a part of a business partnership? What challenges and benefits did you experience when forming this alliance? Comment below to share your thoughts.