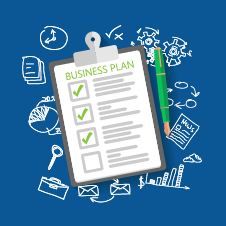 Yogi Berra put it best when he said, "If you don't know where you're going, you might end up somewhere else!" The business planning process is a necessary part of managing a firm, as it helps you create a vision and foundation for your practice's growth and provides an avenue for continuing to elevate your firm over time. In fact, firms that have a written plan may grow up to 30-percent faster than those that don't have one. Still, many tend to overcomplicate the process. Here, I'll share strategies to help you create and stick to a plan that works for you.
Simplify Your Approach
Business plans get a bad rap. They're usually too long—often 50–60 pages. What's more effective is a business plan that's just one to two pages that articulates the values, vision, and goals for your firm. Focusing on only this content will be more useful and manageable.
Prepare to Plan
Before you can plan for your practice, you need to think big picture. What's going on in the world, the economy and stock markets, the financial services industry, and, of course, with yourself? Jot down what could occur over the next three years that would affect you, your practice, and your clients. These assumptions will provide guidance for planning for the future.
Next, assess your organization. A SWOT analysis could help you identify what to focus on. Be realistic as you brainstorm both internal strengths and weaknesses as well as external opportunities and threats. If you work on a team, have others complete this exercise on their own, and then come together to share your findings. You may learn that what one believes to be a weakness, another views as a strength. Such a discrepancy could uncover ideas you wouldn't have come across by yourself.
Get Personal
When working on your business plan, it's important to consider your vision and who you are as an individual. While it may seem counterintuitive to include your personal life in your plan, if where you see yourself heading doesn't align with your business vision, one of the two won't work out.
Ask yourself, "What will my firm look like in the future? What would I want anyone who knows our practice to say about us and what we do?" Aim to keep the business vision to two or three sentences. This can be the most difficult portion of the business planning process, so don't get discouraged if you need time to perfect it. Use your vision as a guide when working on the rest of your plan and setting goals. If your goals don't align with your vision, you'll need to change them.
Create Strategic Directives
A major pitfall to creating a business plan is jumping directly to goal setting and skipping creating strategic directives. A goal of adding five new "A" clients to your practice is great, but if you haven't thought through how you'll add these new clients, the goal becomes just a statement.
Strategic directives represent how you'll arrive at your business vision. Ask yourself where you want to take the practice and how you will get there. When brainstorming, think about these questions:
Who are your ideal clients, and what are their hot-button topics? What makes you the best advisor for them?
What is your service model, and why does it work for your ideal clients?
What does growth for the firm look like? (Note: This isn't just about revenue growth but rather the overall growth of your practice. Will you need to hire staff? Another advisor? Additional branches/locations?)
What is the financial performance of the firm?
Work SMARTer
After you've recorded your directives, you can set goals. Brainstorm as many potential goals as you can think of in three minutes. When time is up, decide what needs to be done over the next year, and select the most critical goals. Then, choose three to seven of these goals, and put each one through the SMART format:
Specific: Is this goal specific, simple, and sensible?
Measurable: Is this goal measurable, and can you monitor progress?
Actionable: Is this goal something you can put into action?
Realistic: Is this achievable given the parameters you've set?
Timely: Does this goal have a set timeline that's both realistic and flexible?
Ensuring that each goal fits this format helps you maintain positive momentum toward your business vision. Find ways to increase accountability to keep yourself on track. If you included staff members in your SWOT analysis, keep them involved in the goal-setting process. You'll create a unified vision across the practice by doing so. Employees often play a limited role in increasing firm production, so they may not see the direct impact their daily tasks have on the firm's success. Go one step further and delegate responsibilities tied to achieving your goals to staff members who are a part of the process. Set dates to check in and monitor progress. Increasing communication and idea sharing will also increase overall buy-in.
Execute and Monitor
Create a progress chart listing each goal, who is responsible for what task, and deadlines. Store it where everyone involved can access it, and hold quarterly meetings to discuss what's working and ways to fix stalled progress.
One of the most overlooked pieces of the business planning process is making time to work on the business, not just in the business. One advisor I've worked with sets Fridays as her "CEO day," giving her the full day to focus solely on the business. Another idea is to make the most of upcoming conferences and events by revisiting your business plan before you go. Look at the agenda, choose which sessions you'd like to attend, and write down what you hope to take away from each. Before you leave the conference, revisit your notes, and using one or two short sentences, write down how you plan to implement key takeaways from the sessions you attended.
Revisit Annually
Revisiting your business plan each year is imperative to the business planning process. A carefully thought-out business plan can act as the groundwork for establishing your values, vision, and goals. Plus, it can help to highlight what's working well, what needs to change, and how to prepare for the future—so you can get from where you are to where you want to be.
How has the business planning process helped your firm to grow? What have you learned along the way? We'd love to hear your thoughts—please share below!