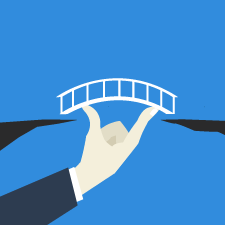 On January 13, 2018, at 8:07 A.M., residents and visitors in Hawaii picked up their beeping and vibrating cell phones to an ominous text message: a ballistic missile was heading right for them and they should seek immediate shelter. It would be 38 minutes before emergency personnel notified island inhabitants that the alert was sent in error.
The Hawaii Emergency Management Agency identified numerous breakdowns that cultivated the environment in which a wayward alert could occur. Because of a poorly drawn-up business continuity plan, there was no "false alert" code that could be sent in the case of an erroneous message. Agency administrators never prepared for such a situation.
What about you? Do you have a well-thought-out strategy that will allow your advisory firm to respond effectively to potential business disruptions?
No matter the size of your business, it's important to consider how any disturbances might affect your physical location, your staff, and your clients. By addressing these critical segments with the appropriate questions, you'll improve the effectiveness of your business continuity plan.
Your Physical Location
What would be the impact of multiple systems going down simultaneously? What would happen if you and your staff didn't have physical access to your office? How long could you provide services to clients?
Have you evaluated the impact of losing the services of any third-party vendors? How quickly could you retain the services of a new telecommunications vendor if necessary? What third-party vendors are critical to your business, and how would you operate without their support?
What are the physical documents within your office that have not been, or cannot be, securely archived? What would the impact be if you lost access to those documents? What steps can be taken now to prepare for that?
Can you conduct business from a satellite location? When did you last inspect that location?
How often do you test the capabilities of emergency or backup computers? Do you regularly update the software applications and virus definitions on these machines? Are these computers in your main office or at another location?
Do you check whether office smoke detectors, fire alarms, fire extinguishers, and AED machines are functioning properly?
Your Staff
How would you communicate with staff during an emergency? When did you last update your staff's emergency contact information?
Who are your key employees and what would happen if they left your company or couldn't get to the office? What are the critical functions and processes that are performed, and who performs them? Have enough staff been trained to carry them out effectively?
Have you prepared for an accident or serious injury within the office? Are any staff members trained in life-saving techniques? Is their training current?
Have you prepared your staff in the event your office needs to be evacuated? Have you chosen locations where staff can meet up? What happens if a staff member isn't accounted for?
Your Clients
What critical services must be delivered to clients? What are the consequences of disruptions to those services? How would you restore them?
Can you provide clients with a clear plan of what to expect in the event of a business disruption? Do clients receive regular updates on the progress toward restoring services?
Do you have emergency or trusted contact information for each client? How frequently do you have clients confirm contact information?
Your Resources
You can't predict the disruptions you'll face, but you can prepare. Having a solid plan can offer peace of mind that your business can still move forward in times of stress, so it's important to invest the time and effort into developing one. Here are a few simple ways to use your resources to your advantage:
Write it down. Above all, you want to have a documented business continuity plan that's easily accessible for everyone in your office and that outlines the chain of command and what to do in a disaster.
Have a replacement. Consider having a written agreement with another advisor authorizing him or her to accept unsolicited trading instructions and to service client accounts when you are unavailable.
Protect your information. Ensure that all your office desktops, laptops, and removable storage devices are encrypted, further protecting the information you maintain from unauthorized access or theft.
Keep records. Have your clients identify individuals whom you can contact to discuss information about your clients' health status, potential powers of attorney, or potential financial or elder abuse.
Leverage your partners. Commonwealth's Practice Management and Enterprise Risk Management groups regularly work to educate our affiliated advisors on preparing for risks that could affect their businesses and encourage them to take advantage of the templated and customizable collateral we make available to build their own continuity plans. So, be sure to leverage your resources—your broker/dealer, your compliance partners—to help you prepare and protect your firm and clients from the effects of natural disasters and worse.
Your Questions
After you create a plan, be sure to test it annually to identify areas that need updating. Your business is always changing, evolving, and growing, so your plan should as well. Your goal should be to build a framework allowing you and your staff to respond to a wide variety of unanticipated challenges with minimal disruption to your business.
You may even find that imagining such scenarios offers additional advantages and helps contribute to the achievement of key business goals. Customers respond favorably to companies that solve their problems or remove friction in their lives. There are always opportunities to provide additional value to your clients, especially in times of unanticipated stress.
Do you know enough to ask the right questions? Do you think you're ready?
What questions do you ask yourself to ensure that you have all the bases covered? Do you think your current plan will allow you to respond effectively to potential business disruptions? Please share your thoughts below!