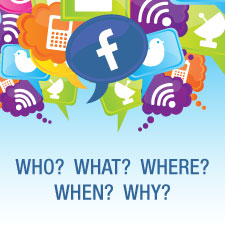 Social media spans industries, ages, and income levels. It has become an integral piece of any well-rounded marketing plan. Maybe you'd like to use social media to market your firm—or maybe you're currently using it but aren't quite sure how to maximize its potential. Whatever the case may be, it's important to have a social media strategy in place. But where do you start?
To help answer this question, I've created this concise advisor's guide to social media. Let's start by exploring the 5 Ws of social media: who, what, where, when, and why.
1) Who?
So, who is on social media? The chart below breaks down which sites adults are using the most:

Source: Pew Research Center, "Demographics of Key Social Networking Platforms"
Now, do you think your peers are part of this user demographic? For Commonwealth advisors, the answer is a resounding "yes":
More than 1,450 of our advisors are on LinkedIn
Nearly 400 are on Facebook
More than 200 are on Twitter
Nearly 50 are active bloggers
With so many advisors using social media, is there a specific audience they are trying to reach?
Know your audience. Think about your intended audience for each platform. For example, Commonwealth's target audience on Facebook is affiliated advisors and support staff, home office employees, and potential job candidates. Therefore, we'll post items such as links to the Commonwealth Independent Advisor blog, clips of media interviews given by Commonwealth executives, and current employment opportunities.
On LinkedIn, our target audience expands to include prospective advisors. Here, we post updates from CIO Brad McMillan's blog (the Independent Market Observer), press releases, and articles written by Commonwealth subject-matter experts. For Twitter, the target audience shifts to media outlets and industry influencers. Twitter is a great vehicle for promoting Brad's upcoming appearances on media outlets, corporate blog posts, charitable giving opportunities, and job postings.
Of course, your firm might be targeting executives of a specific company, preretirees, or women investors. But identifying who they are will play a crucial role in your strategy.
2) What?
Next, think about what types of content you should post. Social media is an ideal place to showcase news and events at your firm. But it also provides an opportunity to let your and your staff's personalities shine through.
Your profile. A complete and accurate profile can paint the picture of who you and your firm really are. Each platform provides categories that make it easy to present information clearly and concisely. The goal is to speak to your audience in a manner that they can understand and remember.
Quality content. Genuine content—created by you—always trumps stock content. Of course, you don't always have time to come up with new content, so linking to relevant articles or blog posts is a reasonable alternative.
The personal side. Posting content that is more personal can humanize your brand and drive traffic back to your website. Here are some examples:
Firm and advisor events: Did you or another team member attend or host an event? If you can, link directly to a page describing what that event was all about.
Milestones: Did your firm recently celebrate an anniversary? Let people know about it.
Community involvement: Did you participate in a charity event or run a 5K in someone's honor? If you have a picture, include it!
Keep in mind that the frequency with which you share this kind of information will depend on the social media platform, as well as your connections on each site.
3) Where?
How do you know where your clients live online? Ask them. You might conduct a formal survey or simply make it part of the conversation during your face-to-face meetings.
Remember, you don't have to be everywhere to be effective. Doing one thing really well is better than doing three things poorly. What's more, your connections will be able to tell if you're just going through the motions.
4) When?
There is no magic bullet for figuring out when to post. But here are some general guidelines to use as a starting point:
On Twitter, it's acceptable to post frequently throughout the day. For example, at Commonwealth, we post one to three times per day—in the late morning, early afternoon, and early evening.
A recent article on surepayroll.com ("Post, Pin & Tweet: The Best Time to Outreach") suggested that posting to Facebook on any weekday between 1:00 P.M. and 4:00 P.M. results in the highest average click-through rate. Just be sure not to post more than three times per day, as constant posts may annoy your followers.
Our experience has shown that the best days to post on LinkedIn are Tuesdays through Thursdays. Be sure to limit posting to once per day.
To determine when your content is getting the most hits, try posting on different days and times. Over time, you'll gain a general sense of when your target audience prefers to engage with your content.
5) Why?
Like many marketing activities, the why of social media is hard to quantify, especially without clearly set goals. Here are a few things to keep in mind when determining if social media is a worthwhile effort:
Changing demographics: Perhaps your current clients don't use social media. But what about your future clients? Just think, your 80-year-old clients may not be on Facebook, but their children and grandchildren are!
Brand recognition: The "rule of seven" says that prospects must see your message at least seven times before being compelled to act. Frequent posts on social media can help establish brand recognition for those prospects.
Low cost/low effort: Social media is generally less expensive and easier to track than are traditional direct-mail/advertising activities. It also provides the opportunity to leverage analytics (built right into some of the platforms themselves). Of course, "low effort" doesn't mean "no effort." You need to make time to interact with your followers—there's a reason it's called "social" media!
Risk: Thinking strategically about how social media is being used within the industry and by your competitors may help shape the way you feel about how much effort you're willing to put into it. Don't risk missing a free opportunity to reach and connect with your clients and prospects.
Start Connecting!
The goal of this guide is to help you use social media to connect with your current and potential clients. Of course, it will take time and effort to build social media into your marketing plan—but you might just "like" the results.
Which social media platforms do you find the most effective for connecting with prospects? How much time do you spend posting on a weekly basis? Please share your thoughts with us below.