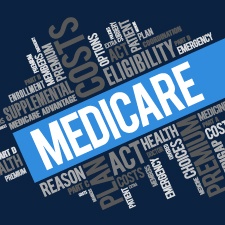 As a financial advisor, understanding health insurance options for retirees is critical to providing your clients with the support they need as they transition into retirement. You may know of Medigap and Medicare Advantage plans as common retirement health care solutions, but the level of coverage each offers is different, and it's important to be able to recognize and explain the distinctions between them.
A Medigap plan, also known as a supplemental plan, is paired with traditional Medicare (parts A, B, and D) to supplement or fill coverage gaps. A Medicare Advantage plan, also known as Medicare Part C, is an alternative to traditional Medicare (parts A, B, and D) for primary health coverage. Below, I'll walk you through the details and considerations for each option so you can help your clients choose the plan that works best for their coverage needs.
The Fundamentals of Medicare
There are four basic parts of Medicare: A, B, C, and D. Each part provides insurance support for specific health care needs in retirement.
Original Medicare. Original Medicare consists of Parts A and B. Medicare Part A generally covers inpatient hospital skilled nursing care, and Part B covers outpatient services, such as X-rays, medical supplies, and lab work.
Generally, Part A is provided at no premium cost to your client; we pay for this through payroll taxes. Part B assesses a monthly premium that is means tested. This additional cost, known as the income-related monthly adjustment amount (IRMAA), is added to the basic Medicare premium charge and is recalculated annually. The surcharge is based upon the client's modified adjusted gross income (MAGI) from two years prior to the applicable premium year.
Be sure to make your clients aware that Original Medicare does not include vision and dental care coverage and does not cover health care needs when traveling abroad.
Part C: Medicare Advantage plan. Clients can choose to be covered under a Part C Medicare Advantage plan as an alternative to Original Medicare. These plans are similar to Preferred Provider or HMO coverage; they are offered through private insurers and may include additional coverage, such as vision and dental care.
In order to select this alternative coverage, your client must first enroll in Parts A and B. Depending on the plan selected, there may be an additional cost per month above the Original Medicare premium. There are a number of factors clients should consider before deciding to select an Advantage plan, including retention of current providers under the new plan, varying deductibles, and out-of-pocket costs.
Part D. In addition to Original Medicare Parts A and B, clients may also purchase a prescription plan with Part D. Similar to Part B, there is a means-tested component to the cost of Part D coverage, and the surcharge is based on the client's MAGI from two years prior to the applicable premium year.
Medigap and Medicare Supplemental Plans
If your client selects Original Medicare (Parts A, B, and D), there are coverage gaps, deductibles, co-pays, and excess charges to consider. For most clients, adding a Medigap policy is a way to manage the risk of these out-of-pocket costs and gaps in coverage.
Medigap plans are regulated both at the federal and state level. Under federal regulations, there are specific benefits all plans must offer. Some states (Massachusetts, Minnesota, and Wisconsin currently) choose to augment these core federal benefits. Keep in mind that these supplemental plans are offered through private insurers.
In most states, there are 10 core Medigap plans, as well as one high-deductible plan. Each is represented by a letter (A through D, F, G, K, L through N, and the high-deductible Plan F) and offers different coverage, co-pays, and deductibles. Some plans offer coverage for dental, hearing, and vision care, as well as emergency health care when traveling outside of the U.S.
Some states, such as Massachusetts, also offer a Medicare (Medigap) Select plan. These plans limit reimbursement for nonemergency out-of-pocket costs, unless the patient is treated by a select network of doctors and hospitals, but they may be a cost-effective option for some clients.
Comparing Costs and Coverage
There are a number of resources and tools available to help your clients select the right plan. Some are free, while others require fees. The official Medicare website offers a wizard tool, which summarizes key components of state-specific Medigap plans and provides details on plan costs and coverage (see Figure 1). Be sure to remind your clients that the premium for a Medigap plan is paid in addition to the premium cost for Medicare Parts B and D.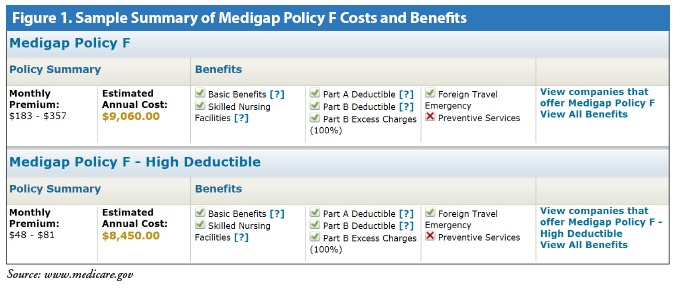 Clients should always compare the details of each plan before making a decision, as cost and coverage can vary among Medigap plans. For example, in one state, the Plan F premium ranges from $183 to $357 per month, but the high-deductible Plan F costs $48 to $81 per month. Clients should also compare costs for the same plan type among the different insurers in their state, as costs may be higher or lower depending on the provider. Most state insurance departments provide updated summary cost information, and some, like Florida, offer an online tool to compare plan costs.
In addition to premiums, other risks to consider include out-of-pocket costs and gaps in coverage. For example, Medigap plans C, D, F, G, M, and N offer emergency health coverage when traveling outside the U.S. Your clients should consider whether they plan to travel abroad in retirement to help determine which coverage option will work best for them.
Where to Look for Additional Guidance
Researching and comparing the various Medicare options does require a significant time investment, and for some clients, selecting a plan can seem overwhelming. For clients who would like additional guidance, the state-sponsored State Health Insurance Assistance Programs can provide valuable information at no cost and offer counseling to guide clients through their decision-making process. Clients can make an appointment with a counselor to discuss their specific coverage needs.
There are also paid services available that can provide research and prepare a comprehensive, personalized Medicare coverage recommendation. A couple of the more recognized services are Goodcare and Allsup Medicare Advisor. Clients may also consult with local brokers who are familiar with Medicare supplemental health insurance options for retirees in their particular state.
When to Enroll
If your client decides traditional Medicare is the best coverage option, he or she should be made aware of the specific rules for enrollment in a Medigap plan:
Clients can enroll during their six-month open enrollment period, which automatically begins on the first of the month in which they turn age 65 and are enrolled in Part B.
During this time, clients are entitled to purchase any Medigap policy sold in their state, regardless of any health issues they may have.
If clients do not enroll during their open enrollment period, insurance companies may refuse coverage if clients have certain medical conditions.
There are a number of additional rules and exceptions regarding enrollment; clients should consult a Medicare counselor to determine if any of these exceptions may apply.
Helping Clients Understand Their Options
Keeping track of the differences between the many parts of Medigap and Medicare can be tricky. But as more and more of your baby-boomer clients head toward retirement, being able to discuss the various health insurance options for retirees will help you continue to serve as a trusted resource for your older clients while also ensuring that they have the right plan for their needs.
How do you help your clients learn about health insurance options for retirees? Which aspects of Medigap and Medicare do think are most important to discuss with clients? Please share your thoughts with us below!