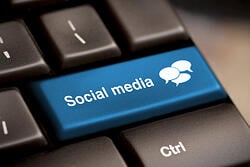 Social media marketing for financial advisors can significantly build success. Yet, many advisors often ask me—begrudgingly—how much time they'll "have to" put into social media.
This always reminds me of an article I read on Financial-Planning.com, "Advisors Still Wary of Social Media Payoff." One quote really stuck with me: "Most advisors had expectations of a miracle early on."
Although I wouldn't have said it that way, I agree with the sentiment—and find it's still pertinent over a year later. There are certainly a few myths when it comes to social media marketing for financial advisors.
Social Media Myths
Myth 1: Since social media is fast, results will pour in at the same speed. Unlike other modes of marketing, social media is pretty much real-time communication. It's an incredibly efficient way of reaching an audience, but it's not magic. No one is going to write you a check because you had a good Facebook post. Period.
Consider more traditional methods of marketing. Would you expect to get a new client because of a single newsletter you mailed? Probably not. Also, think how long it takes to get that newsletter into the hands of your prospects and clients. I would guess at least a few hours to write, proofread, format, print, address, and mail.
Social media is like all other marketing strategies: it requires consistent effort. You must design your campaigns to target a specific audience and frequently reach out to them.
Myth 2: Social media marketing is a huge time commitment. Sure, it takes time to create a successful social media campaign, especially when getting started. Many advisors, however, believe it requires much more time than it actually does.
While you could spend hours and hours posting your thoughts and scouring multiple sites for great content each day, you don't need to (nor should you). Instead, set yourself—and your feeds—up for efficiency and consistency. You're more likely to succeed when you spend a short amount of time on social media marketing every day. In other words, make it a part of your daily routine.
Social media marketing for financial advisors isn't the time suck that many think it is. In fact, I find that the "net" time advisors need to invest is actually quite small.
Case Study: What Works for Me
When I arrive at work each morning, I grab coffee and open my e-mail. I have subscriptions to interesting newsletters, so I'll click through to some articles. I've completely customized my Facebook and Twitter feeds so that 90 percent of the information is news from businesses I like and the industry's thought leaders (i.e., no updates from people I haven't spoken with in 20 years!).
I scan and read for about half an hour—setting aside some links to share later in the day. Finally, I check LinkedIn to see if there are any new professionals with whom I'd like to connect.
By 8:30 A.M., I'm all caught up with news. Later—usually when I want a break from my tasks—I spend a few minutes posting comments and sharing the articles I set aside.
That's it. This routine works well for me because I like reading news first thing in the morning. Your routine may take place at a different time or look a little different. Just keep it simple and manageable—and stick with it every day.
Small, Consistent Efforts
I'm sure you already frequent a few sites for news every day. Translate this into your social media efforts: it's just a matter of copying and pasting, and sharing your thoughts from time to time. Once this becomes a part of your daily routine, you'll have this social media thing covered. I promise.
Social media marketing for financial advisors doesn't need to be a huge chore or a source of anxiety. But don't expect a miracle overnight and don't make excuses—focus, instead, on putting in the time day by day. When your efforts are consistent, I bet you'll be pleasantly surprised by the results—and what you learn along the way.
What do you think about these social media myths? Share by commenting below.