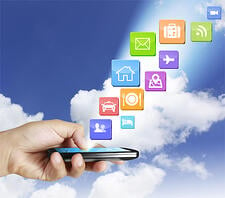 It's easy to understand why smartphones have taken off in the world: they are an intuitive (and fun) way to increase productivity with mobile technology.
Simply put, smartphones make a huge difference day-to-day and often make life better—and easier. Reflecting upon a Commonwealth road trip last week, I realized that almost every key point was managed by my phone. To wit:
I boarded my flight in Boston using the JetBlue app to get my mobile boarding pass, which I generated on my phone as I walked to the terminal from the parking lot.
Later, while waiting for a colleague who was arriving on another flight, I turned my phone on as a Wi-Fi hotspot to sync the work I completed in Outlook during my flight.
I booked a ride via the Uber app (which is phenomenal) from Seattle/Tacoma airport to my hotel. The ride was there when we walked out of the terminal.
I checked in at the hotel via its mobile app.
When I got to my room, I turned my phone on as a Wi-Fi hotspot to avoid the hotel's usury scam for Wi-Fi.
I used the Uber app again to book a car to one of our advisor's offices.
After our visit, I used the Google Maps app (my most used app by far) to walk back to the hotel, as it was a beautiful afternoon in Seattle.
I booked the restaurant where six of us ate dinner via the Open Table app (after confirming the quality of the restaurant on the Yelp mobile site).
The next morning—after I left my room—Uber got me a ride back to the airport for the next leg of my trip.
It's remarkable to think that it now takes just a few touches of a screen that fits in your pocket to do what was infinitely more difficult and time-consuming just 10 years ago. I love technology!
How do you increase productivity with mobile technology? Does your smartphone help you be a better financial advisor? Share your thoughts by commenting below.