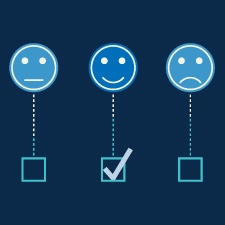 We've all heard the old adage that you never get a second chance to make a good first impression. We base our expectations for the future on that encounter, so starting off on the right foot is essential to creating the ultimate five-star experience.
As an advisor, you know the importance of building personal connections with clients, but does your office space mirror the top-notch service you provide? Have you ever viewed your office through the eyes of your visitors? Here are some tips for creating a welcoming office environment that sets the scene for great first impressions with clients.
Make Your Office Accessible
Chances are, if your firm has a website, there's an area on the site with directions to the office. If you or someone else in your office has written them, be sure that those directions are up to date. If the directions have been generated by Google Maps, verify that they are accurate, and see if you can follow them the next time you drive to the office. Often, especially if a firm is located in an office park or shares space with other businesses, GPS directions guide a visitor only to the physical street address that he or she has typed in. In such an instance, the new client or prospect would be left on his or her own to figure out where to go next.
To compensate for incomplete online directions, when you confirm appointments with visitors who are unfamiliar with your office, share some additional details about finding the office. Is there a designated area to park? In which building are you located? Is there any construction going on that will affect a client's visit?
Also, be sure that signage is visible, day or night, and provides specific directions on how to get into your suite or office. According to a Harris Poll conducted a couple of years back, almost 72 percent of people feel anxious when going to meet with a financial advisor. Being clear and detailed about directions may help alleviate some of that anxiety.
Create a Comfortable Waiting Area
Seating. Walk around the reception or waiting area in your office. What does the seating arrangement look like? Be sure that the layout of your waiting area and the furniture in it add to the welcoming office environment you want to provide. Armchairs work best for comfort because they offer support and assistance for older clients when sitting down and getting up.
Business materials. If your office uses business cards or brochures, place them on end tables or somewhere within easy reach, not at the reception desk. Clients are more inclined to take one after they have settled in and are far less likely to approach the reception desk after they've already been greeted by your staff.
TV programming. If you have a television in your waiting area, tune it to something relaxing like the Travel Channel or the Food Network. If you are in the habit of telling your clients to ignore negative news headlines and media about the stock market, then it seems counterintuitive to have MSNBC or Bloomberg TV on in your office.
Reading material. Subscribe to magazines or other reading material of interest to your clients, and be sure the publications you have available are relatively recent!
Wall décor. The same thing goes for art and wall décor. Take the opportunity to showcase client events or giving back initiatives you've hosted recently by hanging framed photos of these activities. Displaying these kinds of photos can help demonstrate your commitment to getting to know your clients—personally, as well as professionally.
Show Clients They Can Trust You
Visibility. Think about how many times a day clients are in and out of your office. Next time you have a chance, try a role-playing activity by having a member of your staff sit down in the client's chair to get a view from his or her perspective. Can your staff member see you, or is your computer monitor in the way? Eye contact is essential in creating great first impressions with clients—it reinforces that you're interested in and focused on what the other person is saying and conveys a feeling of trust.
Items on display. Also, take note of what is displayed on the bookshelf or credenza in your office. Photos of golf outings or lavish vacations, top producer or sales awards, and books with titles like The Million-Dollar Financial Advisor: Powerful Lessons and Proven Strategies from Top Producers may not support your firm's brand or convey the message you want clients and prospects to receive.
Confidential information. Lastly, look carefully at what is on your desk. Paperwork or open file folders may seem harmless, but could they give prospective clients the impression that their confidential information might be easily viewable to others, perhaps putting their personal information at risk?
Anticipate Your Clients' Needs
Try putting yourself in your client's shoes during a visit to your office. What more could you and your staff do to enhance the experience and truly show you care? Here are a few simple ideas to try that can add an extra level of comfort to a client's visit:
Keep a basket with drugstore reading glasses at the reception desk or in the waiting room for clients who may have forgotten theirs at home.
Make paper and pens readily accessible to clients who like to take notes.
During longer meetings, offer breaks and leave the room. This gives clients a chance to digest information and provides the opportunity for couples to consult privately with one another.
Check in with existing clients at the end of their meetings to see if there's anything they'd like you to change for their next visit.
It's All in the Details
It only takes seven seconds to make a first impression, but it takes interacting with that same person seven times to effectively change his or her initial opinion about you and your staff! Work with your team to incorporate some of these tips at your firm, and see if you can create a welcoming office environment that helps foster great first impressions with clients.
How do you and your staff collaborate to make great first impressions with clients? What steps have you taken to create a welcoming office environment for your visitors? Please share your thoughts with us below!