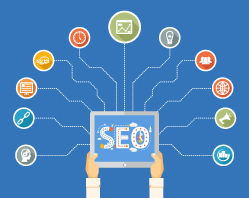 When you search for a topic on Google, Bing, or Yahoo!, the results you receive are actually generated by systematic algorithms that attempt to return the most relevant webpages based on your search query. Considering that the majority of searchers only view the first page of search results, many companies set a goal of improving their ranking over time, so potential customers will be more likely to find them. Easier said than done, right? Not necessarily.
Marketers leverage various tactics, including search engine optimization, or SEO, to set up their websites to reach the right people. SEO for financial advisors is no different, and taking the time to learn how to implement a few of these tactics can help you:
Grow your online presence and reputation
Ensure that prospective clients can find your website
Distinguish your business's website from the competition
Get your website listed on the first page (or even in the first spot!) of someone's search results
Defining SEO
Before we go further, let's define what SEO is. SEO is the process of using keywords and keyword phrases, inbound links, images, and page titles, among other techniques, to organically enhance your chances of being listed in the first few pages of search results. Search engines scan and analyze this information to determine the topic and importance of various webpages. If the search engine considers a page or site highly important, it will place the site in a more prominent position in the search results for that topic.
Knowing this, SEO should be an important element of any effective marketing strategy. Ready to make it work for you? The following five tips can help you improve the success of your firm's website, so you can be found quickly and easily by the right people.
1) Know Your Objectives
Before you get down to the nuts and bolts of SEO, consider your big-picture goals for your website and the specific audience you want to reach. With this in mind, you can build a successful SEO strategy. Ask yourself the following questions:
What topics or key points define your brand? Does your website convey that information?
Who is your ideal client? Have you defined this target audience on your website? Does it match your other marketing materials?
How do you want to be perceived by both existing and prospective clients?
What do you want people to know about you and your firm after visiting your website?
If your current site doesn't effectively communicate these objectives, work on refining your overall messaging first, before refining your approach with the following steps.
2) Use Keyword Phrases (Yes, They Still Matter)
You may have heard about Google's algorithm updates, including Panda in 2011 and Hummingbird in 2013, which placed more importance on the meaning of content and search strings over keywords. So you might assume that keywords no longer matter. I would argue that they do.
Keywords and keyword phrases represent your website's content succinctly. They enable search engines to efficiently scan your webpages to determine their topic. For example, if you provide education planning services to clients looking to fund their children's secondary education, incorporating language such as "education planning for the next generation" could be an effective keyword phrase for you.
In working with our advisors to build their websites, Commonwealth's EasySite team has found that the company name and the advisor's name are also effective keywords, since they are specific to you and your business and are the most likely terms prospective clients will use when searching for you.
Conversely, broad or generic phrases, such as "wealth management," "financial planning," and "retirement planning," may not be as successful, as there's a lot more competition on the web for these terms. To help improve your ranking and reach your target demographic, however, you can lengthen these phrases with more specific information. For example, one keyword phrase for your site could be "retirement planning for Boston doctors."
If you want to learn more about why keyword phrases matter, I'd recommend this article from the Content Marketing Institute.
3) Create High-Quality Content and Update It Regularly
You'll want to integrate the keyword phrases you decide on into your website—but make sure you don't overuse them! Search engines call this "keyword stuffing," and they may temporarily penalize or even ban your website, so you don't show up in search results at all. Instead, focus on providing well-written content that includes a few natural but strategically placed keyword phrases.
There are no hard-and-fast rules as to the frequency of the keywords, but here's a useful rule of thumb: aim to integrate two or three unique keywords or phrases around two times each per page. Also, be sure to alternate keywords and phrases from page to page on your website.
Try to make it a goal to update your site one to two times per month. Perhaps you have an Events page, where you can post photos and recaps of a recent client appreciation event or a seminar you offered. Or, maybe you have a blog that you update every other week or so. The point is that search engines are interested in new content, so the more often you update your site, the more often a search engine will crawl it. This does not necessarily guarantee that your ranking in search results will improve, but the opportunity is there based on the quality of your content.
4) Maximize Your Homepage
Your homepage is the first place a prospective client is going to land and is important to search engines. Be sure your website makes a great first impression with the following tips:
Include the keywords that others will use to search for your site. As mentioned previously, the most important terms are your name, the company name, location, and target market.
State or describe your target market within the homepage text. This allows prospective clients to know right away if they would be a good fit for you and your business.
The page should be professional and aesthetically pleasing to visually welcome potential new clients. Consider your website a virtual office; it should portray the same feeling prospective clients have when they walk through the front doors for the first time.
5) Leverage Social Media
Now that you have evaluated your website and optimized your content for your clients and prospective clients, show it off! Social media is a great tool to send readers to your website and help catalyze your SEO efforts. When posting on any social media site, provide a link back to your website, and be sure that you have links to each of your social media profiles on your main website.
SEO for financial advisors may seem complicated, but I find that the most successful (and simplest) way to approach it is to focus on creating a website with great content and useful, reliable information specifically for your target market. This is the most effective marketing strategy for getting search engines—and, more important, readers—to trust and admire your website and, by extension, your business.
Have you incorporated an SEO strategy on your website? Has it improved your search ranking? Share your challenges and successes below.
Editor's Note: This post was originally published in June 2014, but we've updated it to bring you more relevant and timely information.