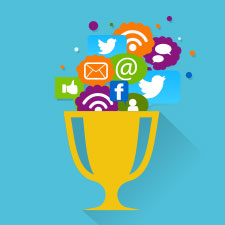 My team and I spend a lot of time discussing social media with Commonwealth advisors and how they can use it for business purposes, including connecting with existing clients and reaching out to new ones. But what many want to know is whether we know of any advisors who've had success in using these sites. I'm here to say, social media success for financial advisors does happen!
By strategically using these sites, our advisors are seeing very real results, which are directly affecting their bottom lines. I want to share a few of their stories to reveal the "secrets" to their success and illustrate how social media can work for you.
A "Friend"-ly Challenge
Recently, I spoke with an advisor who has had many discussions with a friend from high school about the best ways to use social media. In fact, his friend even challenged him to use Facebook as a way to develop "real" relationships.
The advisor embraced the challenge and decided to set up a quarterly "reconnect" breakfast with classmates from high school. He used Facebook to both promote and grow the event. Because more and more of his former classmates were becoming empty nesters, he discovered that they had the time (and desire) to reestablish these relationships through sites like Facebook. This also demonstrates that, contrary to popular belief, social media is not just for teenagers and millennials!
While at the breakfast, one of his "renewed" friends mentioned that he was unhappy and unsatisfied with the guidance he was receiving on his 401(k). As a result, the advisor ended up receiving a referral to his friend's manager at work. By the end of their initial meeting, he was signed on as the advisor to the company's $2.5 million (currently underserviced) plan. This advisor took a simple idea—breakfast with old friends—and was able to leverage social media to both renew connections and establish a relationship with a new client.
So, what else can be done with social media?
Connect with Prospective Clients
Social media can be a powerful tool to connect with prospective clients. Another office that I spoke with was doing just that by using both LinkedIn and Facebook, finding a different purpose for each.
Research your prospects. This office decided to use LinkedIn as a tool to research prospective clients. When a prospective client calls the office to set up a meeting, someone on the staff looks up the prospect's profile on LinkedIn. More often than not, the staff member is able to find one. The information in the profile—such as profession, approximate age, and previous experience— gives the office some idea as to whether the prospect might be a good fit for the firm. So, while they may not welcome a new client via LinkedIn, they are using the site in a strategic way.
Provide a site for engagement. The office uses Facebook to regularly post updates, using a combination of industry-related and more personal posts. They analyze the traffic that they're receiving and are starting to see more engagement on their page.
They gave me a great example of their success with Facebook, and one that many advisors are probably familiar with. One of their advisors had been trying to connect with a prospective client for quite some time. The advisor would see the prospect occasionally (usually at luncheons, golf events, etc.) but had never been able to establish anything beyond that. But a week after launching the firm's Facebook page, the office received a note on the page from the prospect. He really wanted to get together and asked the office to contact him. They reached out to set up a meeting, and that prospect is now a client. They believe that because he was able to find them using a medium he was comfortable with, it led to a meeting.
There are plenty of other stories that are very similar to these:
An advisor reconnected with a childhood friend on Facebook. The friend then called to make an appointment.
An advisor was contacted by a prospective client via LinkedIn. Although the prospect lived in another state, she made plans to meet with the advisor while vacationing in the state where the advisor practices.
After losing touch with a former acquaintance, one advisor reached out to connect on LinkedIn. In maintaining a connection that would have otherwise been lost, the advisor was able to stay ahead of potential competition. When the former acquaintance was in need of financial guidance, he turned to the advisor for help. Today, he is the advisor's largest individual client.
The Next Step
If you're still just thinking about social media, the first step is to determine what your objectives are and how these sites can work in coordination with your other online efforts. From there, you can create a strategy on which sites to use and the best way to take advantage of all that they have to offer.
Do you have any secrets to social media success for financial advisors that you'd like to share? Have you used social media to connect with prospective clients? Share your comments with us below.