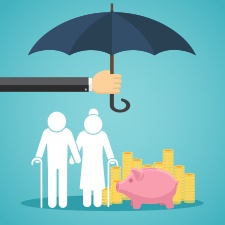 Working with elderly clients can present a unique set of challenges. For one, seniors are a major target for elder financial abuse and fraudulent schemes. For another, they have a different mind-set than that of younger generations. They are more fearful of risk, but also tend to be more trusting and, therefore, more susceptible to abuse.
As a financial advisor, you are often the first line of defense when it comes to preventing financial scams, as well as helping identify diminished capacity. Having tools for protecting senior clients from elder financial abuse is essential—and it all starts with effective communication.
Communication Is Key
The first step in protecting your senior clients is to establish effective lines of communication. You may have to implement different methods than those you use with clients of younger generations. For example, an elderly client who is new to your practice may be nervous, which might manifest itself as skepticism and defensive posturing. Taking the time to get to know the client by asking questions about family, retirement, and hobbies is a good way to put the client at ease.
You may also have to adjust how you communicate, as many seniors don't use e-mail or the Internet. According to the Pew Research Center, only 59 percent of adults 65 and older have been online. For you, this could mean more face-to-face meetings and the use of snail mail. Of course, this will be a slower process than you're used to, but your patience will help ensure that your clients are comfortable with the process and with the relationship.
Prime Targets
According to the Federal Bureau of Investigation, there are five reasons seniors are prime targets for financial scams:
Seniors tend to have significant assets that are readily available.
Those older than 65 are, generally speaking, more trusting and polite—making them reluctant to quickly end a suspicious conversation.
They are less likely to report fraudulent crimes, as they may be embarrassed or worried that their family might take over their affairs.
Elderly clients aren't very good witnesses, especially given cognitive issues like memory loss or confusion.
The elderly are known to be vulnerable to scams focusing on particular areas, including anti-aging products, health cures, and prescription drugs.
Know the signs. Once you've established yourself as the trusted advisor, you will often be the first to see evidence of financial abuse. But you need to know the signs:
If your clients are missing money and seem confused about where it went, this could be a red flag. This is especially true if they are reluctant to answer questions about missing funds.
Uncommon withdrawals or uncommon money movement is another red flag.
Be on the lookout for changes in appearance. If it seems like your client isn't being properly cared for, this may be evidence of elder financial abuse.
Diminished Capacity
Another reason the elderly are so vulnerable to these financial scams is diminished capacity. According to the Alzheimer's Association, one in nine people age 65 and older has Alzheimer's disease. If you are working with seniors, chances are that you will face a situation where this is an issue.
Know the signs. In 2011, the American Association of Retired Persons conducted a study on financial advisors' experiences working with clients with diminished capacity. One of the most common responses from advisors was that their clients began repeating themselves. Senior clients would give orders and ask questions multiple times, with no awareness that they had already done so.
Take note if your clients are confused with the time, where they are supposed to be, or with general financial concepts that they previously understood.
If your client is using poor judgment or making decisions outside of his or her typical risk profile, this could be a sign of diminished capacity.
When in face-to-face meetings, be aware of your client's physical impairments, as cognitive impairment is often coupled with physical failings that can be easier to detect.
Protecting Your Clients
There are various tools for protecting senior clients from financial elder abuse. Many of these tools are legal documents and will require a qualified attorney to draft and execute. Of course, you cannot give legal advice or draft legal documents, but you can educate clients on their various options.
Financial power of attorney. A financial power of attorney (POA) is a legal document that names an individual to act on another's behalf in financial matters. The document may convey very broad powers or may be narrowly tailored for a specific purpose. Further, the POA may become effective immediately upon execution or may be springing and become effective upon certification of incapacity. It is a very useful tool, as it ensures that someone else is available to manage an elderly client's affairs in the event of diminished capacity or cognitive impairment.
Health care POA. A health care POA is independent of the financial POA and allows the client to appoint an agent to make health care decisions. This power is effective only while the client is unable to make decisions for himself or herself. Often times, the health care POA will be accompanied by a living will that outlines the client's wishes for lifesaving treatment. The health care proxy has the ultimate decision-making authority, but the living will provides a guide for the proxy to refer to when making decisions.
Trust planning. With a revocable or "living" trust, your client typically acts as the initial trustee and has full access and control over the trust assets. The trust will also have a successor trustee who can take over in the event of diminished capacity or resignation by the client.
There are many other benefits to using a revocable trust as a planning tool for elderly clients. The assets in the trust will avoid probate, and the trust language will control distribution of assets at the grantor's death. The client will be able to name an appropriate person to step in as successor trustee and carry out his or her wishes upon incapacity or resignation.
Trusted person authorization. In addition to the above-referenced estate planning documents, clients may wish to designate a family member or close friend as an authorized person with whom information can be shared. If you suspect a client has been the subject of elder financial abuse or may be suffering from diminished capacity, this designated family member or trusted person can address these issues and get the client the help he or she needs.
With any of these options, be sure to ask your clients if these documents are in place. If the answer is no, educate them on their value, and if need be, refer them to a qualified estate planning attorney in your network. It is also good practice to periodically review these documents with clients to ensure that the people named in each are still appropriate for the roles for which they have been designated.
Position Yourself
The youngest baby boomers are now 52 years old; within 13 years, 75 million people will be at least 65 years old. The concentration of wealth in this group is tremendous, and for many of you, the boomers make up the majority of your clients. Understanding how to communicate with these clients and how to address major risks unique to their age group will help position you as a superior and trusted advisor.
What communication methods do you use with senior clients? Have you seen examples of elder financial abuse? Please share your thoughts with us below.
Commonwealth Financial Network® does not provide legal or tax advice. Please consult with a legal or tax professional regarding your individual situation.