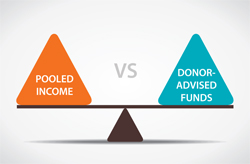 Many clients find great satisfaction in donating to a charitable mission that they are passionate about. And it doesn't hurt that there's usually an associated income tax benefit as well. As a financial advisor, you are in a unique position to help your clients create and implement a giving strategy to achieve philanthropic and tax planning goals.
Let's compare two giving options that can address both of these objectives: pooled income versus donor-advised funds.
What Is a Pooled Income Fund?
A pooled income fund is a tax-exempt charitable trust operated by a charity that provides donors (i.e., your clients) with an immediate tax deduction and an income stream for life. It is similar to a charitable remainder trust in that it is a split-interest trust with both charitable and noncharitable beneficiaries.
The noncharitable beneficiary (the donor) contributes assets to the pooled income fund and in return receives a proportional interest in the fund. The charity then commingles the contributed assets with contributions from other donors. Typically, the assets are sold immediately, and the proceeds are reinvested in various managed portfolios. The donor (or designated income beneficiary) then receives an annual payment based on the earnings of the pooled investments. Upon the death of the income beneficiary, the remainder of the donor's share is passed to the charity.
How About a Donor-Advised Fund?
A donor-advised fund (DAF) is an account administered by a public charity to accept donations from a donor. A DAF may be managed by the donor's financial advisor (i.e., you) to distribute funds to other charities in the future. Donations to the fund are generally tax-deductible in the year in which they are made.
When a client contributes to a DAF, he or she becomes a grant advisor, meaning he or she is permitted to make recommendations to the sponsoring charity as to the timing, amount, and recipients of future distributions from the fund. Although the grant advisor's recommendations are nonbinding, as long as the recommended distribution is to a qualified charity, the sponsoring charity of the DAF will generally follow the suggestion.
The Pros and Cons of Pooled Income Versus Donor-Advised Funds
What's Best for Your Clients?
There are many charitable giving strategies for philanthropic clients to choose from. While not suitable for all, those clients with highly appreciated assets and a desire for tax deduction may very well benefit from either a pooled income fund or DAF.
In general, clients who wish to meet charitable goals while addressing issues such as tax planning and retirement income may benefit from a pooled income fund. The option to contribute real estate to this type of fund also provides a possible solution for clients for whom charitable giving is not the primary objective.
On the other hand, a DAF may be the ideal solution for clients who want to secure a tax deduction today and benefit from professional management of their charitable donations.
How do you help your clients weigh the pros and cons of these charitable giving options?
Commonwealth Financial Network® does not provide legal or tax advice. You should consult a legal or tax professional regarding your individual situation.