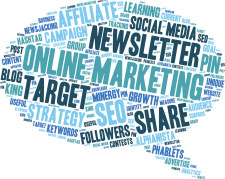 So, you've developed your marketing plan with its online and social media elements. Your website is up to date, reflects your brand, and clearly defines your target market. Now what?
To help ensure that your integrated marketing efforts are productive, we've compiled some online marketing best practices and guidelines for social media. Let's get connected!
Facebook
Although many other social media platforms have entered the market, Facebook continues to be a useful marketing tool (if managed effectively) to reach your current and prospective clients.
Be visible. If you "like" other businesses' pages and comment on their statuses, this activity will appear on your followers' news feeds. It's an easy way to increase your page's visibility and encourage others to "like" your page.
Post pictures. Add a personal touch by uploading photos of volunteer work, seminars, and conferences, for example. Just be sure to receive consent before posting photos of clients and others!
Create status updates. Here, the goal is achieving a balance between being "social" and posting on topics like financial news, popular trends, or market strategies. Updates can provide interesting and relevant information to your clients while also showcasing your personal side where it makes sense for your brand and your audience.
Create interactive status updates by asking questions or soliciting feedback.
Try to grab the attention of a particular audience (e.g., CPAs, small business owners).
Be creative! Using an inspirational quote or posting an interesting fact can be a refreshing change.
Be active. Posting at least one status update per week is ideal. As your network grows, consider posting several times a week. Some industry professionals update their statuses daily!
Link to other profiles/websites. Include a link to your other approved social media pages, such as Twitter or LinkedIn, as well as to your business website, in your Facebook profile.
Like/follow others. Newspaper pages, as well as local and national political pages, are a great source for current topics of interest to your clients and prospects. You may want to "like" the New York Times, the Washington Post, or the Financial Times pages, for example, to get ideas for status updates.
Be an information source. Occasionally, you may want to invite viewers to contact you to learn more about a topic.
If you link to an article regarding Roth conversions and comment on a relevant point, you might say, "Don't forget—we're here to help if you have more questions."
Consider linking clients and prospective clients to content on your website. It's your hub and should be a primary recipient of the traffic your social media generates.
Twitter
The above guidelines also apply to Twitter. The biggest difference is the frequency of status updates. Twitter is in real time, so users receive the most recent tweets of the people they follow on their homepages. To be high on that list, tweet frequently.
Time to tweet. It makes sense to tweet when your audience is actually viewing their Twitter accounts. For those with business professional followers, ideal tweeting times include lunchtime and after 5:00 P.M. during the week. Still, try tweeting at different times and days to see what resonates with your audience and when you receive the best response. After all, some people are known for checking social media many times throughout the day!
Here are some Twitter tidbits:
The @ symbol. The @ symbol can be used to reply directly to or tag a specific person. If you're replying to an individual, begin the tweet with the @ symbol, followed by his or her Twitter username. Only those who follow you and the person you're replying to will see the tweet.
You can tag an individual by using the @ symbol, followed by his or her Twitter username, anywhere in the tweet. Tagging increases the likelihood that the person will retweet you. If your tweet begins with an individual's username and is not a reply, add a period in front of the @ symbol and the individual's username (.@username). These tweets can be seen by all of your followers.
The hashtag (#) symbol. A hashtag is created by inserting the # symbol before the word you want to tag. This allows for search engine optimization, making your post easily searchable. Try to take a strategic approach: use hashtags to highlight important events, words, or themes but limit to no more than two hashtags per tweet.
Retweeting (RT). RT is the symbol for retweeting a post written by someone else. It's a good way to share interesting tweets from those you follow.
Short is sweet. Twitter's limit is 140 characters per tweet. Posts with fewer than 100 characters actually have a higher engagement rate, allowing others to retweet and add their opinions.
LinkedIn
Follow the same guidelines for LinkedIn updates as for the other sites (i.e., post at least once a week but more often as your network grows).
Make connections. A connection request allows access to another user's profile and should be sent to people you know. To connect with a new acquaintance, send a message with the request. You should explain who you are, what your connection to the person is, and whether that person would like to join your professional network. Keep in mind that people who receive connection requests can respond with "I don't know this person." If this happens often, LinkedIn may revoke your membership.
Join groups. Create and join groups of people with similar professional interests, personal activities, and academic affiliations. Each group's forum provides the opportunity to develop ideas and make connections with people who share interests. This can help you promote your expertise to thousands of people within a specific target audience.
General Guidelines for Social Media
Posting links. Did you know that by consistently posting just links on your social media sites, this might be perceived as spam? To avoid this scenario, share your personal take on links, making these posts more interesting and adding a unique perspective. Your followers will thank you!
Go mobile. Facebook, Twitter, and LinkedIn all have apps for smartphones, allowing you to easily post and view others' activity from your handheld device. Most apps allow you to set personal preferences, making it easy to perform specific actions.
Be responsive. It's a good idea to monitor your social media channels daily. If someone comments on your content, be sure to respond (if appropriate) in a timely manner. Facebook and Twitter offer e-mail notifications, which can help you avoid missing important or time-sensitive activity.
Leverage social media profiles. Promote your social media profiles wherever possible, including on your website, in your e-mail signature, on your business card, and in marketing collateral. Each social media profile should include a link to your other profiles.
Focus on clients. Your updates should offer value to your viewers, whether they are informative, educational, interesting, or fun. It's best to avoid directly marketing your services to others via social media.
Monitor engagement. Engagement levels allow you to assess what type of content interests your audience. If a post doesn't get any interaction, consider writing about something different. You can view engagement rates on each platform.
Social Media Aggregators
Aggregators help you keep up with the sites/people you follow and offer an easy way to consolidate/connect your social media accounts for status updates. Here are two of our favorites:
Sprout Social: This platform links all of your social media networks—including Facebook, Twitter, and LinkedIn—so you can post and make updates to each network from one site. An analytics dashboard shows what content is the most successful.
TweetDeck: This tool allows you to manage multiple Twitter accounts, create searches to track topics and events, and organize a timeline—all in one interface.
These online marketing best practices are designed to help you use social media to connect with your current and potential clients. As with anything, it takes time to adjust to marketing your business in this way, but you might just "like" the results.
Do you have any tips or tricks to add to the list? Have you used social media to connect with clients? Please share your ideas with us below.