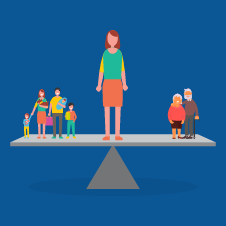 Increased life expectancies and an aging population have presented unique challenges in planning for the sandwich generation, a group of people trying to balance raising young children, providing care to parents, and managing their own lives. As a trusted advisor, you may be the first resource these individuals ask for help with the legal, health care, and financial concerns surrounding their role as both caregivers and consumers. Here's what you should know.
A Caregiver's Burden
Family caregivers tend to fall into an unpaid and informal arrangement assisting parents with activities of daily living and sometimes providing medical and nursing care. Recent data from the Centers for Disease Control and Prevention (CDC) establishes the depth, value, and struggles of these individuals.
4 percent of adults between the ages of 45 and 64 are caregivers compared to 18.8 percent of adults who are 65 or older.
One in four women are caregivers.
3 percent of adults age 45 or older told CDC survey takers that they had provided care or assistance to a friend or family member in the previous 30 days.
While 53 percent of caregivers believe declining health hinders their ability to provide care, 36.7 percent of them have reported getting insufficient sleep.
Almost half of caregivers (48 percent) are caring for someone with Alzheimer's or another form of dementia.
A Strong Foundation
By helping family caregivers navigate these financial and emotional challenges and avoid common and costly mistakes, advisors have an opportunity to position themselves as "longevity planners," says Joseph Coughlin, director of the MIT AgeLab. Solid longevity plans are built on a sound foundation, and it's no different when planning for the sandwich generation. It starts with being able to act on behalf of a parent, which requires speaking with an attorney and reviewing the parents' planning documents. Unless the power of attorney (POA) grants sufficient authority, caregivers may not have the ability to access their parents' assets, manage long-term care insurance and Medicare coverage, or work with a residential facility. If it does not, and the parent is losing mental capacity, caregivers should have new documents prepared, or otherwise risk going to court to be appointed as guardian or conservator.
Advisors can suggest questions caregivers can ask the attorney:
When does the POA become effective? What is the scope of it?
What authority does the POA grant, especially in regards to Medicare and long-term care insurance?
How old is the POA? Do you recommend new documents?
A Medicare Refresher
Medicare has four separate parts. Part A and Part B, known as "traditional Medicare," cover some major medical services but not all medical expenses, such as vision or dental care. Caregivers should be aware of this, as well as the following differences between Medicare and Medigap:
Part A covers hospital, skilled nursing, hospice, and respite care (the skilled nursing benefit available under Part A is limited to a maximum of 100 days for each instance of illness).
Part B covers physician expenses and medical equipment.
Medicare Part C, or Medicare Advantage, is managed care through private health insurers. Medicare Advantage plans often include vision and dental care.
Medicare Part D covers prescription drugs, also though private health insurance plans.
"Stand-alone" plans are paired with traditional Medicare, whereas Medicare Advantage plans usually include prescription drug coverage.
Medigap plans cover the coinsurance and deductibles in traditional Medicare. There are 10 different Medigap plans, labeled A, B, C, D, F, G, K, L, M, and N. Medigap plans work only with traditional Medicare. Parents with Medicare Advantage plans are not eligible for a Medigap plan.
Caregivers need to know how Medicare covers hospital stays and treats transitions from a hospital to a skilled nursing facility. For an observation stay, the parent is considered an outpatient but spends a certain length of time at the hospital for doctors to keep watch. Related charges are billed through Part B, not Part A, and will probably result in higher expenses. Observation status also means that Part A will not cover skilled nursing care if the parent transfers from a hospital to a skilled nursing facility. Skilled nursing care is covered by Part A only if the parent had inpatient status for three days before transferring to the facility.
Using Assets: Know the Consequences
After building the foundation of a longevity plan, advisors should review how to utilize the parents' assets and the consequences of certain decisions. Ask if it's possible to provide asset statements and income tax returns. Caregivers often don't realize that withdrawing additional income from a traditional IRA may cause a parent to incur the income-related monthly adjustment amount (IRMAA) surcharge, which results in higher Medicare Part B and Part D premiums for modified adjusted gross incomes above certain thresholds.
If a parent has long-term care insurance, it will be a critical part of the asset utilization plan. Payouts generally depend on the parents' limitations in daily-living activities, and there will be an elimination period that ranges from 20 days to 180 days. More important, caregivers must understand whether the policy covers home health care along with facility expenses and the limits of the policy's benefits.
Public Resources
Caregivers often ask for guidance about two public resources, Medicaid and Aid and Attendance benefits from the U.S. Department of Veterans Affairs. Both programs have strict financial eligibility rules.
As a service-connected pension, Aid and Attendance provides a monthly stipend to wartime veterans and their surviving spouses. Effective October 18, 2018, financial eligibility rules for Aid and Attendance mandate that an applicant's net worth cannot be greater than the Medicaid Community Spouse Resource Allowance (currently $126,420), and there's a three-year look-back on all asset transfers.
Separate from Medicare, Medicaid has low asset and income limits. Its look-back period is five years, and federal law penalizes asset transfers for less than fair market value (e.g., gifts). Federal Medicaid laws also include estate recovery provisions that mandate every state to recoup funds from a deceased recipient's probate and possibly nonprobate assets.
The Structure of Long-Term Care
Once caregivers understand how to use their parents' resources and the eligibility of public resources in a longevity plan, advisors can guide them through at-home and facility care options. Other than eligibility for Medicaid and veterans' benefits, federal law doesn't contain a formal structure for long-term care. Instead, state regulatory law sets licensing standards for different levels of care at different types of facilities, which is sometimes referred to as the continuum of care.
The continuum of care starts with independent living and assistance at home. At this stage, an older adult may have a home health aide or attend adult day care services. As care needs increase, caregivers may move their parent to a residential assisted living facility or a skilled nursing facility. Assets including long-term care insurance and Aid and Attendance benefits may be used to pay for any level of care. Medicaid is available for skilled nursing care only after private resources have been depleted.
The expense at any level of care induces sticker shock. According to the 2018 Genworth Cost of Care Survey, the national median monthly costs for each level of care are as follows:
Homemaker: $4,004
Adult day care: $1,560
Assisted living facility: $4,000
Semi-private skilled nursing: $7,441
Private skilled nursing: $8,365
Prior to admission, caregivers should have an attorney review a facility's admission contract. If there is an up-front entrance payment, they need to know how and whether that payment will be amortized. The attorney should also explain whether a parent's room will be held during a hospital stay and whether disputes will be subject to arbitration. If the parent resides in a state that has filial responsibility laws, caregivers should ask the attorney to detail their potential liability for the parent's residential facility bills.
Resources to Ease the Burden
At every stage of longevity planning, caregivers may have to navigate difficult family dynamics. There are no easy solutions to "Mom always liked you better." Accountability and transparency are a caregiver's best defenses against sibling disputes. For instance, caregivers must maintain all monthly cash flow and asset statements, particularly if they used a parent's assets as a reimbursement.
As a parent's needs change, caregivers may have to make decisions that can impact their own financial stability. They may consider starting their social security benefit as early as possible or leaving their employment before they're eligible for social security. Advisors should make clients aware that neither decision will help their own longevity plan.
Taking an extended absence from the workforce may make it difficult to find employment later on—working from home or reducing hours may be a better option. If clients must stop working, they should first consult with their employer about the Family Medical Leave Act (FMLA), which may enable them to take up to 12 weeks of unpaid leave. As long as they continue contributing their portion of the premium, they should still have access to their employer-provided health insurance, and their position should be waiting for them at the end of their leave. Caregivers should also consider having an attorney draft a family caregiver agreement. This agreement would formalize the arrangement and compensate the caregiver for services.
Most important, an advisor should encourage clients to find resource and support networks. Several organizations, including AARP, the Alzheimer's Association, and the Caregiver Action Network, have comprehensive support resources for family caregivers. Family Caregiver Alliance and the National Association of Area Agencies on Aging also list local resources.
Taking It One Bite at a Time
The sandwich generation's parents may not have thought about longevity and long-term care. Now that their children are learning firsthand the legal, financial, and health care considerations of caregiving, they can also prepare for their own aging. By looking beyond immediate financial concerns, building solid foundations, and weaving longevity into a client's plans, advisors can remain a trusted resource for generations giving and receiving care.
What other details do you find important when planning for the sandwich generation? Are there other helpful resources you suggest to caregivers? Please share below!