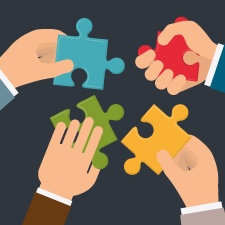 What's the true meaning of teamwork in the workplace? For many advisors I speak with, it often comes in the form of willingness to cede control, to share, to listen, and to give team members the time and place to express their thoughts about the business. But a number of advisors are choosing to take this notion a step further by offering staff an ownership stake in their financial services firm. In fact, this can be one of the most effective ways to promote retention, engagement, and succession—and ensure the long-term success of your firm.
If this is a strategy you've been considering, learning from someone with firsthand experience of the process is a good place to start. Here, I'll share my Q&A with advisor Ben Roth of SBS Retirement Consultants (Fairbanks, Alaska), who transitioned from a single-owner firm to one that he now shares with two other principals. Let's start with a little background.
Ben Roth: A Timeline
1992. Ben Roth started in the business, and his niche covered employees and retirees who worked for the state of Alaska. At that time, he struggled to get support positions filled to free up more of his time for meeting with clients and talking with prospects. So, he got creative.
1996. Roth established an internship at the University of Alaska. He was looking for students with a background in finance and an interest in a long-term opportunity to throw their hat in the ring. The ideal candidate would start by providing support services for Roth and then evolve into an ownership position. Not long after, Roth had Shawn Wiegand and Shannon Staiger on board, learning the ropes while in school and earning academic credit for their work at Roth's firm, Roth & Associates. Over time, Roth tested stepping away from the firm and leaving Wiegand and Staiger in charge, and the two began to take on larger and larger roles.
2002. The name of the firm changed to SBS Financial Group to more clearly identify it with its niche market and to begin the process of creating its own identity separate from Roth.
2008. The name changed to SBS Retirement Consultants—and the ownership of the entity changed, too.
Now that you have some history on Roth, let's explore how his business and his team have evolved through the years.
Q&A
What was the impetus for moving from a sole proprietorship to expanding membership in the LLC? When I moved back to Alaska in 1995, clients started asking about the continuity of my business: What was going to happen to their accounts if I died? It was at that time that I began to recognize that I needed to build the infrastructure to evolve from a personality-based practice into an entity that stood on its own. In addition, I needed to find a way to weave together a life that prioritized not only my work but also my relationships with family and friends. And, finally, years later, I began to recognize the value that Shawn and Shannon brought to the firm, and I wanted to reward them for their efforts and retain their talents for our team.
How did you minimize the risk of diluting your own stake in the firm? We all signed noncompetes and established financial penalties for leaving the firm. Plus, Shawn and Shannon were the right fit for becoming owners.
What made them a good fit? It is important to me that the people who make up SBS understand what it means to be on a team. Shawn, Shannon, and I (and also our newest advisor, Jordan [Hendry]) played ice hockey. We know what it takes for a team to be successful. It primarily involves having good people with the right intentions in the right positions who know how to play those positions exceptionally. I read the book Good to Great, and it made an impression on me in this regard. In the beginning, I was there to train and mentor Shawn and Shannon. Now, I am doing the same thing with Jordan.
Shawn is more of a people person, while Shannon is more analytical. They hold joint meetings, and I think their complementary strengths resonate with clients. Either of them is more than capable of meeting with clients on their own, but the joint approach seems to give comfort all around. Meanwhile, Shawn and Shannon are also bringing in Jordan on meetings, so he can continue to learn from our process and act in a supporting role. We stress with clients that the team is going to take care of them. I ask clients up front if they are comfortable with working with the rest of the team so that I can get ahead of any issues; thankfully, all of them are completely fine with it. I also emphasize that Commonwealth is supporting us and them.
You added Shawn and Shannon as advisors of record on your entire book of business. Did they buy out their shares? No, I did not ask for a buyout of their shares of the client base. They had each put in legitimate sweat equity, almost a decade, to help me get the firm off the ground. Remember, I wasn't in a position to pay competitive salaries when Shawn and Shannon joined me. They definitely had forgone wages through the years that they could have received if they were at another firm. Each of us being owners on client accounts felt fair to me. We all started this business together; I wouldn't be where I am or who I am today without them.
How are decisions made for the firm? Is everyone's vote equal? Yes, we all have equal votes. I like to gather as many different perspectives on an issue before making a decision about it. Making things better for the client is what is most important. Sometimes, we all agree; sometimes there is a 2–1 vote. If it is the right thing to do and I'm on the losing end of the vote, I'm okay with that. I listen to and respect the perspectives of the folks on our team.
Whose professional advice did you lean on to make the ownership change happen? We worked closely with an accountant and an attorney to put our agreements in writing, in a document that is legally binding. These experts anticipated a variety of scenarios and prompted us to think them through early on: death, an arrest, unprofessional conduct, et cetera. We worked through each scenario and together decided how each should be handled. We also had input from the Practice Management team at Commonwealth.
What is the biggest decision currently in front of the owners? Our quantifiable goal is to double our production in five to seven years. To do that, the person who most recently joined us—Jordan—will be a critical piece. Currently, he is a service advisor paid at a competitive market rate. The question in front of us is, how do we bring Jordan into ownership in a fair way? And that is fairness for all four of us. Conditions are different now—sweat equity won't play a role, and three people will need to accept dilution of their ownership, not just me. It's something we have been working through for more than a year now.
How are you working through this decision? We have done a lot of work with Practice Management, and our thinking has evolved. For our continuity plan, we wanted to create a role that evolved organically rather than bringing in an existing skill set from outside. Jordan will certainly be a part of the continuity/succession solution, but others are needed, too. Because Jordan is younger than us, it will be important for him to participate in hiring and developing additional advisors who, over time, will become future owners of SBS. One piece of this is determining the criteria we need in additional advisors—a CFP® professional is a definite and possibly someone with an MBA. These folks will be business owners as well as advisors, so it's important that they have a background in running a business, even if that knowledge is only academic to start. There will be obvious needs and skills we will need as the entity evolves.
Have you visually defined how the firm might look in the future? Yes, we created an organizational chart that shows how the firm will evolve from where we are today to a super ensemble/enterprise. It's not a traditional top-down structure; it's groups of people in a relatively flat networked structure. Shannon is CFO, I'm essentially the catalyst for our vision, and Shawn is the glue that keeps it all together. There is one point of contact for each area of the firm, but initiatives are implemented in a collaborative way. It's exciting to think about!
What does it feel like to be where you are now, 25 years after setting out on this path? When I started out, I was a solo financial advisor; I was not in a team environment. There was a lot of competition then; I always felt like I was competing against the advisor in the next office. I don't feel that way now. These guys are not only my co-owners, they are my friends. I am thrilled to be sharing the journey with them.
What advice do you have for other advisors? If you really want an ensemble or enterprise organization, you have to change your mind-set from thinking that you personally are the answer to it all. No one can effectively run all the components of a firm. If I tried to do it all, I know that I would not succeed at the same level. I also understand that I don't know everything. If I want to succeed, I need to learn from others who have great ideas.
I know that letting go of some of your revenue stream can be tough to wrap your head around and get comfortable with. But I think it allows the group to be better and get better when they have a direct stake in the business. They are always looking for ways to improve; the entire team contributes at a higher level. Plus, I am better off financially now than if I had kept doing it all myself. I am able to take more time off, I can be more involved in my community, and there is more harmony in my life.
What's next for you? I have no end date in mind. I enjoy what I do as a financial advisor and business owner, and I want to keep participating in both of these roles and remain involved with the firm. However, I also understand that at some point I will no longer be an owner of this business, though I want to be a financial advisor who is involved with our clients. I'm okay with this transition. The culture of the firm has been established, a solid team is in place, and the firm will continue to evolve without me having an ownership stake in it.
In the past 25 years, I have seen a lot of changes in our industry and in our firm. The transition has been exciting, the adventure continues, and I couldn't have picked a better group of people to enjoy the ride with. We will continue to provide the best service to our clients that we can, and I am looking forward to seeing what entity we come up with in the future to make this happen.
Find Your Path
As I think Ben Roth's story illustrates, there are many factors to consider when paving the way for future owners to join and for current owners to exit. I hope this Q&A is useful as you decide on your firm's path—and whether offering staff an ownership stake is the right continuity solution for you.
Does your firm's continuity plan involve offering staff members an ownership stake? What advice do you have for others considering this strategy? Please share your thoughts with us below!