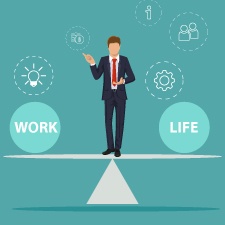 Did you know that millennials are the largest generation in the workforce? In fact, by 2025, three out of four workers will be a millennial. Their preferences are shaping workplace policies, and they are challenging employers to think differently about employee engagement, loyalty, and satisfaction.
As many of you grow your businesses, there is no doubt that millennials will be among the pool of job candidates. But what you've heard about this generation may be very different from what the research and data have to say. Here, we'll examine the fact and fiction about millennials in the workplace, including what this means for you as a potential employer.
Tenure
Fiction: Millennials are job hoppers.
Fact: The notion that millennials are job hoppers is incorrect and unfair.
According to the Bureau of Labor Statistics, the average tenure in a job for 25- to 34-year-olds hasn't changed significantly in the past 30 years. In 1987, tenure was 2.9 years; this decreased to 2.7 years in 2008 and increased to 3 years in 2014. Still, this doesn't mean that millennials will stay in a job for the long haul. They are not afraid to leave if there are limited growth opportunities, they aren't being challenged, or the work just isn't engaging.
What does this mean for you? If you run a smaller firm, you likely don't have the hierarchical structure that provides the "big" job titles. But what you can offer is the opportunity for your employees to have an immediate impact, to make a difference in the success of the firm, and to directly affect clients' lives. This is something to highlight in an interview! Also, be sure to avoid words like "high-net-worth" or "valued" clients and speak instead to the nature of the work during an interview. For example, you might share how you help people through difficult times (e.g., divorce, unexpected illness) and develop strategies to meet financial goals like paying for higher education or ensuring a secure retirement. These experiences can demonstrate to a candidate how impactful the work can be.
If you think the "job hopper" bias may be affecting your hiring decisions, reflect on how much this influences whom you decide to interview. When interviewing, ask your candidates questions about why they left a position and what they are looking for in the next one. This can provide valuable information when selecting the right person for your firm.
Salary
Fiction: Millennials care only about money when looking for a job.
Fact: Monetary reward is high on the list of millennial wants, but it's not their number-one priority.
Here's what we know: This generation enters the workplace with more college loan debt than any generation before them. According to a U.S. News & World Report study, average tuition and fees at private universities have increased 157 percent in 20 years. Out-of-state tuition and fees at public universities have risen 194 percent, and in-state tuition and fees at public universities have grown the most, increasing 237 percent. Given these numbers, a fair wage is definitely important. But it doesn't stop there for millennials.
Millennials want to do work that embraces their personal passions. They want work that has purpose, opportunities to learn and develop, and jobs that fit their lifestyles.
What does this mean for you? We are connected 24/7/365, and millennials have an expectation that technology allows them to work wherever and whenever. Has your office kept up with technology upgrades to make this happen? They also want the opportunity to use their strengths and to do their best every day—and that's not so different from other generations. So, think about what you can offer in terms of professional development opportunities, as well as how to tap into the passions of your young employees.
Flexibility
Fiction: Millennials believe they are entitled to workplace flexibility.
Fact: Millennials (like other generations) are seeking a work-life balance.
When many employees think of workplace flexibility, having flextime or the ability to work remotely part of the time come to mind. In fact, Gallup consistently finds that flexible schedules and work-from-home opportunities are a major consideration when deciding to take or leave a job. Millennials have a bad reputation for pushing for this flexibility. Really, it's a desire shared by most employees. The main difference is that millennials are willing to push for it because they don't want to sacrifice their lives for a job. Instead, they are seeking jobs that support their lives. This desire for flexibility may be viewed as entitlement by some, but think about this: research shows that engagement increases when employees split their time between working in the office and working remotely.
What does this mean for you? The nature of your positions may not allow employees to work from home on a regular basis. Fortunately, there are other ways to infuse some flexibility by being creative and open to different ideas. For some firms, this means closing early on Fridays during the summer. For others, it's allowing staff to vary their hours based on a personal interest, like taking a class. Or perhaps you could allow employees to start later and stay later on days when they have evening client appointments. These are just some of the simple ways to build in flexibility that can make sense for both you and your staff. So, have a conversation with your employees and work together to find a solution.
Feedback
Fiction: Millennials want constant feedback.
Fact: Millennials want to know how they are performing on a regular basis.
Indeed, millennials want more communication, generally speaking. But do they specifically want more feedback? Simply, no. All employees want to know how they are performing, and the annual performance review alone doesn't cut it. Regular, ongoing feedback is essential. Employees who receive regular feedback are almost three times more likely than other employees to be engaged.
What does this mean for you? Meeting on a regular basis provides an opportunity for open dialogue between you and your staff. To help your employees work to their fullest potential and contribute at the highest level possible, take it a step further by collaboratively developing specific goals. That way, your employees will understand what they are working toward, how it will be measured, and how it relates to the overall firm goals.
Finally, rather than focusing on what they didn't do, focus on the results you are all working toward. This allows you to be objective in how you approach your staff, and it can help you achieve better results. It's also important to remember that millennials are young. They may not have the experience or the maturity to meet your expectations immediately. With this in mind, provide a supportive environment where mistakes are treated as learning opportunities and where employees are empowered to ask questions and develop their own solutions and techniques for completing the work. These small steps can go a long way in creating a rewarding workplace.
Myth Busting
No doubt you've heard many of the myths we've discussed here (and more!). Of course, this is not to say that millennials aren't pushing for change in the workplace. They want a work-life balance, the hours that best suit them, and the opportunity to work in a way that makes sense to them. But if you really think about it? Millennials are asking for things everyone desires, regardless of age or generation. I hope the facts challenge you to think differently about this generation and working with millennial employees.
What other myths have you heard about millennial employees that just aren't true? How have younger employees changed your firm's work environment? Please share your thoughts with us below!