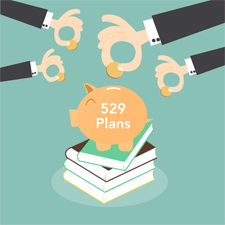 The Millennial generation has a lot going for it. Raised on cutting-edge technology and social media, they consider themselves optimists with big plans for the future—they are generally confident, connected, and committed to doing meaningful work. Unfortunately, many also graduated from college with staggering debt; according to the 2014 Wells Fargo Millennial Survey, this generation's top financial concern—besides day-to-day bills—is paying off student loans. As a result, those with young children may find saving for future education expenses difficult.
Millennials and Education Planning
This generation understands all too well the need to start planning early and prudently for their own children's education. Some lessons fade over time, but this one won't: millennials don't want to see their kids end up in the same circumstances. Just like other generations, millennials want the best for their children, but they may not know the best way to reach this goal.
401(k)s Versus 529 Plans for College Savings
More than older clients, millennials may tend to view their 401(k) plans as piggybanks. Some plan to tap their retirement accounts to fund a number of financial goals, including their children's education.
As you know, the benefits of contributing to a 401(k) include the pretax contribution, tax-deferred growth, and, in many cases, an employer match. The downsides are the limit on how much you can contribute and the tax on all distributions, including those for higher education. If the distribution is taken prior to age 59½, it will typically be subject to a 10-percent premature distribution penalty tax. (There is no distribution exception for qualified higher education expenses from an employer-sponsored plan, as there is from an IRA.)
A 529 college savings plan, on the other hand, may be a particularly useful vehicle to help millennials reach their goals—perhaps more beneficial than a 401(k).
For example, although there's no up-front federal income tax deduction, many states offer state tax incentives for 529 plan contributions. The big benefit, of course, is that the funds grow tax-deferred, and there's no tax on distributions if used for qualified higher education expenses. You can add value to your client relationship by helping them identify the proper savings vehicle for their situation.
The Grandparent Connection
You may currently be working with several generations of a family, or maybe you're just starting to develop a relationship with your clients' adult children. Whatever the situation, when discussing 529 plans with clients, don't forget the role many grandparents are willing to play in funding their grandchildren's education. Establishing a 529 account to benefit a grandchild (or contributing to an account the parent has already established) can help maximize a grandparent's gifts while offering valuable tax benefits. For example:
Grandparents can make a tax-free gift to a 529 account up to the annual gift tax exclusion amount of $14,000 for 2015 ($28,000 for a married couple) per account beneficiary. They can also take advantage of a tax election that allows them to spread large contributions equally over five years, up to $70,000 for 2015 ($140,000 for a married couple).
Grandparents can retain ownership of the 529 account and modify the beneficiary designations without additional gift tax considerations, as long as the new beneficiary is in the same generation as the current beneficiary. Future beneficiaries must be qualified "members of the family" as defined in the 529 plan's rules. (IRS Publication 970: Tax Benefits for Education includes a list of these qualified beneficiaries.)
Grandparents may be able to change the ownership on the account to the child's parent in the future, subject to any plan restrictions.
What about financial aid? 529 accounts that are in a parent's name are counted as parental assets on the Free Application for Federal Student Aid (FAFSA), but 529 accounts owned by grandparents don't need to be reported on the FAFSA. Keep in mind, however, that distributions from a grandparent-owned account may be considered untaxed income to the student. (For more information about financial aid, read our post about common myths your clients may believe.)


Although repositioning assets for the FAFSA is important, it generally shouldn't be millennial clients' primary focus. The reality is that many parents' incomes will be too high for grants, and aid may take the form of loans subject to repayment.

When it comes to millennials and education planning, it's best to take a holistic approach that addresses their specific financial situation. Men and women of this generation often have a number of planning needs, and getting a handle on their own debt—including student loans—may be the first order of business when they start working with an advisor. But, as their financial plan begins to take shape, they're likely to be keenly aware of the value of education planning. A 529 plan can be an excellent way for parents and grandparents to give the gift of a debt-free college education.

Are you working with millennials who are saving for their children's college? What are some of the challenges you face? Please share below!

The fees, expenses, and features of 529 plans can vary from state to state. 529 plans involve investment risk, including the possible loss of funds. There is no guarantee that a college-funding goal will be met. In order to be federally tax-free, earnings must be used to pay for qualified higher education expenses. The earnings portion of a nonqualified withdrawal will be subject to ordinary income tax at the recipient's marginal rate and subject to a 10-percent penalty. By investing in a plan outside your state of residence, you may lose any state tax benefits. 529 plans are subject to enrollment, maintenance, and administration/management fees and expenses.

Commonwealth Financial Network® does not provide legal or tax advice. You should consult a legal or tax professional regarding your individual situation.