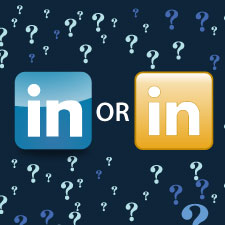 As you're likely aware, there are numerous benefits of LinkedIn for financial advisors, including finding prospects and sharing content to help establish yourself as a thought leader in the industry. Most advisors I speak with have a "free" LinkedIn account but ask me if an upgrade to a premium account (e.g., Sales Navigator, Business Premium) is worth the investment. My response is that although I find LinkedIn to be an incredibly useful tool—and believe that a premium account can improve marketing efforts—it's important to understand the benefits you'll actually get with a premium account before you decide if an upgrade is something that might work for you.
Benefits of a Premium Account
Contact anyone using InMail. LinkedIn's InMail feature enables LinkedIn members to send a message to another LinkedIn member with whom they are not connected. InMail is not available with the free version of LinkedIn, but with a premium upgrade, you are able to send InMail messages every month. If there is no response to your message within seven days, LinkedIn will credit you the message. Plus, unused messages roll over and accumulate for up to 90 days.
An InMail message is more likely to receive a response than a cold call (not that you're cold-calling much) or a generic connection request. This can be a powerful tool for financial advisors to reach prospective clients. Keep in mind, however, that if you mention a product or service in an InMail message, your Compliance or Advertising team may require you to include your e-mail signature.
See who's viewed your profile. With a paid account, you can access more information about who has viewed your profile. You will see the entire list of viewers of your profile within the last 90 days, although you will not see names of viewers who choose to browse in private mode. (With a free account, you're limited to seeing the five most recent viewers in the last 90 days.) You will also have the ability to click into weekly data points to filter your viewer list and see valuable information, including where viewers work, what industries they work in, and/or their job titles.
This aspect of a premium LinkedIn membership enables you to gain more insight into the types of people interested in your financial planning services. You can then determine if it could be valuable to contact them with an InMail message or request an introduction.
Request introductions. An introduction is when you use a connection on LinkedIn to "introduce" you to one of his or her connections via LinkedIn's messaging functionality. Introductions give you instant credibility when reaching out to new professionals or prospective clients because someone they know is facilitating the interaction. With LinkedIn's most recent redesign to its website version, however, you cannot request any introductions through the website but you can use the mobile app, regardless of the type of membership you have.
The free version of LinkedIn limits the number of introduction requests you can make. In the past, a premium package would give you more credits for introduction requests. As of this blog posting, LinkedIn had not yet rolled out its intended updates to how introduction requests will work on the website version, so this functionality is likely to change.
Perform targeted searches. With a free account, you can perform sophisticated searching using the main search box at the top of the screen by adding Boolean connectors (e.g., AND, OR, and NOT). For example, you can type in title: chief AND company: "ABCD Financial Corporation" in order to generate a list of all C-level executives at a certain company. But many search options that used to be included in both the free version and the Business Premium upgrade are now offered only in LinkedIn's Sales Navigator, including the following:
Years of experience
Function
Seniority level
Interested in
Company size
When joined
With these features, you can search for a targeted group of professionals. Based on your preferences and any saved leads (also a feature available only in Sales Navigator), LinkedIn will begin to make recommendations to you for additional leads.
You can also build lead lists based on the filters listed above and segment your results based on criteria such as "recent job changes." You can receive real-time updates on the leads you save, such as:
When they change roles, have an anniversary, or connect with someone already in your network
When they share an update, so you can see what they care about
When a person is hired by a company on your lead list
Get better customer service. If you have questions or need help, LinkedIn's customer service department responds faster to premium account holders. Since the network has almost 500 million members, this can be a nice perk. One personal disclaimer here: I e-mailed a question to the company under my premium membership more than a month ago and have yet to hear back.
Other features. Some additional useful features offered in the Sales Navigator package include the ability to:
Save notes on people's profiles (Arguably, you should use your CRM for this.)
Segment search results to find prospects who are likely to engage with you
Receive customized suggestions for leads
Save leads
Follow key people and companies
Take It Slow!
TechCrunch recently reported that there is a chance that LinkedIn may offer some of the search functionality removed from the free version in a new search product. For now, if you want these features, you have to purchase the Sales Navigator instead of the Business Premium ($64.99 vs. $47.99 per month) package. There are also a couple of important points to keep in mind:
LinkedIn's premium account membership (Sales Navigator) is specifically designed for sales professionals and might not be approved by your Compliance department (it's not approved for Commonwealth advisors), so be sure to check with your broker/dealer before purchasing the upgrade.
The Business Premium package is no longer the best premium option for you if your goals are to network and prospect.
Given all of these pros and cons, I believe LinkedIn is the perfect marketing tool to adopt slowly. Before you make the decision to upgrade, I encourage you to first take advantage of LinkedIn's free functionality for networking and prospecting. (For some helpful suggestions on searching in the free version, check out the LinkedIn Official Blog and Social Talent.) Once you gain a certain level of expertise using the site's free features, you may realize the potential of what you can do with it. Then it might be time to upgrade and reap some of the additional benefits discussed here.
Have you upgraded to a premium LinkedIn account? What do you think of LinkedIn's recent changes? Share your thoughts by commenting below.
Editor's Note: This post was originally published in April 2014, but we've updated it to bring you more relevant and timely information.