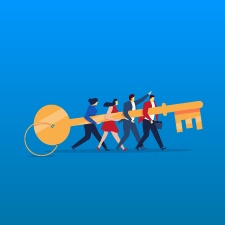 The retirement plan industry has seen a torrent of regulatory changes, shifts in business owner and plan sponsor expectations, an ever-increasing reliance on technology, and a race to the bottom on fees. Every financial advisor trying to make inroads in this space could use support, and if you're not looking to your third-party administrator (TPA) relationships for that support, I think you're overlooking a critical strategy to improve your retirement plan business.
TPAs work with business owners and plan sponsors to perform vital tasks to ensure plan compliance, such as:
Designing retirement plan documents
Preparing employer and employee benefit statements and disclosure forms
Ensuring that the plan satisfies the IRS nondiscrimination requirements
Preparing annual returns and reports required by the Department of Labor (e.g., Form 5500), IRS, and other governmental agencies
So, how can you leverage a TPA to improve your retirement plan business?
What Your TPA Can Do for You
Many plan advisors and plan sponsors decide to work on a bundled basis—where a single provider is responsible for all services. A common alternative is an unbundled or integrated package, where there is an investment and recordkeeping provider, as well as a separate TPA. Of course, there is no one wrong or right answer when it comes to bundled versus unbundled or integrated. But there are specific benefits to working with a TPA firm that is both independent and local.
Save time and add value. As you're well aware, managing qualified retirement plans requires a lot of work and plenty of knowledge. To be successful, advisors and teams require a mix of complementary skills. When you leverage a TPA with extensive experience in plan design and ERISA, you can save both time and effort. The TPA's expertise may even translate into additional sales opportunities for you.
The graphic below illustrates the core skills that successful advisors need to provide over time. Within the Compliance area, for example, a TPA can provide added knowledge and enhance your value proposition to both clients and prospects. Leaving these tasks to the expert will give you more time to focus on bringing in new clients and expanding relationships with existing ones.
Basics of Managing and Servicing Qualified Plan Clients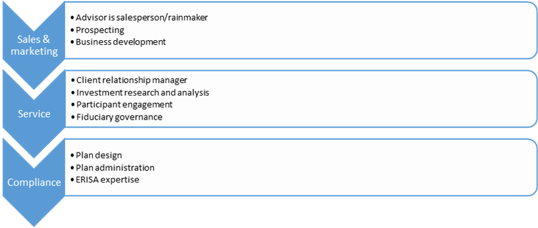 1 + 1 = 3. When you truly leverage a TPA partnership, the result can take both parties beyond the sum of their parts: it's one of the rare cases in which 1 plus 1 equals 3. For example, how would you feel about doubling your audience? By partnering with a TPA, you may just find yourself communicating with an entirely new group. A TPA may help fill your pipeline with new clients, whether they are prospects or centers of influence (COIs). You'll also gain credibility. By leveraging the TPA's reputation, you'll be sending a strong message to your clients, prospects, and COIs that you have additional expertise and knowledge. Last but certainly not least, this partnership may save you money, too! For instance, if you are considering a client-centric event for plan sponsors, you can share the cost of that event with the TPA.
Improve your retirement plan business. As independent third parties, TPAs maintain a trusted image. As an advisor, you can use your TPA partner's status to your advantage when working to retain business. According to a recent study by Cerulli (May 2011), TPAs do an excellent job of keeping clients, with an average loss rate of less than 1 percent of their business base. This can translate into improved retention rates for your business, too.
What Should You Look for in a TPA?
So, what constitutes a successful TPA partnership? Not all TPAs are created equal, and you'll need to perform some due diligence to find the right partner. Personality and philosophy can often make or break a partnership. If you are aligned with the TPA on your vision and mission, you likely will be good partners; however, keep in mind that TPA services can vary. It's important that you ask questions—in fact, a lot of questions!
Here are just a few you might want to query when looking into a TPA firm:
Who are the TPA team members, and what does their professional experience entail?
What professional designations does the team hold? Are they relevant to their roles?
What access does the TPA offer to ERISA counsel? Is it in-house or outsourced?
Is this TPA a producing TPA? Will the TPA also act as the plan advisor?
Revitalizing an Existing Partnership
If your existing TPA relationship doesn't add up to 3, you may want to consider integrating the TPA more closely with your firm—or it may be time to find a new partner. Before cutting ties, these three steps may help you improve your relationship and make the most of what your TPA has to offer:
Examine your existing TPA relationship. Is it a partnership, or is the TPA just another vendor? Is the TPA in alignment with your mission and vision?
Meet with the TPA owner or partner. Discuss how you would like to create more of a partnership versus a vendor relationship. Explain how you would like to incorporate the TPA into part of your service model.
Arrange a meeting with a business owner prospect and bring the TPA partner with you. Have the TPA partner discuss an innovative plan design idea that might be applicable to this prospect but is not currently implemented. Even if the client does not adopt this idea, you will at least get credit for presenting a valuable idea that may enhance the client's retirement nest egg, which would have a long-lasting impact for the client.
The Next Level
A successful relationship with a TPA partner can help bring your retirement plan practice to the next level. By incorporating TPAs into your service model and leveraging their expertise, you'll get valuable support when it comes to sales and marketing, service, and, most important, compliance.
What do you think is the key to a successful TPA partnership? Has your firm benefitted from working closely with a TPA? Please share your thoughts with us below!