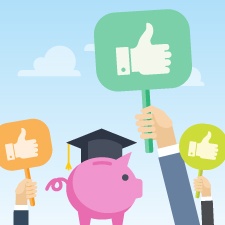 The Tax Cuts and Jobs Act has changed the 529 plan—helping to make these accounts more attractive when it comes to qualified expenses. The act also provides some much-needed rollover flexibility to 529 ABLE accounts. Here, I will discuss some of these changes and why you may want to reposition 529s as education rather than college savings accounts.
What Is a 529 Savings Plan?
The 529 college savings plan is a tax-deferred account. Contributions are invested in a selection of mutual funds or exchange-traded funds. Later, those assets can be withdrawn tax free if used for "qualified expenses." Many states also offer a state tax deduction for contributions made to 529 plans. (Keep in mind that the amount of the deduction and whether you need to use a state-sponsored plan differ by state.)
What Is a Qualified Expense?
When it comes to 529 plans, one of the questions you'll likely hear from clients is, "What is a qualified expense?" With the Tax Cuts and Jobs Act, the answer to this question has changed. Let's take a closer look.
Traditionally, qualified expenses were those incurred at an eligible postsecondary school. These included the following:
Tuition, fees, books, supplies, and equipment

Room and board (For federal financial aid purposes, this cost is the lesser of the actual cost or the allowance for room and board, as determined by the school, that was included in the cost of attendance.)

The purchase of computer or peripheral equipment, computer software, or Internet access and related services (Here, the equipment or service must be used primarily by the beneficiary during any of the years the beneficiary is enrolled at an eligible postsecondary school.)
Under the new act, however, qualified expenses have been expanded to also include expenses incurred at an eligible elementary or secondary school. Perhaps most important, this applies to tuition, which is defined as follows:
These expenses cover no more than $10,000 in tuition, incurred by a designated beneficiary during a tax year beginning after 2017, in connection with enrollment or attendance at an eligible elementary or secondary school.
In the past, the only other option to cover these costs was the Coverdell ESA, but it is likely that many of your clients earn too much to even contribute. Plus, the maximum contribution per year per student is $2,000, which doesn't allow much opportunity to accumulate assets. But now your clients have the 529 option, as it includes all education tuition costs. This may be appealing to clients who plan on sending their children to private elementary and high school. Many will realize a tax-deferral benefit, especially those clients who have young children who won't be entering school for a number of years.
The State Tax Deduction Loophole?
Under the tax act, the state tax deduction for contributions may provide incentive for your clients to put money into a 529 account and then take it right back out. Why? In theory, a client could put money in a 529 account, get a state tax deduction, and then take that money right back out to pay for elementary or high school tuition.
Of course, not every state has state taxes or gives a deduction. There are also some states that do not automatically conform to the federal rules and need to approve this change at the state level. Plus, some of the states that do offer the deduction are not happy about this "loophole," fearing it will reduce revenue. So, don't be surprised if you see changes to these rules in the future. For example, some states are considering administering clawbacks on deductions if the funds are used for elementary or secondary school expenses, treating the withdrawal as nonqualified, and taxing it at the state level.
What Is the 529 ABLE Account?
529 ABLE (Achieve a Better Life Experience) accounts were established in 2014 to allow disabled beneficiaries (or their families) to save in a tax-deferred account. These accounts do not count as an asset for state or federal aid eligibility until they exceed $100,000. Some states also offer state tax deductions for contributions up to certain limits.
529 rollover. The tax act has opened up the ability to roll over up to the annual gift limit amount ($15,000 for 2018) from an existing 529 account into a 529 ABLE account for the same beneficiary. This is great news for parents of children with disabilities who previously opened traditional 529 plans for those children. The existing 529 plans will count against any state or federal benefits, and many of these children won't incur the qualified expenses of the traditional 529 plan. The new rollover provision will allow them to start transitioning those accounts over from 529s to 529 ABLEs. Although this process may take a few years, it will help them avoid the current scenario of taking taxable nonqualified withdrawals and making new contributions.
Qualified disability expenses. The definition of qualified disability expenses is much more flexible for the 529 ABLE account. These expenses can include the following:
Education
Job training and support
Health care
Housing
Financial management
Now that 36 states have launched 529 ABLE programs, the popularity of these accounts will continue to grow. If your state has yet to launch a program, you can use any other state's plan. Also, be on the lookout for an advisor-sold version to come to market.
Revisit Your Education Savings Strategies
The rising cost of higher education and the burden of student loans have made saving for education costs more important than ever. The 529 plan can help ease this burden, with no income limitations and extremely favorable contribution limits. The positive changes introduced by the new tax act provide a great opportunity to revisit your education savings strategies with clients and help them use 529 plans to achieve their education goals.
Will you revisit your education savings strategies given these changes to the 529 plan? Did the Tax Cuts and Jobs Act introduce other changes that have affected your financial planning strategies? Please share your thoughts with us below!
The fees, expenses, and features of 529 plans can vary from state to state. 529 plans involve investment risk, including the possible loss of funds. There is no guarantee that an education-funding goal will be met. In order to be federally tax-free, earnings must be used to pay for qualified education expenses. The earnings portion of a nonqualified withdrawal will be subject to ordinary income tax at the recipient's marginal rate and subject to a 10-percent penalty. By investing in a plan outside your state of residence, you may lose any state tax benefits. 529 plans are subject to enrollment, maintenance, and administration/management fees and expenses.