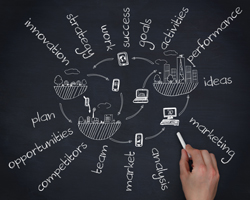 Have you ever noticed that there are certain brands and businesses that people talk about constantly? Often, we learn about these businesses because of who uses them—whether they are celebrities, high-net-worth acquaintances, or friends. This chatter and buzz draws us, along with others, to seek out the business's products or services.
How can you make your name—and business—a topic of conversation? Fortunately, there are a few ways to help generate buzz for your advisory business, including these four best practices.
1) Showcase Noteworthy Clients
You probably have many interesting clients with compelling stories. Share them (with written permission, of course)!
Write about a client who recently traveled to South Africa to volunteer, completed an Ironman triathlon, paid for their triplets' educations, or just opened a new restaurant, for example. Showcase these stories in a waiting-room scrapbook, your website, your prospect kit, congratulatory speeches at your appreciation events, or your firm's newsletter.
By featuring impressive clients, you'll emphasize that you're a high-end advisor and help clients feel that they are a part of an exclusive group. It can also inspire them to refer contacts similar to those whom they read about.
2) Seek Out Media Coverage
You don't need a PR team to get media attention. Here are a few strategies to help you gain some publicity:
E-mail reporters and editors offering to be a resource for a newsworthy topic.
Share a press release with local newspapers and magazines that carefully and strategically tells your business's story and goals.
Donate to philanthropic causes that you support. Not only will this benefit a great organization, but it can also help you establish your name in your community.
3) Demonstrate Thought Leadership
When marketing to affluent clients and high-net-worth prospective clients, you need to distinguish yourself from your competitors. One of the most successful ways to do this is by demonstrating your thought leadership and expertise.
Here at Commonwealth, the Marketing team and I believe that self-publishing well-developed, interesting content on your website, blog, or social media is a great way to do this.
Share your thought leadership through short video clips, blog posts, or e-mail newsletters. Consistently deliver original content that your current clients can easily share and forward to their network. Best of all? This will help generate buzz for your advisory business by bolstering your reputation.
4) Don't Forget the Value of Word of Mouth
Word of mouth is a powerful referral source for many financial advisors. To reap the benefits, be sure to pursue the following strategies:
Remember that every interaction counts! Impress each and every client with a positive, memorable experience. In turn, they will give positive reviews to their friends and contacts.
Promote yourself and your business as "referral only." This helps inspire your current clients to reach out to their network and begin discussing your services.
Do things worth talking about. Host compelling events and informative seminars. Provide unparalleled service. Infuse your unique personality—and business's brand—into every element of your services. Pay close attention to all the little things; they can add up to an impressive number of word-of-mouth leads.
To generate buzz for your advisory business, you need to build an exemplary reputation as a high-end advisory firm. By implementing these four best practices, you'll be well on your way to becoming the advisor—and business—worth buzzing about.
Does your business follow any of these best practices? Do you recommend any other strategies for fellow advisors seeking more buzz for their practices?