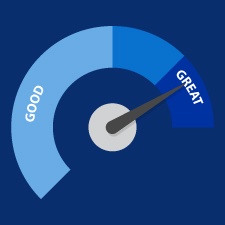 If you're an advisor in the retirement plan space, you likely have a go-to framework for conducting annual or periodic meetings with your plan sponsor and retirement plan committee clients. This framework no doubt includes covering all of the core 401(k) plan topics that retirement plan sponsors are most interested in, such as the performance of the plan's investments, fees and expenses, plan design, and how well the plan is working for employees. Of course, those topics are essential areas to focus on when managing a retirement plan and are imperative to delivering the service, expertise, and guidance that your clients have come to expect from you.
But when was the last time you examined the quality—not content—of your meetings? Those intangible, yet critical, elements of impactful communication (think: flow, clarity, and productiveness) are fundamental factors of executing an extraordinary meeting. Are you ready to go from good to great? These six tips for delivering better plan sponsor meetings will help you to do just that.
1) Prepare, Prepare, Prepare
Obvious? Yes. Overlooked? Absolutely! Meeting preparation goes far beyond simply creating an agenda, printing handouts, bringing a supply of logo-inscribed pens, and showing up on time. To ensure that you're fully prepared, confirm meeting attendees in advance, and browse clients' LinkedIn or other social media profiles so you can try to connect on a more personal level. That way, you can use whatever personal insight you've gleaned to speak to attendees in terms that may be familiar to them. (For example, hunters, foodies, and golfers all have a unique vernacular.) Knowing your audience—and what resonates with them—will foster greater engagement and lead to a congenial meeting experience.
2) Use Technology to Enhance the Experience
How many times have your clients received the same thick, bland meeting packets? Shake up the delivery method of your key talking points by putting a technological spin on the proceedings. Consider investing in iPads or tablets and distribute them to meeting attendees instead of hard-copy handouts. You might also use one of several presentation apps to navigate the flow of meeting slides. I think you'll find that your attendees will be pleasantly surprised with how simple it is to follow along, which will enhance their experience. Plus, you'll keep a firm grip on the pace and tone of the conversation by controlling what data the attendees can access and when they can view it.
3) Find the Right Balance Between Educating and Listening
Presenting to a 401(k) client requires a delicate balance. As a retirement plan consultant, your clients rely heavily on you to provide specialized guidance, direction, and advice about their retirement plan. Because of this, however, you may find yourself doing most of the talking. It's important to keep in mind that plan sponsors, business owners, and committee members—as fiduciaries themselves—must have a sound understanding of both their duties and how your recommendations will affect their plan. So, encourage an open discussion, and prod meeting attendees to ask questions and speak up if something isn't clear to them. (Retirement plans are complex, so a red flag should go up if there aren't any questions!) And when questions do arise, listen with all ears. You can learn a lot from what your clients are asking you.
4) Go Beyond the Boardroom
Let's face it: investments, nondiscrimination testing, and plan governance in retirement plans aren't always the most stimulating of topics. Fortunately, there is no rule that states that meetings must take place in a traditional office or boardroom setting. Try a different backdrop if you think your client is up for it. (Again, know your audience.) A park where food trucks are on hand to serve lunch, the local historical society building, or the bleachers of the local high school football stadium, for example, can help create a fun environment for meetings. You'll turn a daunting topic into an enjoyable event, and your clients will look forward to their next 401(k) "adventure" with you as their tour guide.
5) Take Credit Where Credit Is Due
Plan sponsor meetings are a tremendous opportunity to remind your clients about all the great work you've been doing on their behalf. Whether it's serving as an investment steward, providing consultation on difference-making plan designs, creating plan governance best practices, or delivering financial wellness and retirement education efforts that inspire their employees to take positive retirement savings actions, your annual (or periodic) plan reviews serve as a natural forum to remind clients about the value and proficiency that you bring to the table. Don't be afraid to showcase your accomplishments and how they have benefited your client (e.g., raising the average deferral rate or suggesting a plan design tweak that allowed owners to max out their contributions). By doing so, you'll also be providing confident justification of your advisory fee.
6) Follow Up!
Within a few days of your meeting, be sure to follow up with a written recap of all topics discussed, questions raised, and important action items. Use your follow-up notes to forecast potential talking points for the next meeting so you and your client can be one step ahead of any operational roadblocks. You'll also want to remind your clients that meeting notes should be stored in their fiduciary file (either virtually or in hard-copy format), as plan review documentation is an important aspect of exercising proper plan governance.
One last helpful hint: survey your clients periodically (there are several free online survey tools) to ensure that you are staying current with their needs and to ensure the meeting experience is exceeding their expectations.
The Meeting Opportunity
Face-to-face interaction at retirement plan meetings presents a terrific opportunity to strengthen your client relationships. By consistently incorporating these six tips into your meeting framework, you'll be well on your way to delivering an outstanding experience to your plan sponsor clients.
What steps have you taken to elevate the client meeting experience? What technology do you use to enhance your meetings? Please share your thoughts with us below!