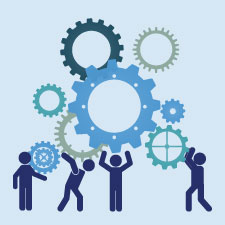 According to a study by the Oechsli Institute, approximately 54 percent of independent advisory practices are solo offices. This might be surprising, but there are certainly benefits of being "the one." You can design your practice around your life, do things the way you believe they should be done, and control the direction your business takes.
But as the industry has grown, your clients' needs have become more sophisticated, technology has evolved, social media has become relevant, and margins have compressed. When faced with these challenges, is it time for you to consider forming a business partnership?
Here, I'll share some tips on what you should know before making this decision and what it could mean for your practice.
Meeting the Challenge
The solution for solo advisors looking to share their growing responsibilities likely lies in the partnership model, which has evolved along with the industry, giving rise to multiadvisor, ensemble, and enterprise structures. The more integrated a partnership becomes, the greater the opportunity it has to address the challenges of the solo model, including:
Increasing advisory capacity
Improving operational efficiencies
Creating economies of scale
Ensuring redundancies of skill sets
To give you an idea of the different types of partnerships that might work for your practice, the chart below outlines the attributes of organizations along the partnership spectrum.
The Partnership Spectrum
Stage
Attributes
Solo

Individual advisor with single DBA name
Own space
Staff who fill generalist/hybrid roles
No shared business or shared staff
Advisor is the firm (traditional lifestyle practice)

Silo/multiadvisor

Individual advisors with shared DBA name
Individual books of business with separate processes
Shared space and expenses for resources (e.g., equipment, common areas)
Some shared staff who fill generalist roles
Some shared marketing expenses
Advisor is the firm

Ensemble

Multiple advisors with shared business plan and vision; shared DBA name
Some shared business
Shared space, expenses, marketing, technology, and staff
Similar processes; increased staff specialization
Reciprocal continuity plans with buy-sell agreements
Shared financial management of the firm; may share equity
Firm begins to establish an identity

Enterprise/firm

Multiple advisors with shared business plan, vision, and values; shared DBA name
Shared space (multiple locations), expenses, marketing, technology, and staff
Shared processes and service/fee matrices
Integrated books of business with shared ideal client profile
Team approach to client acquisition and service
Buy-sell agreements for succession/continuity
Equity, profit sharing, and cohesive and disciplined financial management of firm
Integrated business management competencies and defined leadership roles
Firm has its own identity
Is a Partnership Right for You?
Although one of these partnership structures may seem like the perfect solution, that doesn't mean forming one (or deepening the integration of your existing partnership) is the best choice for you. Be sure to ask yourself the following questions:
What is your level of commitment? Relationships between partners require constant attention and nurturing to have long-term success.
What will forming a partnership allow you to do? Which stage of the partnership spectrum is appropriate given your business objectives?
Are you ready to give up complete autonomy and control?
How will you make decisions and clear impasses? Are you comfortable with sharing decision making?
What roles are you best suited to play within the partnership?
If you're clear about what you want to get from the arrangement, the better able you will be to create a lasting and successful partnership.
Drafting Your Playbook
When forming any partnership, it's critical to execute a written operating agreement. This will provide clarity and ensure that you and your partner(s) have discussed the myriad issues that could affect the partnership. It may include guidelines regarding:
Shared requirements (space, resources, expenses, staff, etc.)
Communications (confidentiality, shared drives, etc.)
Decision making (voting methodology, tiebreaks, impasses, etc.)
Meetings (frequency, agendas, minutes, follow-up, etc.)
Personal courtesies
Ownership structure
Profit-sharing structure
Buyout agreements (continuity and succession)
Roles
Documenting how you and your partners will approach these issues gives you an objective standard to consult when you find yourselves in a difficult patch. It will also orient you to the bigger picture and the intentions you had when putting the partnership in place.
Defining and assigning roles. Beyond your responsibilities as a financial advisor, running a business requires you to don several hats to ensure that it remains healthy and strong. Solo advisors often take on aspects of many roles—from chief executive officer to director of human resources. But as practices become enterprises, the roles become more distinct and more critical to the viability of the firm.
If you take on too many roles, you're unlikely to be focused on any one of them or do any one of them particularly well. Adopting specific leadership roles within a partnership (particularly at the enterprise level) will allow you to:
Focus on the areas of greatest interest to you—and that you do best
Put the needs of the firm first by ensuring that critical decisions remain top of mind among all partners
3 Reasons Business Partnerships Fail
If partnerships allow advisors to gain scale and capacity while focusing on the things they do best, why do solos still account for 54 percent of the field? Partnerships are not easy to establish or maintain. Here's why they sometimes fail:
1) Lack of planning. This is the primary reason partnerships fail. Advisors may not take the time to have in-depth conversations about the issues outlined here (among others) before formalizing their arrangement. The colleague who is great to socialize with at conferences, for example, may not share your business management style or objectives. Once you set up shop together, it can be awkward and uncomfortable to unwind the situation.
2) Feelings of inequity. An ineffective partnership can result in feelings of unfulfilled expectations, lost opportunities, and inequity. For example, an older advisor may begin pulling back from the firm yet retain his ownership and profit-sharing interests, causing his younger partner to resent working more hours without commensurate compensation. Further, work ethics may change over time, and ideas on how to grow the firm may diverge.
3) Compromise instead of consensus. In a strained partnership, one person may choose to act alone, without consulting the other partners. But the best decisions are those arrived at by way of consensus (general agreement of the group) rather than compromise (requiring at least one person to give something up). In the long run, compromise can exacerbate feelings of inequity and lead to defensive posturing; the effectiveness of the team dwindles as a result. When each person's voice is heard and respected, the partnership can better maintain its equilibrium.
Reach the Next Level
Partnerships represent fantastic opportunities for growing firms and eager, business-minded advisors—if all involved put in the necessary time and effort. Partnerships aren't for everyone, and there are many thriving solo advisors who manage it all with aplomb.
Still, if you think you've reached your capacity as a solo advisor and yearn for more, if you think about your firm as a business rather than a practice, if you see your firm as an investment rather than as your lifestyle, and if you want clients and your community to identify with your business rather than your personality, then forming a business partnership is a great way to reach the next level.
Have you had success in forming a business partnership? How does being in a partnership compare with being a solo advisor? Please share your thoughts with us below.