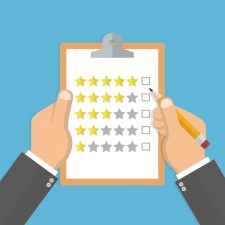 This year, FINRA is undertaking a review of how broker/dealers establish, communicate, and implement cultural values—and whether a particular firm's cultural values appear to be guiding its overall business conduct.
But what does FINRA's culture of compliance really mean? And how can you measure it?
What Is FINRA Looking For?
To start, let's look at the eight high-level items regarding a firm's cultural values that FINRA is requesting when conducting a review:
A summary of the key policies and processes by which the firm establishes cultural values
A description of the processes employed by executive management, business unit leaders, and control functions in establishing, communicating, and implementing the firm's cultural value
A description of how the firm assesses and measures the impact of cultural values and whether those values have made a difference in achieving desired behavior
A summary of the processes the firm uses to identify policy breaches and determine whether a breach of cultural values has occurred
A description of how the firm addresses cultural value policy or process breaches once discovered
A description of the firm's policies and processes to identify and address subcultures within the firm that may depart from or undermine the cultural values articulated by the board and senior management
A description of the firm's compensation practices and how they reinforce the firm's cultural values
A description of the cultural value criteria used to determine promotions, compensation, or other rewards
Of course, each broker/dealer will take its own approach in establishing, communicating, and implementing cultural values. But here I'll focus on what I know best: the culture at Commonwealth.
Good People Making Good Decisions
Evidencing a firm's culture goes beyond just following the rules or the words of a mission statement. The essence of culture is reflected in the routine acts of the employees, advisors, and business partners. It's about good people making good decisions based on what's right—ethically, morally, and professionally.
As Commonwealth's chief compliance officer, and as someone with 25 years of experience in compliance, I've got it pretty good. Since I first walked through Commonwealth's doors, I've had the privilege of working closely with an actively engaged executive management team that consistently demonstrates their understanding of—and commitment to—the vital importance of the firm's culture.
All members of this team, from the firm's founder, to its CEO, to each managing principal, have been responsible for creating and fostering a unique "culture of compliance," "tone from the top," and "do no harm" mantra that, to me, is second to none. Believe me, when you're sitting in the CCO chair, the qualities, acts, and deeds of the people who make the most critical decisions affecting the firm day after day really matter, and they speak volumes about a firm's true culture.
We Wrote the Book
Commonwealth's founder, Joe Deitch, literally wrote the book about his vision for the firm and its culture. Every new employee at Commonwealth receives Joe's little blue book, titled A Passion for Excellence: Everyone Matters. This book sets the stage for who Commonwealth is, how every employee plays a crucial role in our success or failure, and how we succeed together.
Culture is ingrained in the employee review process as well. Of the four common performance objectives that exist in every employee's review, one is explicitly titled "Supports Teamwork and Culture," and it's been that way since I got here 10 years ago. Culture is clearly nothing new to Commonwealth. But as they say, if you're not moving forward, you're falling behind.
Revising Our Mission
In early 2016, Commonwealth revised its long-standing Uncommon Mission Statement (see below) by articulating its purpose:
We want to make a profound difference in our world. We help people, and we are inspired by empowering the goals and dreams of the entire Commonwealth community.
We also took the opportunity to refine our vision:
We will passionately promote Quality and Community. We strive to be the best at everything we do, while providing a supportive culture where all can thrive.
These two items are the foundation of our firm's five core values:
Indispensable Service
Financial Strength
Personal Development
Giving Back
Fun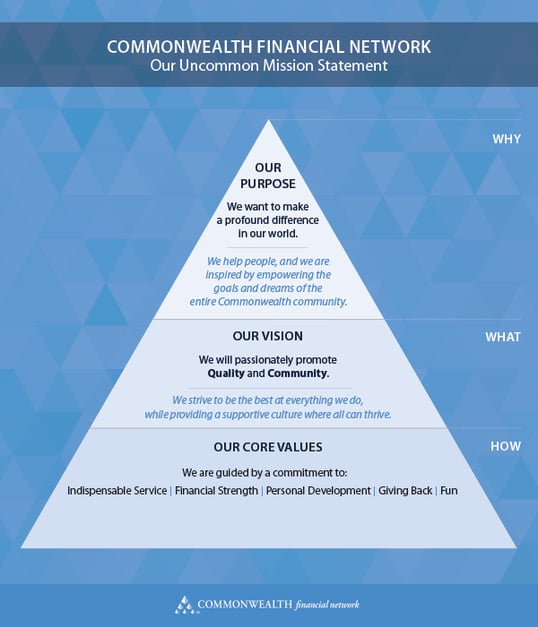 A Commitment to Culture
For any firm to maintain its culture, it must ensure that everyone associated with the firm is committed to the same core values on a consistent and ongoing basis. For us, this means hiring the right employees, associating with the right advisors, and conducting business with the right business partners. If any one of those links breaks, it could spell trouble for the culture of the firm.
No jerks allowed. We have always focused on hiring the right employees who share our commitment to great service and ethical conduct, and we are committed to associating with only those advisors who fit well into our firm's culture—what we proudly refer to as our "no jerks" policy. This means ensuring that prospective advisors don't have a material disciplinary record, questionable credit, or an undesirable product mix. But what matters most is that Commonwealth's advisors—both prospective and current—are nice people.
Further, advisors must foster a culture of compliance within their respective practices, and they must demonstrate an ongoing commitment to maintaining that culture.
Partnering strategically. Commonwealth's business partners are an absolute necessity to the continued success of the firm as well, and they play an important role in helping to maintain Commonwealth's culture as a key component of our community. Similar to what we do with our advisors, Commonwealth conducts initial and ongoing due diligence into the background, financial stability, and reputation of all business partners. And like our advisors, all of our business partners have their own firm culture—and they hold dear the core values that make us want to be better and make a positive difference in people's lives.
How Do We Measure Success?
Sounds great, right? But how do we know whether it's actually working? The most compelling evidence comes from those who sing our praises.
Employee recognition. Commonwealth's employees have been responsible for helping the firm win 33 Best Place to Work awards since 2008, including rankings among the Boston Globe's Top 100 Places to Work, the San Diego Business Journal's Best Places to Work, Computerworld's Best Places to Work in IT, and the Center for Generational Kinetics' Best Places to Work for Millennials in America.
Advisor service scores. Commonwealth regularly asks its advisors to provide a score from 0 to 100 (100 being the best) to measure each advisor's overall satisfaction with Commonwealth. Every year since 2010, Commonwealth has received an average score of 95 or better.
Partner referrals. Not to be outdone, Commonwealth's business partners regularly show their support of Commonwealth and its culture by being an important referral source for advisors who are looking for the right firm.
Doing What's Right
Culture is not just about scores. Rather, it's about doing what's right. It's about associating with good people, whether they be employees, advisors, or business partners. It's about working together as a community to make a difference in our world. It's about ethics, honesty, and transparency. It's about doing our best to avoid mistakes and stepping up to make it right when the inevitable happens. Simply put, firms with a culture of compliance rooted deep into the heart and soul of their leaders will consistently strive to do the right thing.
How does your firm demonstrate a culture of compliance? What do you look for in a broker/dealer culture? Please share your thoughts with us below.