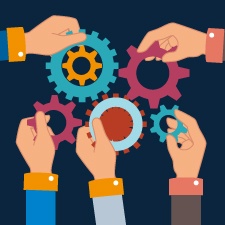 If you're in the retirement plan space, here's a scenario you might be familiar with: After careful consideration, your clients—small business owners—decide that the traditional IRA they've been using no longer meets the retirement goals of their employees. They are looking to establish a more significant retirement plan and call you to learn what options are available. After meeting, together you determine that a SIMPLE IRA plan is the ideal choice in terms of cost and maintenance. But now comes the hard part: finding the right SIMPLE IRA plan for your clients.
Many clients may not be well informed regarding SIMPLE IRAs, and they will look to you as their trusted advisor for expertise on what can be a complex topic. To help you simplify the discussion, here we'll focus on the three options for establishing a SIMPLE IRA, plus some key considerations.
1) Form 5305-SIMPLE
If your clients choose this option for the SIMPLE IRA, all contributions will go to a designated financial institution. This means that the employer and employees are allowed to open accounts and deposit contributions only at that financial institution. Here's an example to illustrate how this might work:
Your client, Bob, starts a SIMPLE IRA plan for his small business using Form 5305-SIMPLE, with National Financial Services (NFS) as the designated financial institution. Consequently, Bob and his employees can make salary deferrals only to an NFS account. They cannot make salary deferrals to an account at a financial institution other than NFS.
2) Form 5304-SIMPLE
A SIMPLE IRA plan established using Form 5304-SIMPLE provides employees with the flexibility of opening and funding an account at a financial institution of their choosing. For example:
Using Form 5304-SIMPLE, Jane establishes a SIMPLE IRA for her business, with her plan contributions going to NFS. But one of her employees, John, already has a traditional IRA at American Funds and prefers its platform. Since Jane opted to set up the plan with the 5304-SIMPLE, John can still use American Funds for his SIMPLE IRA plan contributions.
3) IRS-Approved Prototype SIMPLE
Last but not least, the IRS-approved prototype document allows employers to adopt a SIMPLE IRA plan that includes features from both the 5304-SIMPLE and 5305-SIMPLE. Keep in mind, however, that this type of plan is most often used by mutual fund companies, banks, and insurance companies.
What Else?
Once your clients understand all of their options, there are some key considerations that should be discussed before they make the final retirement plan decision.
Salary deferrals. From a payroll perspective, a SIMPLE IRA established using Form 5305-SIMPLE makes contributions a whole lot easier. Instead of making weekly, biweekly, or monthly salary deferrals to various financial institutions, the contributions are sent to one designated financial institution.
Employee satisfaction. Employee preferences—in terms of investment lineup, cost, platform, and so forth—should not be overlooked. If your client establishes a plan using Form 5304-SIMPLE, for example, his or her employees can choose where they want to open and fund their SIMPLE IRA plans, perhaps leading to greater employee satisfaction.
Financial institution. It's not unusual for financial institutions to offer SIMPLE IRA plans only through Form 5305-SIMPLE, so that they can retain all accounts. As such, you may want to suggest that your clients verify what types of plans a financial institution offers in the process of determining the right plan for their business.
The two-year clock. It's important for your clients—and their employees—to be aware that SIMPLE IRAs differ from other types of retirement plans when it comes to penalties. Specifically, with SIMPLE IRAs, individuals could face a 25-percent penalty if they withdraw money within two years of the date of the first contribution. Therefore, be sure to discuss how the two-year rule affects typical money movements into and out of SIMPLE IRAs.
Transfers: The only type of money movement permitted within the two-year period without penalty or restriction is a direct, like-to-like transfer between SIMPLE IRAs held at different custodians. For example, if an individual has a SIMPLE IRA with an old employer and now has one available with a new employer, he or she could consolidate the plans, regardless of how long ago the old SIMPLE IRA was opened.
Distributions: A triggering event is not required to distribute money from a SIMPLE IRA. The account owner can choose to take his or her money at any time. But, general IRA distribution rules do apply—with an even heftier premature distribution penalty if the SIMPLE IRA has not been open for at least two years. Specifically, the regular IRA premature distribution penalty of 10 percent jumps to 25 percent for SIMPLE IRA owners who have not satisfied the two-year requirement.
Rollovers: Most pretax retirement plans, such as traditional IRAs and 401(k)s, have portable benefits that can be rolled over to other types of retirement plans. With SIMPLE IRAs, however, the two-year clock affects the portability of assets, whether they're on their way in or on their way out of the account. That is, assets can be rolled over from another type of retirement account into a SIMPLE IRA only if the SIMPLE IRA has been open for at least two years. Likewise, if a plan participant rolls assets out of a SIMPLE IRA before the two-year time frame is up, he or she could be subject to a 25-percent penalty.
Roth conversions: Generally speaking, individuals must participate in the SIMPLE IRA for at least two years before a penalty-free conversion can be made. As long as the two-year requirement is met, the plan participant will owe taxes on the converted balance but will not face any penalties.
Clearly, there is much to consider—but whatever plan your clients decide on, encourage them to keep a record of it on file. Although employers are not required to notify the IRS regarding plan type, this is best practice for auditing purposes.
The Right Choice
Finding the right retirement plan is an important and sometimes difficult decision for many small business owners. But by educating these clients on the various SIMPLE IRA plan options available, they will have a clear path to finding the best plan for themselves and their employees—and securing the financial future they've worked so hard to achieve.
What other factors do you consider when evaluating retirement plan options with your clients? Do you talk about the two-year rule in your planning discussions? Please share your thoughts with us below!
Commonwealth Financial Network® does not provide legal or tax advice. You should consult a legal or tax professional regarding your individual situation.