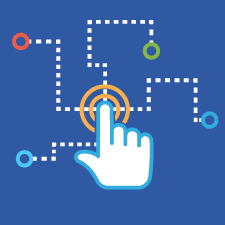 It's a common misconception that all retirement plan recordkeepers are the same. But in my view, each provider has differentiating strengths to consider. If you choose a recordkeeper without taking into account all of the interested parties, you may end up with a recordkeeper who doesn't meet the needs of the plan participants, the third-party administrator (TPA), or your practice—which is ultimately not the best choice for your client, either.
Set your client up for success from the start with this four-step process for finding the right retirement plan recordkeeper.
1) Identify Interested Parties
First, identify the parties with an interest in provider selection. This includes anyone who will work directly with the recordkeeper after selection or who is involved in decision-making or measuring the relationship's ongoing success.
Here, I'll limit the discussion to the four most common parties: plan advisor, TPA, plan sponsor, and eligible participants.
2) Determine Each Party's Needs
Next, create the buying criteria that define the essential components for selecting retirement plan recordkeeper candidates. To get you started, let's break down what your objectives, as the plan advisor, should be when considering the needs of each party, as well as how you can go about achieving them.
Plan advisor. This party includes you and your staff.
Advisor objective: Ensure that the services you provide, methods you use to work with service providers, and support you need are incorporated into the buying criteria.
Method: Establish the services you'll provide for each case and your expectations of the service providers. Some considerations include:


In-house expertise
Investment philosophy
Service model segmentation
Capacity
Profitability
Use of resources
Figure 1 outlines the objectives and needs if, for example, you're an advisor whose core market is local plans with $2 million to $7 million in plan assets, and you have internal staff for enrollment and client service.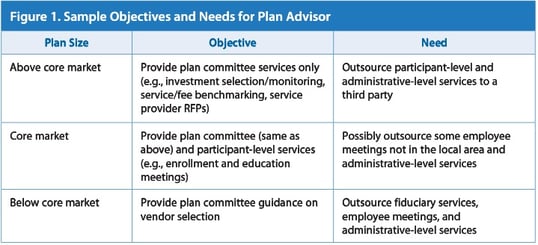 TPA. TPAs are often used if the plan design is complex, as well as if the employer prefers working with a local service provider and wants to outsource transaction and compliance oversight.
Advisor objective: Determine if a TPA will be part of the service model.
Method: Due to technology/data compatibility and service philosophies, many TPAs align themselves with preferred recordkeeping partners. Be sure to familiarize yourself with these relationships.
Plan sponsor. This party includes the business owner, senior leadership (e.g., finance, human resources, and legal), and functional leaders (e.g., payroll).
Advisor objective: Understand what each person's role will be during the decision-making process as well as after selection.
Method: Organize information from key decision-makers and staff who will be interacting with the recordkeeper on an ongoing basis.
Figure 2 identifies a sampling of plan sponsor needs and objectives that should be evaluated as you create the buying criteria.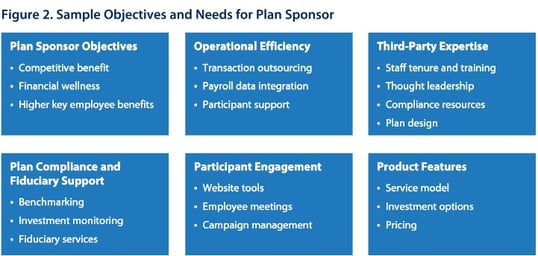 Eligible participants. This party includes all eligible employees (not just active participants).
Advisor objective: Identify the needs and priorities of eligible employees and establish their buying criteria.
Method: This comprises three key steps:



Collect demographic characteristics (e.g., age, compensation, language, education, and location), data (e.g., deferral rates, tenure, and accumulated balances), transaction history, employee surveys, and industry-specific benchmarking data.

Use this information to

build participant

profiles

. For smaller plans, the participant profile may be a single aggregate profile. For larger plans, there may be several profiles based on unique characteristics of various employee audiences.

Formulate the aggregate employee buying criteria

using the participant profiles.
Figure 3 provides a sample alignment of plan sponsor needs and objectives with information about eligible employees and their plan interactions to create a participant buying criteria profile.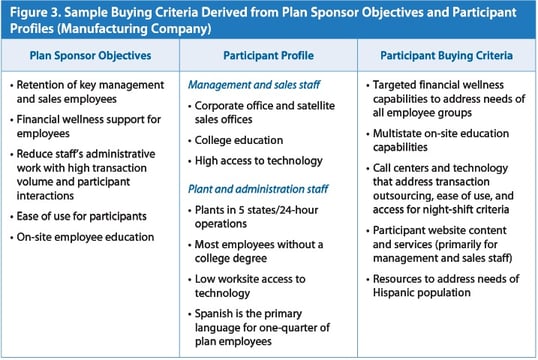 3) Prioritize the Buying Criteria
Now, it's time to aggregate and prioritize the buying criteria.
Advisor and TPA. Here, best practice is to introduce the advisor and TPA statement of services to the plan sponsor before initiating the recordkeeper search. By predefining these roles and services, it places the buying criteria for these entities into the realm of requirements for the recordkeeper solution set.
Plan sponsor. Using the buying criteria in step 2, the plan sponsor must integrate and prioritize the lists for the company and eligible plan employees. If there are several interested parties at the plan sponsor organization, have each one prioritize its list. Then, facilitate a meeting in which each party presents its ranking of the buying criteria and works together to determine a common set of priorities. Figure 4 presents a sample case matrix.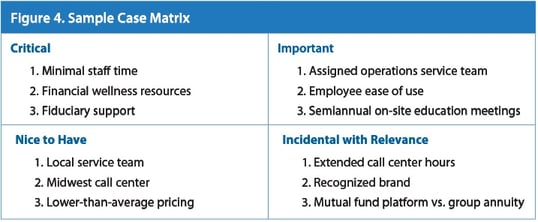 4) Call Attention to Differentiators
At this point in the process, recordkeepers will look similar in terms of cost, services, size, and target markets. Your job is to help the plan sponsor uncover distinguishable recordkeeper characteristics that strengthen the alignment with the buying criteria or add "bonus" benefits not previously considered. For example:
Operational proficiency (e.g., the cleanest auto-enrollment/opt-out process)
Needs that were not identified (e.g., expertise in M&A for a growing business)
Book of business concentration (e.g., an organization that works with similar clients—health care, manufacturing, retail)
Philanthropy (e.g., cultural alignment on giving back to the community)
A Plan for Success
Following these steps will help you effectively pinpoint what your client needs from a recordkeeper, as well as integrate the objectives of other interested parties into the selection process. With prioritized buying criteria in place, you can kick off the candidate search knowing exactly what to look for in a provider. And by keeping an eye out for distinguishable characteristics, you'll be sure to find the perfect fit.
Do you use other methods for finding the right retirement plan recordkeeper? How do you ensure that candidates are a good fit with plan sponsor needs? Please share your thoughts with us below!
Editor's Note: This post was originally published in August 2016, but we've updated it to bring you more relevant and timely information.