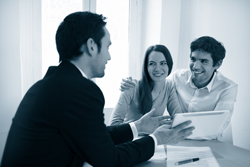 According to the 2014 Wells Fargo Millennial Study, only 16 percent of millennials aged 22–33 report working with a paid financial advisor. But the time is now to embrace this new generation of clients. They're driven to success and ripe for financial guidance—and you're in an ideal position to help. Although this underserved group may have different priorities from those of your older clients, they need help in many of the same areas. These include, for example, budgeting, saving for retirement, asset protection, and tax planning.
So, where can you start with financial planning for the younger client? Here, which is the first of two posts on the subject, we'll cover the "basics" of financial planning for this generation—namely, personal finance education and tax tips for millennials.
Education: A Crash Course in Personal Finance
Millennials are just getting started financially. They have an income stream but may not know what to do with it. They're likely to be strapped with debt from student loans, car payments, and mortgages. Further, they may not be following the golden rule of "pay yourself first" or fully appreciate the value of saving early. As you begin working with these younger clients, keep in mind that you may need to provide a crash course in personal finance.
Tax Tips for Millennials
In addition to guidance on how to manage their income stream and debt, younger clients may benefit from tax tips for millennials. These three provisions are geared toward helping them reduce their tax liability:
Student loan interest deduction. The 2014 Wells Fargo Millennial Study finds that for millennials, "their number one financial concern, following day-to-day bills, is paying off student loans." A student loan interest deduction up to $2,500 for 2015 is available (subject to phaseout limitations), whether or not the taxpayer itemizes.
Qualified retirement plan contributions. In addition to helping younger clients save for retirement, these plans offer valuable tax incentives. Pretax contributions to employer-sponsored retirement plans can reduce taxable income, and contributions to an IRA may result in a tax deduction.
Health savings accounts (HSAs). Individuals covered by high-deductible health plans can receive a 100-percent deduction for contributions to an HSA that does not exceed the annual contribution limit. The client doesn't need to itemize deductions to take advantage of this benefit. HSA distributions used for qualified medical expenses are not taxed.
Managing Expectations
Now that we've covered the basics of financial planning for the younger client, it's helpful to touch on what they might expect from you. In truth, millennials may be tough clients to fold into your practice:
They're seeking knowledgeable advisors who offer financial planning advice that fits their needs and lifestyle.
They want someone with minimal requirements who's willing to put a plan in place to get them on track.
They're likely to favor advisors who are adaptable, connected, and willing to help them get organized.
It's important to keep in mind that the first financial advice that younger clients receive may have the biggest impact. By starting with the basics, you may turn this next generation into your clients for life.
Stay tuned for part 2 of this post, where we'll move beyond the basics.
What topics do you consider as the "basics" for financial planning for the younger client? What financial concerns have your younger clients shared with you? Please share your thoughts with us below.