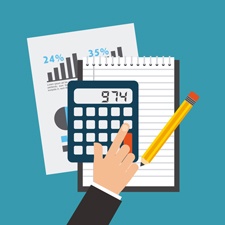 Given recent changes to the tax code, it's very likely your clients have questions about their existing estate planning strategies. Of course, having a thorough understanding of these changes will help you identify issues in their current plans. But perhaps more important, you'll be able to identify unique estate and tax planning opportunities under the Tax Cuts and Jobs Act (TCJA).
With that in mind, let's explore exactly how estate and tax planning will be affected by the TCJA, beginning with the new exemption levels.
Exemption Levels
One of the most significant changes under the TCJA is the increase in the estate and gift tax exemption, from $5 million to $10 million per taxpayer. The $10 million exemption also includes a retroactive inflation adjustment that brings the total amount to approximately $11.2 million per person or $22.4 million per married couple.
Of course, any effects of the new exemption levels will be very specific to your client's individual situation. So, let's look at a couple of examples to help illustrate how this increase could affect clients differently.
John and Mary
Living a comfortable retirement in New Hampshire, which has no state-level transfer taxes, John and Mary are 70 years old. Their estate has remained at $4 million since they created their estate plan 15 years ago. They also have very strong long-term care policies to protect their assets from an extended health care event. Their assets are held in a joint revocable trust, which will split into an AB trust at the first death. The bypass trust (B trust) will be funded up to the federal exemption, and any remaining assets will go to the A trust. The exemption amount when they created their plan was $1 million, and there was no portability.
Now that the federal exemption amount is $11.2 million per spouse, it is extremely unlikely that this couple will ever be subject to federal estate tax. Because of the B trust's mandatory funding provision, however, the entire $4 million estate will end up in the B trust. The surviving spouse's access to these assets will have restrictions. Also important, the assets will not receive a step-up in basis when the second spouse dies.
What's the opportunity? You can add value by bringing these issues to the couple's attention. Once they understand that the current design could be problematic, you might bring in a trusted estate planning attorney to discuss possible adjustments. The AB trust structure likely no longer makes sense for these clients. The trust could be redrafted to provide more flexibility in addressing the loss of control and loss of step-up in basis at the second death. One possible solution may be a joint trust that remains revocable until the second death. This way, the surviving spouse has no loss of control over the assets and will receive a step-up.
Elsie and Nelson
Also 70 and living in New Hampshire, this high-net-worth couple has an estate worth $25 million. They live primarily on their income from large private-sector pensions and social security. They used their combined lifetime exemption to gift $10 million to an irrevocable trust in 2011.
These clients decided several years ago to use their lifetime exemption for lifetime gifts rather than save it until death and use it against estate taxes. This is a commonly used strategy for wealthy individuals. What they accomplish is removal of subsequent appreciation on the $10 million from their estate. Considering they made the transfer in their early 60s, the $10 million could be worth substantially more by the end of their lifetimes.
What's the opportunity? The new tax law provides these clients with the opportunity to compound the power of this strategy by using the increased exemption amount. The combined $22.4 million exemption means they could transfer the unused $12.4 million. Considering the clients have a large estate and live modestly off their fixed income, removing some or all of the newly available exemption amount may make sense.
There is a concern to take note of, however. Some of the new law's provisions sunset in 2025, at which time the lifetime exemption amount will revert back to $5 million plus inflation adjustments. This has led some people to question whether there will be a claw-back affecting individuals who maximize lifetime gifts up to the $11.2 million before the sunset. The act itself calls for guidance to address the potential claw-back, so most experts are confident there won't be one. More conservative clients may wish to wait until this has been answered definitively prior to adjusting their strategy.
More Lifetime Gifting Strategies
Valuation discounts. While the exemption amount is so high, strategies that use valuation discounts have opened up as a window of opportunity. For wealthy business owners, using strategies that maximize the value of the gift tax exemption through discounting is still viable. Family limited partnerships or LLCs allow valuation discounts on the transfer of business interest to the limited partners. These valuation discounts lower the impact on the transferor's lifetime gift exemption. If done properly, taxpayers can transfer business interest exceeding the $11.2 million gift exemption without incurring any gift taxes.
Trusts with swap power. Another issue for taxpayers who have used lifetime gifting strategies is the loss of step-up in basis at death. Much of the time, they direct the gift of assets during their lifetime to a trust for their children's benefit. Although that removes subsequent appreciation from the grantor's estate, all of the appreciation is subject to taxation when the assets are liquidated. One solution is to use an intentionally defective grantor trust (IDGT) with a substitution or swap power to hold the gifted assets.
The IDGT provides several benefits for a wealthy taxpayer looking to maximize the transfer of assets to the next generation. All transfers to the IDGT are completed gifts to the trust beneficiaries, but the grantor is considered the owner of the assets for income tax purposes and is, therefore, responsible for any tax liability generated by the trust assets. This maximizes the value of the trust assets by allowing them to grow without any drag from taxes. Assets in the IDGT are not included in the grantor's estate for estate tax purposes, sheltering appreciation from estate taxes.
The substitution or swap power is a way to address concern over loss of step-up in basis on assets transferred to the trust. If there is a swap power, however, the grantor can reacquire the stock from the trust by substituting property of equivalent value (typically cash). This brings the appreciated assets back into the estate where they will receive a step-up in basis. The trust is left with the cash, and the tax liability on the appreciation is eliminated.
The Standard Deduction
Another major provision of the new tax law increases the standard deduction to $12,000 for single filers and $24,000 for joint filers (approximately double the 2017 deductions). This change, coupled with limitations on state and local tax and miscellaneous deductions, will cause a significantly higher number of taxpayers to take the standard deduction rather than itemizing.
Deduction of trustee fees. The TCJA's suspension of all miscellaneous itemized deductions applies to individual taxpayers and to trusts and estates for tax years 2018 through 2025. If you work with trustees in managing trust assets, a big concern is the loss of deduction for fiduciary fees (trustee fees).
Section 67 of the tax code allows for certain miscellaneous itemized deductions, but only to the extent that they exceed 2 percent of adjusted gross income (AGI). Meanwhile, section 67(e) states that certain expenses incurred by estates and nongrantor trusts, including fiduciary fees, are above-the-line deductions, which are not subject to the 2-percent floor and instead are deducted in arriving at AGI. Because of this distinction, there is a question as to whether fiduciary fees fall into the category of suspended miscellaneous itemized deductions at all. This is one of many ambiguities created by the tax law. Tax professionals expect the Internal Revenue Service to provide guidance on this issue, as well as several other areas that are unclear.
Grouping of charitable deductions. Another consequence is a reduction in the number of taxpayers who can deduct their contributions to charitable organizations (an itemized deduction). In fact, the Tax Policy Center predicts the number of households claiming the itemized deduction for gifts to nonprofits will dip to about 16 million this year, from about 37 million. This change is significant because it eliminates an important financial incentive to giving. Does it mean clients will no longer give? Probably not. But it does mean you should put more thought into how to maximize the financial benefits of philanthropy.
Some clients may want to consider staggering years where they itemize and years where they take the standard deduction. They could hold funds slated for charitable giving for two years so that they maximize what they can deduct. Or, they could accelerate other itemized deductions, such as the medical expense deduction, into the same year. (Under the TCJA, the threshold for deducting medical expenses is reduced to 7.5 percent for 2017 and 2018. This threshold goes back to 10 percent in 2019.)
Take a Deeper Dive
Estate and tax planning can be tricky, but you are not expected to have all the answers! You can add value by making your clients aware of the many issues they need to consider, as well as finding the opportunities. By familiarizing yourself with the more significant benefits and pitfalls regarding major tax changes, you could give your clients the push they need to engage their legal and tax professionals for a deeper dive.
What other planning opportunities have emerged following the TCJA? Have you partnered with legal and tax professionals to take a deeper dive? Please share your thoughts with us below!
Commonwealth Financial Network® does not provide legal or tax advice. You should consult a legal or tax professional regarding your individual situation.