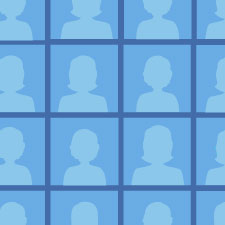 Reaching women with your marketing is not a one-size-fits-all process. There are generational, regional, and personality factors that will affect how clients engage with you. Still, there is data that supports employing certain strategies to increase the effectiveness of your approach with the women you're trying to reach.
So, how do you go about engaging women investors where they are? It starts by recognizing why this group is so important as potential clients for your practice.
Act Now
If they aren't already, women will eventually be your clients. Just take a look at the numbers:
A 2009 article in the Wall Street Journal cites a Boston College Center on Wealth and Philanthropy report that indicates women will receive 70 percent of inherited wealth over the next two generations, excluding the increasing amounts that women earn on their own.
According to a 2011 Risks and Process of Retirement Survey Report by the Society of Actuaries, there's a 72-percent chance that the survivor of a 65-year-old married couple will live to age 85.
The 2014 ThinkAdvisor article "Working with Widows" reports that half of all wives are widowed before age 60, and 70 percent of these widows will choose new advisors after their husband's death.
So, if a large chunk of your client base consists of married baby boomers, the likelihood that you will be, or already are, advising a significant number of widows is pretty high. But if you don't engage them now, you will be less likely to retain them as clients down the line.
Focus on Reaching Your Women
Whether you have a specifically defined woman-focused niche (e.g., you've branded yourself as an advisor for women in transition during divorce or the recently widowed) or you're just concerned with having the right messaging in place to make your brand appealing to both women and men, remain focused on your target market. Since that target market likely includes women, you need to be sure that you're connecting with them. To do so, consider the following:
How old are your clients? Are you working with multiple generations of clients? Chances are, you can quickly and easily identify which clients will most likely call you, respond to an e-mail from you, like a post on Facebook, or retweet content on Twitter. With this in mind, take the time to perfect your communications for each medium.
Who are the primary contacts for financial decisions? A household's chief investment officer might not be the same person as its chief financial officer.
Think about whom you typically communicate with in the household and how you communicate with him or her. The needs and interests of the spouse interested in investment choices might not be aligned with those of the person controlling the household budget.
If you typically work with one spouse more than the other, get that other spouse involved so you're addressing each individual's needs and concerns, as well as the couple's joint goals.
Create Inclusive Messaging
There is no one magic formula that will make you appealing to all women. And there are plenty of examples of marketing to women done poorly (e.g., anything pink—just don't). There are, however, subtle ways to adjust the messaging, imagery, and tone of your online marketing to be more inclusive to women.
Communicate your value, not just features.

A bulleted list outlining the various services you offer is not the same as a statement about what those services can do to make your relationships with your clients successful. It doesn't have to be one or the other, but it can be both.
Educate your site visitors on your specialties and expertise. You want them to feel like it's worth it to pick up the phone to call you after reading how you can help.

Be consistent.

This goes for your entire brand, but especially your online presence. Why? Because it's almost instantly noticeable.
Are your social media profiles consistent with your website? Photos, language, bios, and even color palette are all important components of your overall brand. That's not marketing to women—that's just good

Use imagery that tells a story.

Paint the picture that you want your clients (women and men) to see when envisioning the financial future you are committed to helping them pursue.
Stock photography is often used, but take care to ensure that it aligns with your brand and your community.

Create content your clients want to read.

Despite differences in where women and men are most active on social media, women are consistently more engaged with creating and interacting with (liking, sharing, retweeting, commenting) content.
Showcase your firm's presence in the community. Was your firm involved in a charity event? Post pictures on your website and share on Facebook, Twitter, or LinkedIn.
Using preapproved content is great in a pinch. But nothing is as effective or as authentic as your voice coming through in the content you're promoting.
How Women Engage with Social Media
As the chart below shows, men and women engage with social media in different ways. Does this mean you should focus all your marketing energy and money on a Facebook campaign? No. I'd be hard pressed to find enough data to support the idea that social media has transformed an advisor's practice in terms of new sales. But social media can play a vital role in increasing the engagement of existing clients, especially women. This can help keep you top of mind as a trusted advisor, if or when they find themselves in transition and contemplating if you are their advisor of choice.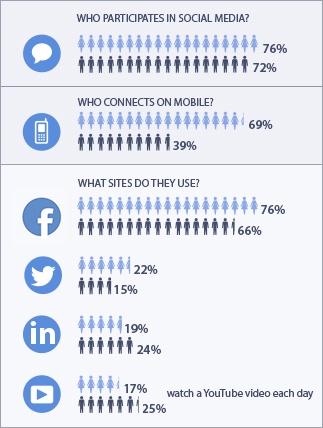 Source: "Who Is More Active on Social Media? Men or Women," Quicksprout, October 2014.
One Size Does Not Fit All
When you're allocating funds toward your advertising budget, make sure that you're reaching your clients where they are most likely to be. Tailor your content to the publication or platform where it's appearing and to the audience most likely to read it. In other words, don't use the same ad in Sports Illustrated that you'd use in Parents magazine.
If done well, your online presence shouldn't appear to obviously target one gender over another (unless that's your niche), but the ways you reach your female and male clients should be carefully considered and implemented to be sure that you're getting the most exposure and impact out of your marketing efforts and dollars.
Are women investors your target niche? Do you tailor your marketing message to reach this group? Please share your thoughts with us below.