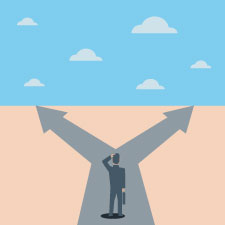 A few years back, my wife and I decided to have a child. We read What to Expect When You're Expecting. We took birthing classes. We built the crib and packed the hospital bag. Everything was going according to plan—until it wasn't. My daughter changed positions at the last moment and was delivered by emergency cesarean about an hour later. Fortunately, everything turned out fine, and our little girl has brought endless joy to our lives.
Though it may not change your life quite as profoundly as having a child, dropping your FINRA registrations and changing affiliation models is a momentous choice. You owe it to yourself to thoroughly consider all the angles before making this decision.
Affiliation Models and Compliance
Yesterday's post from my colleague Greg Gohr covered the various affiliation models Commonwealth offers, so I won't go into too much detail here. To review, Commonwealth offers:
Traditional registered representative (RR)
Dual registration as an RR and investment adviser representative (IAR)
Hybrid, which involves maintaining your RR affiliation and creating your own registered investment adviser (RIA)
IAR-Only under Commonwealth's corporate RIA
RIA-Only
From a compliance standpoint, it's important to realize that advisors who maintain a broker/dealer affiliation (i.e., they are RRs or IARs of the B/D) often benefit substantially from that firm's compliance infrastructure.
Those who choose to have their own independent RIA firm, on the other hand, are responsible for all things associated with their RIA (filings, registration, books and records, etc.), with less overall compliance support for their firm.
Of course, your choice of affiliation also depends on whether you want to charge fees for asset management and financial planning, or whether you want to work on a commission-only basis. And that distinction is often at the heart of the decision to change affiliation models.
Commissions Vs. Fees: Fiduciary Status
Fiduciary status is the industry's hottest topic, especially given the DOL's new rule for providing advice to retirement accounts. For the purposes of this discussion, here's how the different models would be considered:
Traditional RR: Advisors will never be considered a fiduciary.
Dual and hybrid: Advisors will be subject to either suitability or fiduciary standards, depending on the type of client relationship.
IAR-Only and RIA-Only: Advisors will always be subject to a fiduciary standard of care.
The probing question to ask yourself is this: How important is it to me that my clients view me as a pure fiduciary? If that's one of your main marketing messages, a fee-only model might be the way to go. If the availability of commission-based products in certain situations is more important than that fiduciary message, though, you may be better served within a model that allows you to continue to offer those types of products.
FINRA Requirements
Let's touch on another big reason that advisors choose the fee-only route: frustration with FINRA requirements. To be honest, I've never fully understood the annoyance some advisors feel.
Is FINRA the regulator for the broker/dealer side of our business? Yes.
Are some of its rules complex? Yes.
Are some of its rules misguided? Perhaps.
Consider, though, what FINRA actually requires of you that wouldn't be required in one of the fee-only models:
Under the traditional RR model, you're potentially subject to FINRA auditing your branch office. This happens, although it's not terribly common.
FINRA imposes educational requirements: the Regulatory Element (a three-hour computer-based training completed once every three years) and Firm Element training.
Outside of those requirements, the rules under which you operate in the fee-only world may have different numbers but are, for all intents and purposes, the same. In short, as much as you may think otherwise, the RIA world today is not the "wild wild west" that it may have been in years past.
Model Comparison: Correspondence Review
To that point, let's consider a typical compliance function—correspondence review (specifically, e-mail review)—and compare how it would be handled in the various models.
With FINRA registration (traditional RR, dual registration, or hybrid). For these advisors, communications are subject to FINRA Rule 2210: Client communications must be "based on principles of fair dealing and good faith, must be fair and balanced," and may not make "any false, exaggerated, unwarranted, promissory, or misleading statements," among other requirements.
IAR-Only model. Here, the FINRA rule doesn't apply, as these advisors don't hold FINRA registrations. Instead, their communications review is conducted based on SEC Rule 206(4)-7, which requires every investment adviser to maintain a compliance program.
The SEC has made clear that e-mail review is always part of an effective compliance program, though it's not specifically mentioned in 206(4)-7. Further, the standard for review is based on the SEC's anti-fraud provisions (Section 206), which prohibit investment advisers from "employ[ing] any device, scheme or artifice to defraud any client" or "to engage in any act or practice . . . which is fraudulent, deceptive or manipulative."
SEC and FINRA crossover. FINRA's advertising rule and the SEC's advertising rule (when combined with various SEC no-action letters related to advertising) address many of the same risks, making the review of materials for IAR-Only advisors essentially the same as the review for RR advisors. Even in areas like private securities transactions, where there's a FINRA rule in place, an RIA could find itself in hot water for recommending a product on which it hadn't conducted proper due diligence under the anti-fraud provisions of the Advisers Act.
Ready to Appoint a CCO?
A final consideration in dropping your FINRA registration is that investment advisers are responsible for implementing a compliance program under SEC Rule 206(4)-7. Under the same rule, RIAs must designate a chief compliance officer (CCO) who takes responsibility for the firm's compliance program. As such, the CCO must know the rules and compliance requirements for RIAs well enough to perform his or her duties.
If you choose to go RIA-Only, a critical part of your decision-making process must be identifying a qualified individual to fulfill the CCO role. This person will be responsible for ensuring that registrations are filed and terminated in a timely manner, that your Form ADV Parts 1 and 2 are updated and filed each year, and that your compliance program is monitored and checked on an annual basis, among any number of other compliance tasks.
The Bottom Line
The bottom line is that the decision about which model to employ is a very personal one—often based as much on an emotional attachment to a particular message as it is on the varying rules and regulations for the different models. Choosing an affiliation model, along with whether to drop your FINRA registrations, is one of the most important decisions of your career as a financial advisor. We urge you to carefully consider the positives and negatives, as well as the current industry environment, before making this decision.
Do you find FINRA requirements overly restrictive? Have you gone through the process of hiring a CCO? Please share your thoughts with us below.