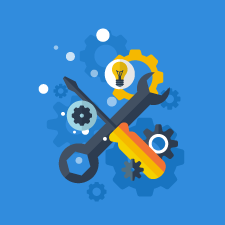 Between holidays, client events, and all those loose ends to tie up, the end of the year can be a whirlwind. As supervisor of the team that manages Commonwealth's website-building program, EasySite, I often see an increase in the number of advisors making changes to their firm's website during this time. But updating your site doesn't have to be a year-end chore. By regularly reviewing key aspects of your site, you can keep it looking fresh all year without too much effort.
Below, I'll review the five essential website updates you should make on a regular basis to ensure that you're always providing accurate information to your visitors.
1) Update Your Bio
Your website represents your business and is a great tool to help visitors learn more about you. For prospective clients, it may be the first impression they will have of you and your firm. For that reason, it's crucial that the information included in your bio is up to date, as that's the first place visitors will go to find out what it might be like to work with you.
Your bio should include your professional designations and certifications, as well as some personal information to help people connect with you. By reading through your biography regularly, you can ensure that any information you've included that is subject to change—such as the ages of your children, the number of years of experience you have in the field, and any awards you've received—is accurate.
2) Review External Site Links
Does your website link to external sites? If so, it's important to check those links frequently to ensure that they are in working order. It may seem like a small detail, but having a broken link on your site can be frustrating to your visitors and doesn't leave a positive impression of your brand. Go through every page and check each link to make sure the publications are still active. As a web best practice, be sure that links to external sites open in a new window so that you're not leading visitors away from your website.
3) Remove Outdated Content
Do you host newsletters or make posts about client events on your website? For this kind of content, it's best to keep your site current by hosting no more than two years of archives. If you want to showcase that you have been hosting the same event for a number of years, you can include a backstory on the latest client event page that explains the origins of the event. That way, you can describe the value the event has brought to your clients over the years and include photos from the most recent gathering. Out with the old, in with the new!
4) Add New Imagery
A picture says a thousand words—and ideally, they should be good words. The images included throughout your website should be thoughtfully selected to convey a message, build trust, and tell a story. Visitors to your site will remember these images and associate them with your business's values and the services you provide.
Evoke emotion. Graphics throughout your site should evoke emotion and be properly selected to match the content on your site, as well as the audience you're trying to reach. If your target market is couples in retirement, you shouldn't include a photo of a young family.
Keep up with the seasons. If you use seasonal images in a slideshow on your homepage, you should ensure that they always reflect the current season. If your site is still showing fall foliage in December, it's time to update to winter scenes.
Want to explore new photo options? At Commonwealth, our advisor website-building platform contains a robust image library that users can leverage to keep their site fresh. In fact, most website builders have an image library, so that's a great place to start looking. Another resource is Shutterstock. With a subscription, you can browse millions of images by topic and download the ones you like best. If you wish to use images from an external source, be sure to run them by your firm's compliance team, if needed, before making any purchases to ensure that they meet policies and standards.
5) Revisit Your SEO Strategy
How successful has your firm been with search results? By revisiting your meta keywords and descriptions on the page level, you can increase your ranking with search engines. Meta descriptions should contain around 275 characters and describe the content on the page, while keywords should be five or six specific words with which you want to be associated in search results. By editing the properties of a specific page, you can see the description and keywords you currently have in place. If the area is blank, consider populating it with relevant information.
Your Website Reflects Your Business
I like to say that your site is a living thing, so it's only natural that it will change as you and your firm evolve. By reviewing key aspects of your site regularly, you can ensure that it continues to help you achieve your goals. The best way to determine your site's effectiveness is to determine how your clients and prospects are using it. Are you tracking traffic to your site? Try measuring your results to see if any patterns come to light.
Remember: making these essential website updates doesn't have to be a time-consuming task that gets pushed off until the end of the year! If you make quick, frequent changes as needed, that's one less thing you'll have to do when the holidays roll around. And ensuring that your site is accurate will make it a more effective tool for connecting with clients and prospects alike.
Do you have a set schedule for making essential website updates? Who is responsible for reviewing key aspects of your site—you or a staff member? Please share your thoughts with us below!