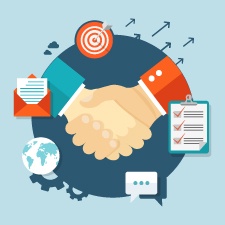 Time is a precious commodity, and we never seem to have enough of it. We live in a world where everything—including our own financial services industry—is changing at warp speed, DOL rule notwithstanding. So, how can we possibly keep up and enjoy a better work/life balance? First, I would ask you to invest a few minutes and consider the following questions:
How do you typically spend a day at work?
What about your business are you most passionate?
Does your broker/dealer–RIA partner offer the tools and support you need to gain efficiencies and grow your firm?
Regardless of how successful your business is, there's always an opportunity to make small improvements to put time back in your day. Finding the right broker/dealer–RIA partner can make a big difference in your ability to increase efficiency and effectiveness, but not every firm is capable of giving you what you need.
DIY Vs. Outsource—or Both?
Previously, going independent often meant doing it yourself—you were on your own to figure everything out, from choosing a clearing firm, to setting up a phone system, to purchasing performance reporting software. There were a few firms that offered a competitive alternative to the wirehouse model when it came to technology, service, and choice, but it was nothing like today, where many more B/D–RIAs have expanded their service offering to provide the infrastructure that advisors need, regardless of how they want to run their businesses.
There's something to be said for the do-it-yourself advisor. You want to be in control—managing your clients' portfolios, developing your own website and social media presence, and creating the experience you want your clients to have. The independent model certainly offers those advantages, but it also provides the flexibility to outsource as many of these functions as you'd like to your broker/dealer–RIA partner.
What Does Efficiency Mean to You?
Still, many advisors and their staff may be wasting time and effort without even realizing it. When you think about efficiency, ask yourself these questions:
How many extra clicks do you make each day on the computer?
How many steps does it take to rebalance a model portfolio across your client accounts?
How much time does your staff spend on the phone with your broker/dealer to service a client account?
How easy is it to deposit a check?
Integrated technology. Technology plays a critical role in saving all of us time. In some cases, you can choose to find your own CRM, document imaging, performance reporting, trading, and model management systems, as well as financial planning software. If you're lucky, these tools might push data into another system, but they often aren't integrated. Having to input the same data into multiple systems not only takes time, but it also introduces the possibility of error. Choosing a broker/dealer–RIA partner that already has integrated technology to help service your clients and manage your practice will save your office time and improve the client experience.
Support for staff development. Advisors who choose to do everything themselves may be taking time away from revenue-producing activities, so a solid support staff can be integral to your growth. To increase the amount of time you spend in front of clients, you will want to consider hiring support or service advisors, along with other administrative staff. But hiring is just the first step. Does your firm offer training to get your new employees up to speed, as well as other professional development opportunities to help them grow in their role in your practice? The quality of your staff directly relates to the success of your business and your bottom line.
Practice management consulting. Independent advisors have to wear many hats, so it stands to reason that you won't be an expert in all areas related to running and growing a business. The right partner will have a dedicated Practice Management team who can consult with you on business planning, succession and continuity planning, scale and capacity, and more. Need help gaining more introductions to potential clients? This team should be able to help. Wondering if you should segment your client base and develop a tiered service matrix for each client level? Call Practice Management. If this support is missing from your current relationship, you may be missing out on tactics to improve your top-line growth.
A Broker/Dealer–RIA Partner That Values Your Time
Commonwealth Financial Network® is a firm that values advisors' time. We've spent more than 35 years developing the infrastructure that allows you to outsource as much or as little to us as you'd like, so you can focus 100 percent on your clients. We have integrated technology, we are pioneers in practice management, and we offer the indispensable service you need to grow a successful practice while also getting to enjoy your life.
How do you want to spend your time? It's your choice, so choose wisely.
Are there services you wish your broker/dealer or wirehouse firm offered? Are you interested in learning more about Commonwealth's indispensable service? Comment below to let us know!