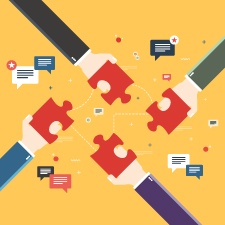 As a director on the Marketing team here at Commonwealth, I get a lot of calls from advisors asking my opinion on marketing ideas they're thinking of trying:
"I keep hearing that I should be on social media. How do I get started on Facebook or Twitter?"
"Would seminars be a good way to meet new clients and build my business?"
"My advisor friend sends out a monthly e-mail newsletter. Should I be doing that?"
I'm guessing you've likely asked yourself similar questions. After all, marketing can be fun, and testing and learning from different ideas can contribute to a more successful marketing strategy. But just like when you hear about yoga jeans designed to take off 10 pounds or a tech gadget that will transform your life, you first need to do some research to figure out what really works—and, more important, what's right for you. Here, I hope to help you do just that by providing strategies for evaluating new marketing opportunities. Let's start by identifying your ideal client.
Identify Your Ideal Client
To run an effective marketing strategy, you need to know all about your ideal client so that you can enhance existing client relationships and cultivate new ones. So, who are your current ideal clients, and how do you get more of them?
To start, write down about 10 client names and as much as you can about each one, such as:
Gender
Age
Location
Relationship situation
Whether they have kids (at home or grown up?)
Profession
Community organizations
Hobbies
Travel locations
In addition to noting similarities and differences, dig even deeper to find common threads in why these clients have stuck by you and how they prefer to communicate with you.
Review past meetings. What do they usually want to talk about most? What are they going through? How do you help them?
Ask probing questions (if possible). How did they find you? What do they think about your services, office staff, location, and client events? How do they stay informed? (Do they read the local paper or use social media?)
Uncover communication preferences. Outside of financial reviews, how often would they like to hear from you? What should those communications be about?
The answers are marketing gold! You may be surprised by what you learn, and undoubtedly you will get new ideas. Getting to the bottom of who your ideal clients really are is crucial if you want to enhance your relationships with them and find more like them.
Separate Yourself from the Pack
You also need to be able to talk about what makes you special so that you can position your firm against the competition. A tool that can help you articulate that difference is the Brand Mad Lib:
(Your firm) is the only (business category) that provides (target audience) with (your offering) in a (your differentiator) manner.
Let's use Commonwealth to illustrate how this works:
Commonwealth is the only independent broker/dealer–RIA that provides nice, high-end advisors with the best products, services, and indispensable support they need to successfully run their businesses, their way, all within a unique sense of community.
Todd Estabrook, Commonwealth's chief marketing officer, recommends taking it one step further: "Test it by replacing your name with a competitor's name—is it unique enough to you to sound false with a competitor's name?"
You'll want to continue to revisit your brand statement until you're fully committed to it. I think you'll find that it will become a valuable reference tool for measuring new opportunities and your marketing strategy. Just keep in mind that it's not something you should publish anywhere verbatim—it's for internal use only.
Give Your Target Audience What They Want
You've zeroed in on what makes you the best financial advisor for your key clients. Now you should tell the world again and again (and again) by displaying your expertise and commitment to your clients' needs.
How can you do that? Build a marketing plan of tactics aimed directly at your target audience. For each tactic, decide on a sufficient testing time frame for realizing its benefits or deciding to move on to something else. The plan should include ownership, budget expectations, and goals. If you don't have a specific reason for why a marketing activity is likely to reach your audience, then it's probably not for you.
Above all, ensure that your content is consistent and engaging, no matter what marketing method you use. It needs to answer your prospects' burning questions. They haven't met you yet, but you know what is on their mind. Perfect spots are throughout your website, brochures, social media, event tie-ins, and more. All content should be unique to you whenever possible so that it demonstrates your value and accomplishes your need to set your firm apart.
Have more than one target? Of course you do! Segment your marketing whenever possible so that when individual prospective clients approach you, you are speaking just to them—and not losing them with irrelevant content. One way to do this is simply by creating a marketing calendar to schedule out themes and seasonal topics that you want to capitalize on throughout the year.
Know Your Message
Trent Grinkmeyer, AIF®, CRPC®, co-founder of Grinkmeyer Leonard Financial in Birmingham, Alabama, knows that his key message resonates with prospects and clients alike, and it's something that is very personal to him. When he works with clients and prospects, he encourages them to think about their overall life objective, which may not appear on a checklist. Grinkmeyer explains:
When I work with prospects, I'm coaching them to share their objective so I know how to help them. There is a lack of happiness that goes with just accumulating money and not having an objective for it. Sitting down with family and having dinner for an hour brings happiness. That's part of my job—to help people see that and help them with their total objective for their life.
Grinkmeyer started a blog in 2016 to help him share life stories and perspectives that connect him to his target market. The blog is part of his marketing plan, which has clear goals (e.g., "This week, set up three appointments two weeks from now."). He also uses LinkedIn, Facebook, and his website to connect with and receive new contacts.
Don't Forget About Existing Clients
While trying to communicate your value proposition to people "out there," don't overlook reinforcing it to the people on the "inside"—your clients, who already believe it. For example, you might set yourself a goal of six new clients in the next 12 months—and commit yourself to a strategy of achieving it solely through client referrals. By reinforcing your value to existing clients, they'll be more likely to remember you when they know of others who might similarly benefit from your services.
Put Your Marketing Through the Paces
Effective marketing delivers on what customers want in a way that they will hear it and respond to it. But before moving ahead with any new marketing idea, put it through the paces by using some of the strategies discussed here. The process will help you decide if the activity fits in with your overall marketing plan and whether it's right for you and your firm.
What process do you use to decide if a new marketing effort is right for your firm? Do you use a marketing calendar? Please share your thoughts with us below!