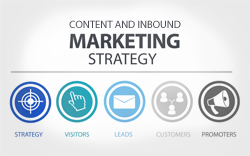 If you Google "effective marketing strategies for B2C companies," you're likely to see content and inbound marketing techniques among your search results. These terms might be new to you—if so, you're not alone!
So, what exactly are these techniques, and how can you put them to use for your business?
A New Age of Marketing
Traditional, outbound marketing (e.g., ads, direct mail, and unsolicited e-mail) has become less effective in converting prospects into clients. As a result, businesses have turned to content and inbound marketing techniques to attract customers and foster trust with their brands. In fact, the Content Marketing Institute's recent research reveals 77 percent of B2C marketers across all industries are using content marketing today, although it's been slower to catch on in the financial services industry.
There's no time like the present for financial advisors to embrace these marketing strategies. After all, content marketing isn't just about gaining new clients. It's also about continuing to nurture the relationship after someone chooses to do business with you. The goal is to create content that addresses each stage of the buyer's journey. For example:
Awareness: Content that helps someone better understand a problem or issue he or she is having
Consideration: Content that discusses methods for solving a particular problem
Decision: Content that presents how you can solve the problem at your firm
Delight: Content that continues to engage your target audience and shows that you care about topics important to them
In other words, your content should focus primarily on answering questions and solving problems for your target audience, rather than promoting your firm's services to clients. The good news is that you actually might have "a built-in content advantage"; according to the recent e-book The State of Finance Content Marketing by Contently, you're an expert "in something that people care a lot about: growing their wealth."
So, how do you go about creating content that's relevant to a target audience? Consider, for example, catering to a particular niche, such as small business owners. They might want to know about things like key person insurance, continuity and succession planning, and executive benefits and will appreciate that you're proactively addressing their needs. You could produce a monthly or bimonthly publication, such as an e-newsletter that you post on your website. Not only would it be an educational resource for your current clients—posing questions, solving problems, and sharing stories of success—but it could also fulfill a marketing goal of introducing prospective clients to the knowledge base and culture of your practice. That way, if and when they are ready to change advisors, your practice will (hopefully) be at the top of their list.
But creating great content is just the first step. How will your audience even know that the content exists? That's where inbound marketing techniques come in.
Getting Your Content Found
Inbound marketing is what makes your content marketing strategy more effective. It involves using search engine optimization (SEO), social media, blogs, and e-mail to amplify your reach. It also helps ensure that existing and potential customers, as well as centers of influence, know you have something new to say. Essentially, customers come to you, instead of you going out to them.
To support their inbound marketing initiatives, larger companies with more resources to devote to their marketing budget may benefit from partnering with a software firm like HubSpot, a leader in the field of inbound marketing. In addition to the above tactics, HubSpot recommends having calls to action on every webpage, along with landing pages and gated content offers (i.e., visitors have to fill out a form to receive a white paper, e-book, or similar asset).
As you might guess, these features add complexity to the inbound marketing process. But don't worry! You don't need to purchase software or have an inbound marketing leader host your blog to benefit from this marketing approach.
5 Ways to Adapt These Marketing Trends
Here are some tips to guide you as you implement content and inbound marketing techniques in your practice:
1) Don't "sell." Content marketing is ultimately about your client, not about you. Try to avoid the hard sell. Instead, write about what your existing and prospective clients care most about, not the specific services you offer at your firm.
2) Be consistent. If you publish a blog or produce other content (e.g., a newsletter), do so on a regular basis. This increases your credibility and reliability, as people learn what to expect from you. If you fall too far off schedule, people may forget about you or choose to move on to someone who delivers on time.
At Commonwealth, we post on this blog every Tuesday and Wednesday (and occasionally one other day). Brad McMillan, Commonwealth's chief investment officer, blogs every day—sometimes more than once!
3) Use social media. This is one of the easiest ways to let your followers know that you have new content available. Plus, they can share your content with their friends and colleagues, who may also benefit from the information. Currently, according to an article in the November 2014 issue of REP., "The Lost Opportunity," only about half of independent advisors use social media for business purposes (LinkedIn, Facebook, and/or Twitter), so there's certainly room for advisors to increase their adoption rate (#getposting)!
4) Learn SEO best practices. SEO is the process of enhancing your content (website pages, blogs, etc.) so you achieve a better ranking in search engine results. Keep in mind that the majority of web users don't look beyond the first page of search results. SEO can play an important role in your online visibility.
Keywords and phrases are important to boost SEO. For example, the phrase "retirement planning" (a short-tail keyword) will probably prove less effective than "retirement planning for Boston area doctors" (a long-tail keyword). The longer and more specific the phrase, the more likely your content is to attract the customers you're really looking for.
For more insight on these best practices, check out our blog post, "SEO for Financial Advisors: 5 Useful Tips."
5) Don't reinvent the wheel. According to the Content Marketing Institute's research, B2C marketers cite in-person events, e-newsletters, and website articles as among the most effective content marketing tactics. You likely use some or all of them already, but here are some helpful reminders:
Include regularly updated content on your website: for example, financial planning tips, relevant articles, market updates, and blog posts.
Send out a tweet or share a post on Facebook or LinkedIn when a new article is added to your site.
Post pictures (with your clients' permission) on your Facebook timeline of a recently held client event.
Remember that it takes time. Just as it takes time to grow a business, it takes time to increase your ranking in search engine results, grow your social media followers, and attract new clients. By leveraging these content and inbound marketing techniques, you'll be on your way to creating content your audience cares about and sharing it in a way that feels good to them.
Have you thought of a novel way to use inbound marketing in your practice? Please share your ideas with us below.