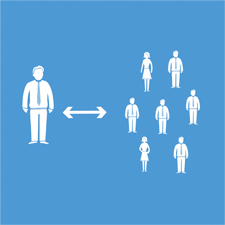 Focus groups are widely used in many industries, especially for new product development and introduction. In highly structured situations, focus groups are videotaped and then viewed by interested parties after the event. That way, facial reactions and other nonverbal responses can be studied. In the financial services industry, such a structured experience isn't likely, but the example serves to illustrate the importance of promoting objectivity.
What are other best practices you should consider when conducting focus groups in your financial advisory practice (and what will they reveal)?
Focus Group Techniques
The focus group facilitator should use neutral word choices, tone of voice, and body language. Often, a facilitator writes a question on a flip chart and then solicits the input of the group. The facilitator will then write down the exact words the participants use, which helps the participants know they're being heard.
Using a variety of techniques can promote participation and enhance a positive experience. Some of these techniques include:
Using a secret ballot for certain questions
Using some questions that invite only those who want to participate to respond
Using some questions to encourage participation by everyone in the group
"Forcing" participation by asking each participant individually to participate and requiring a participant to say "pass" if he or she does not wish to comment
Focus Groups Vs. Advisory Groups
A focus group is similar to an advisory group in that its purpose is to seek input from a group of individuals who are generally clients but may include strategic alliances or centers of influence in the community.
The main difference between the two is that a focus group meets for only one session. Neither the invited participants nor the firm makes any commitment to meet again. Some firms prefer the focus group approach because the advisory group is a far more serious commitment. Organizations may not necessarily have enough agenda content to have an ongoing advisory group, which often meets three to four times a year. Also, different individuals may be selected to be involved in future focus groups, and a focus group can be created with whatever frequency the firm chooses.
The issues a focus group addresses can be similar to those of an advisory group:
Feedback on existing services
Suggestions regarding additional value-added services your firm might provide
Ideas relative to your marketing or business plan
Suggestions for getting referrals
Input on terminology you're using; for example, reaction to a vision statement
Reaction to office space and/or location
Views on proposed strategic changes (e.g., moving an office)
What Is Your Firm's Role?
In more scientific approaches where an outside facilitator is used, your firm may choose to be present for the introduction and the conclusion but may exit the room during the focus group. This can demonstrate how seriously you want participants to share their honest opinions. It's important that you conclude the focus group session by thanking the group for participating.
What Questions Should You Ask?
The questions really depend on the focus group's strategic purpose. They're designed specifically for each focus group event. In any case, you should take care in developing your questions to ensure that you don't introduce bias. For example, if you know you will be out of space in a year or two, you could hold a focus group to ask questions like:
On a scale of 1 to 10 (high), how important is the physical space where the firm is located?
What characteristics regarding the firm's space are most important to you? Which are the least important?
What area of the city or surrounding area do you think would be most ideal for an office location for the firm?
Assume you have 100 voting points. How would you vote to distribute your points among the following options for the type of building the firm might choose for our future office? (If you have no preference or no opinion, give equal points to each option.)
A suite in an office building in an office park
A suite in an office building in a nonoffice park
An office in a converted house
An office in my home
If the firm were to relocate downtown where parking is at a premium, would you pay for a valet service if available? Would you use a valet service if the firm paid for it?
What other issues regarding the firm's physical location are important to you that we haven't asked you about?
It's a good idea to try the questions on a third party before using them with a focus group. Consider practicing the questions with someone not associated with your firm to ensure that what you are asking is clear.
How Would Your Clients Rate You?
If you're using a focus group for the general purpose of assessing client delight, the following can be a starting point for building the questions that are right for you.
(Secret ballot) On a scale of 1 to 10 (high), how delighted are you with the firm?
What are the most important characteristics you look for from a financial advisory firm?
Using low, medium, or high, rate the firm on each of those characteristics.
(Based on response to the previous question) The firm rates low/medium on characteristic X. What can the firm do that would make you rate it high on this characteristic? (Repeat as many times as necessary based on data.)
If someone you know is looking for referrals to an advisory firm and asked you to describe this firm and its services, how would you respond? (Ask focus group participants to write down their responses and then go around the table to collect them, writing them on the flip chart one at a time.)
How long have you worked with this firm? How has your perception of the firm changed over time?
What suggestion(s) would you make to help this firm improve?
Conducting focus groups in your financial advisory practice can reveal valuable client insights about anything from the location of your office, to your firm's services, to tips on getting their referrals. By following these best practices, you're on your way to providing a positive focus group experience for both you and your clients.
Have you ever held a focus group for your practice? What did you and/or your clients gain from the experience? Please share your thoughts with us below.