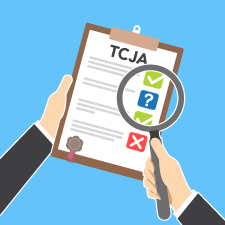 As a small business owner and/or a financial advisor to small business owners, it is imperative for you to be informed regarding changes to pass-through business taxation under the Tax Cuts and Jobs Act (TCJA). Some of the provisions are complex and will require you to use the appropriate calculators, as well as to seek advice from a tax counselor or tax preparer. So, to help you lay the groundwork for understanding these changes, let's take a deeper dive into what's new for pass-through business taxation under the TCJA, as well as some planning opportunities for you and your clients.
Section 199A
The TCJA introduced Section 199A to the Internal Revenue Code (IRC). This section includes a new deduction given to certain income generated by pass-through business entities. Specifically, it applies to income that is "passed through" to partners from a general or limited partnership, to S corporation shareholders, and to LLC member-owners if the LLC has not otherwise elected to be taxed as a C corporation. The deduction also applies to Schedule C businesses (e.g., sole proprietorships and single-member LLCs).
A new deduction. Under previous tax law, all pass-through business income was taxed at the individual taxpayer's marginal rate. As a result, the highest earners were paying a federal marginal tax rate of up to 39.6 percent on income generated by their small businesses. Congress's move to reduce the federal U.S. tax rate on corporations to 21 percent left a disparity in the way big businesses and small businesses were being taxed. The enactment of this new deduction for small business-owning taxpayers was the legislators' way of preventing such a gap. One important note here: this deduction—consistent with every other change to individual income tax—is set to expire after December 31, 2025.
Under the TCJA, the general rule gives pass-through business entities a maximum deduction of 20 percent of the nonwage allocation of qualified business income (QBI) from the trade or business. QBI is defined as the net amount of the qualified income, gain, deduction, and loss of the trade or business. It does not include investment income that is not associated with the trade or business, salaries paid to S corporation owners or guaranteed payments to partners, or those amounts paid to employees of the pass-through for performing certain services as employees. This is determined and analyzed for each trade or business, as opposed to being assessed on a per-taxpayer basis.
Taxable income limits. This new deduction may be reduced or eliminated if taxable income exceeds the following limits:
For individuals: Taxable income greater than $157,000
For married couples: Taxable income greater than $315,000
When the taxable income exceeds those limits, the deduction will be the lesser of 20 percent of QBI or the greater of the two amounts produced by running wage and capital tests, as follows:
50 percent of W-2 wages paid on behalf of the business; or
The sum of 25 percent of W-2 wages and 2.5 percent of the unadjusted basis of all QBI property (depreciable business property)
Specified service trade or business. Section 199A defines a "specified service trade or business" as a business involved with providing service in the areas of health, law, accounting, actuarial science, performing arts, consulting, athletics, financial and brokerage services, and any other business where the principal asset is the reputation and skill of one or more owners/employees.
If a pass-through entity is in a specified service business, the deduction is reduced based on a linear formula for taxable incomes between $157,000 and $207,500 for individual filers and between $315,000 and $415,000 for married individuals filing jointly. The formula limits the percentage of QBI that can receive the deduction. If taxable income exceeds $207,500 for an individual and $415,000 for married taxpayers filing jointly, the deduction is disallowed completely. As this exception specifically targets the financial services and brokerage industries, you as financial advisors may need to look at your business entity type, as well as the sources and nature of your taxable income.
Which Clients Will Be Affected?
Now that we've covered what's new, let's move on to identifying which of your clients may be affected by these changes.
First, compile a list of your small business owner clients.
Next, establish the type of pass-through entity tax type for each client (i.e., Schedule C business, partnership, or S corporation).
Finally, determine what your client's taxable income was in 2017 (i.e., the amount found on line 43 of Form 1040). Using the figure from the 2017 tax return will lead only to an estimated example of what the deduction may look like going forward, but it is the best place to begin this analysis.
Based on the income limitations imposed under Section 199A, taxpayers will fall into one of three categories:
Those under the income threshold who will be entitled to a full deduction on QBI
Those in the high-income phaseout range who will receive only a portion of the deduction
Those exceeding the income threshold who will not be entitled to a deduction
Figures 1 through 3 outline what the pass-through deduction might look like using a very simple hypothetical of a married couple who are the owners of a specified service pass-through entity and who file a joint return. In these examples, the QBI of the taxpayers' business varies to illustrate how the deduction will change as their income increases. (Calculations were performed using the Leimberg Pass-Through Deduction Analyzer Tool, a paid software tool.)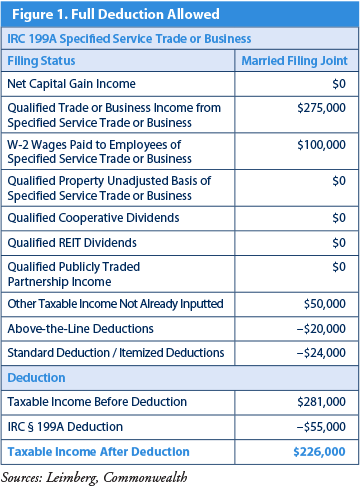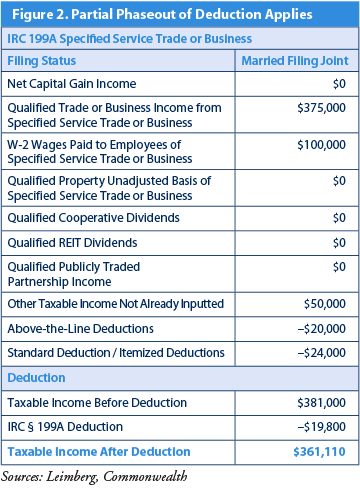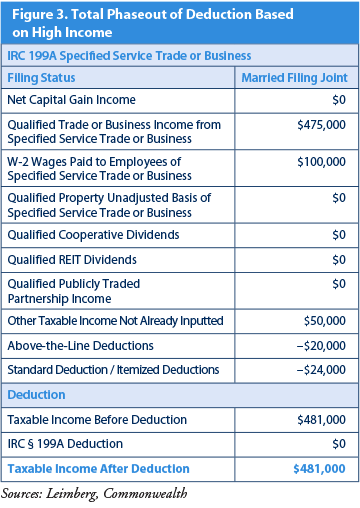 In the examples above, only the QBI was altered. Just consider how many variations there could be when fluctuating QBI and adding other sources of income! Each taxpayer's individual trade or business, as well as the nature and sources of income, will have an impact on the calculation of the IRC Section 199A deduction.
Of course, these are simplified hypotheticals that are meant to quantify a difficult tax calculation. When running these calculations, best practice is to use the appropriate software or otherwise rely on a tax preparer or CPA.
The Planning Opportunities
After determining what (if any) deduction is allowed for your clients, it's time to start thinking about the planning decisions that could maximize the deduction and minimize income tax. The goal for some may be to stay below the income threshold. Others may want to ensure that they don't make enough to be completely phased out. But it's not always advisable (or possible) to make less money, especially for growing businesses or younger owners. So, what are some of the strategies that may be considered?
Restructure the entity form. There are cases where it could be beneficial to restructure the entity form to take the pass-through deduction or to take advantage of the low—and permanent—corporate tax rates. The decision to change the form of entity should not rest solely on the ability or inability to claim the deduction. All relevant factors need to be addressed, including, but not limited to, the following:
The process involved with the actual restructuring of a business
The types of income the business receives
The type of taxable entity
How income is paid to the business owners, as well as the implication of paying or not paying the self-employment tax
You must also carefully consider what kind of tax, if any, would be extraordinarily realized when changing from one form to another. For example, to take the new deduction in a change from a C corporation to a pass-through, you must determine if this act will trigger a taxable event. Or perhaps you have a client in a pass-through who is completely phased out of the deduction and is looking to change to a C corporation to pay the lower rate of 21 percent. In this case, the same consideration must be made, in addition to evaluating the issues of double taxation, retained earnings limits, and so forth.
Another possible entity change is from a Schedule C business to an S corporation. Here, your client may be able to take advantage of a potential tax arbitrage on business income, where the taxpayer has the ability to pay himself or herself a W-2 wage. The simplified example in Figure 4 illustrates this concept.
As you can see, if two businesses (one a Schedule C business and the other an S corporation) are compared side-by-side using the same income assumptions, the S corporation taxpayer has a lower federal income tax payable under Section 199A. But this is only one possible outcome of many that could occur, depending on the client's circumstance. The hypothetical clients reflected in Figure 4 are in a nonservice business and are not subject to a complete phaseout of their deduction on QBI. This represents a sample from one group of the three categories of clients identified earlier.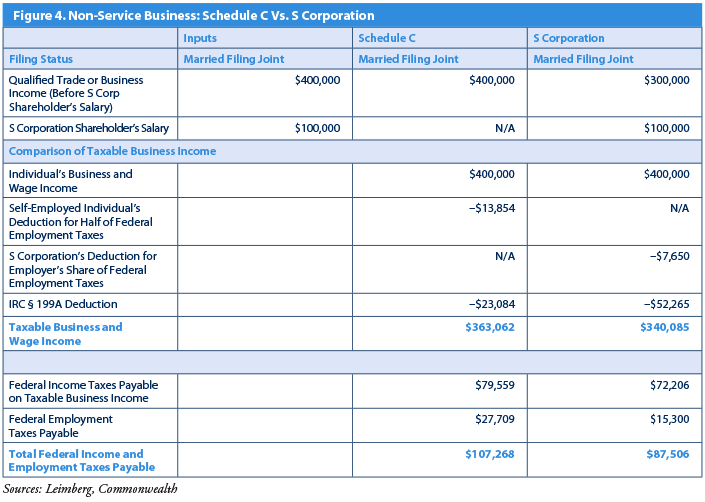 A word of caution here: It is very important to consider that the benefits provided under Section 199A are—for the moment—temporary. One must think carefully about making a long-term decision to restructure if the benefits will be lost in the future. Furthermore, when starting a new business, entity choice may involve more in-depth tax-related analysis given that there may be more tax arbitrage in using one entity (e.g., a C corporation) under the TCJA.
Establishing a qualified plan. If the business does not already have one in place, establishing a qualified plan could be a great way to both reduce income and provide an important employee benefit. Additional tax deductions for contributions to a qualified plan (e.g., a 401(k)), coupled with deferring income until retirement, can reduce taxable income and perhaps provide the opportunity to take a bigger deduction.
The hypothetical example in Figure 5 assumes married taxpayers, filing jointly, who are in the phaseout range due to high-income earnings in a specified service small business.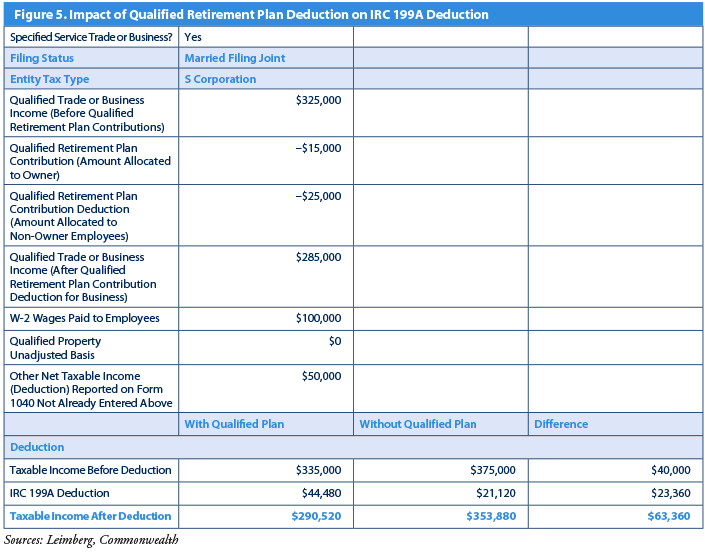 This example shows how much the taxable income can be reduced by making qualified plan contributions. Plus, this couple will not even reach the $18,500 maximum 401(k) contribution limit for 2018 (which is even more if they are older than 50). Businesses with many employees may be able to further reduce income by making deductible employer contributions.
Reducing taxable income from nonbusiness sources. The deduction in Section 199A is considered a below-the-line deduction. This means it will be taken from adjusted gross income (AGI), which will affect taxable income. This is opposed to an above-the-line deduction from gross income that would affect AGI. What does this mean? There may be other ways to reduce income than having the business make less money. Single and married taxpayers can assess where they could delay other sources of income (e.g., capital gains), especially while their small business is generating income.
Another possible strategy to offset income would be to make room for additional deductions. High-income earners, for example, could make substantial charitable contributions in any given year. Family businesses might transfer ownership interest using lifetime gifts in order to shift some of the business income to the lower generations, especially if this is part of the succession plan. This can also be a powerful estate planning opportunity under the TCJA.
What's Next?
Many in the tax and financial services industry believe there will be additional guidance from the Treasury on the application of the rules discussed here. It also remains to be seen how Form 1040 will change to reflect this new deduction. As such, be on the lookout for more information!
Have you seen other planning opportunities emerge with changes to the tax code? How have you identified which of your clients may be affected? Please share your thoughts with us below!
Commonwealth Financial Network® does not provide legal or tax advice. You should consult a legal or tax professional regarding your individual situation.