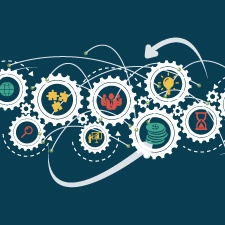 Today's post continues our case study series, showcasing the many creative solutions you can take when helping clients with complex planning issues. Here, we'll explore the possible business opportunities that can result from landing your dream client.
We introduced your new "A" clients, Janice and Ed Thompson, in our previous post. The couple has an estimated net worth of $15 million, and they were referred to you by a mutual acquaintance, the Browns. Let's start by taking a closer look at what you can do when you get a high-value referral to your practice.
The Referral
Show appreciation. The Browns have such a positive impression of you and your practice that they were willing to refer someone to you—an ideal situation! So, how will you thank them? You might send chocolates or a small gift, take them out to dinner with the Thompsons, or contribute to a charity that you know the Browns care about. If you don't have a process for showing your appreciation for referrals, consider establishing one so that it always happens.
Reinforce your value. You'll also want to let the Browns know that you're helping the Thompsons. This acknowledgment doesn't mean breaking confidentiality, but it's a good idea to reinforce both your value and the fact that the Thompsons are a good fit for your practice. Say something simple like, "I want you to know how much I enjoyed meeting Janice and Ed. I do a lot of work with business owners and families like the Thompsons, and my expertise will help solve some problems they've been worried about." The Browns will feel great about giving you the referral, which could lead to additional referrals down the road.
Get the details. Learn all you can about the circumstances that led to the referral. How do the Browns know the Thompsons? Are they members of the same country club, neighbors, graduates of the same school, or colleagues from a previous employer? Be sure to ask how your name came up in conversation. The specifics might help you better understand when and how you became top of mind so that you can repeat the process.
Expand Your Business: Follow-Up Activities
Now, let's turn back to Ed and Janice Thompson, your new $15 million client. What opportunities do you have to expand the relationship exponentially? Here are just a few follow-up activities you may want to consider:
Get to know Ed Thompson's brother, Bill. Ed and Bill are brothers with a great working relationship in their family business, Thompson Electric. Since some of the solutions you're working on affect the business, you've probably met Bill at some point. More than likely, Ed has mentioned your name or the plan you're putting in place in a positive light. What could be more natural than inviting both Ed and Bill to lunch? "I've really enjoyed working with you two! Let me take you both out to lunch, as a thank-you for being so accessible when I've had questions. What's your favorite place to go?" While you're at the lunch, you can mention a few special considerations that could affect Bill—taxes, inheritance, future medical needs—and if Bill seems interested, suggest you sit down another time to discuss them.
Look at Thompson Electric as a whole. Do the brothers have a good 401(k) plan in place for their employees? You can bring it up as a discussion topic and offer to do a complimentary 401(k) review. "Ed, a great 401(k) can help with both attracting and retaining talent. Would you like me to give you a second opinion on how your current plan is working?" Your expertise can help Ed and Bill in a number of ways, from setting up a plan (if needed), to serving as an investment consultant, to sitting down with key employees for financial planning.
Make the most of work connections. As business owners, Ed and Bill belong to the Greater Boston Chamber of Commerce and have access to all the valuable contacts that come with membership. You also learn they have commercial contracts with large companies in the area. All these connections offer a range of growth options, from 401(k)s and business succession to meetings with potential high-net-worth individuals who lead these companies. In addition, since Ed and Bill are union members, they could introduce you to other electricians, as well as opportunities within the union.
Inquire about potential prospects at Janice's company. Janice is an executive at the pharmaceutical company Biomed and is likely on good terms with other Biomed executives who might also need your help. In addition to her salary, Janice receives bonuses and equity, and helping her with the different tax rules and treatments for restricted stock, stock purchases, and incentive stock options might lead to introductions to other executives. Here's a question to get you started: "Do you have colleagues at Biomed who could benefit from better understanding all their stock options and how they impact their taxes?"
Uncover the needs of Janice's family business. Janice and her two sisters are getting ready to sell their family business. Plan on meeting the siblings and offer any assistance you can. If the sisters are hearing great things about you from Janice, you have an opportunity to gain the sisters as clients. In addition to potentially helping them handle the money they receive from the sale, you could get to know their spouses and discover other assets that could be a fit for your practice.
Seek out ways to participate in the Thompsons' community. Janice and Ed live in Boston's Fort Point Channel, a hip area with soaring real estate values plus lots of community activities and organizations. Ask them what they're involved in, and see if any of their organizations has a meeting coming up that needs a speaker. Or you could mention that you've wanted to try one of the nearby restaurants, and ask their advice. "I've been meaning to come down and check out the new restaurants in your area. What do you recommend?" When they start to talk about their favorite restaurants, invite them to join you and offer to host a few of their friends as well.
Don't forget the children. Janice and Ed's grown children—Ryan, Chase, and Katherine—are all potential prospects for you as well. In addition to their current income and net worth, they will one day inherit Ed's business and considerable funds from both parents, so getting to know them now is a smart asset retention plan. Each of the children also has a network of friends and work acquaintances that could be tapped—teachers, entrepreneurs, electricians, and so on.
A Pipeline of Opportunities
When you gain an "A" client, the immediate business at hand can keep you occupied for a while. But pay attention to the chances for future growth throughout the process, and you'll have your pipeline full of opportunities for years to come. I'm hoping that more Janice and Ed Thompsons find their way to you soon!
How do you thank a client for a valuable referral? What other opportunities do you explore when landing a dream client? Please share your thoughts with us below!