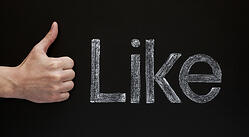 In Part 1 of this post, we focused on defining objectives for getting started with social media for financial advisors. These included creating awareness and/or building your brand and enhancing existing relationships. Then, we walked you through how to set up your LinkedIn profile. Once you're comfortablewith LinkedIn, it's time to add Facebook and Twitter to the mix.
Facebook: Brand and Relationship Building
Facebook has long been considered a site for kids and a place where you can reconnect with childhood friends. While this continues to be true to a large extent, Facebook business pages are becoming increasingly popular. They can provide a way for you to communicate more frequently and build relationships with clients and prospects, potentially saving you both time and money. And who knows? Maybe one of those childhood friends will end up becoming a fan of your business page and, in turn, a new client.
For Facebook, we recommend that you:
Set up a company page. (Please note: If you have a personal Facebook page, be sure to keep it completely separate from your company page.)
"Like" other companies. This will allow you to see how they are using Facebook.
View company Timeline pages for ideas on how to fill out your own. The timeline is great for branding purposes and can help people connect with you on a more emotional level. Take a look at the company pages for Ford, Coca-Cola, and Walmart to see how they're doing it.
Post content to your page. Try to gear some of these posts to encourage more participation; for example, ask questions about movies, music, giving back initiatives, sports, and the like. Because of Facebook's structure, you want to encourage more interaction among your connections than you would on LinkedIn.

Please note: Be sure to acknowledge every comment by posting a reply. In addition, keep in mind your compliance obligations with respect to removing testimonials, forwarding potential complaints to your Compliance or Legal team, and seeking approval from your Advertising department for investment-related posts.

Add a Facebook icon to your website homepage that will encourage site visitors to "Like" your business page on Facebook.
Consider sending an e-mail to clients, prospects, and centers of influence telling them that you are on Facebook.
Twitter: Brand Building and Personal Efficiency
Through Twitter, you can build your personal brand and demonstrate your expertise by tweeting snippets of information that link to articles you find interesting or informative. If you are targeting a slightly younger audience or strategic partners, write blog entries or publish articles, or have regular press coverage, Twitter is a good tool to consider. It can also be an extremely effective method for you to obtain news. We wouldn't recommend Twitter as an effective way for communicating with those nearing or in retirement, though, as those demographics are not primary users of the site.
To get started, we recommend the following:
Set up a Twitter account.
Search for people of interest and begin to follow them. This will allow you to log on to Twitter every day, throughout the day if you wish, to see what these people are saying. In other words, you will have a completely customized, real-time news feed. Talk about efficient!
If you see something you like, go ahead . . . retweet it with a click of the mouse. Now you're on your way to using Twitter, too!
Start writing tweets of your own. Link to articles you find interesting or those you have authored or posted on your website. You can also link to press coverage. Include your own thoughts or opinions in your tweets.
Add your Twitter handle to your website homepage and/or bio page.
Power users should consider sending an e-mail to clients, prospects, and centers of influence to let them know of your Twitter feed.
Tick Tock . . .
Wondering about the time commitment? By following the steps outlined here, you'll discover just how much time you want or need to allocate to social media efforts. Setting up your profiles and connecting with and following others is fairly simple, but when you do start posting updates or tweeting, you will need to dedicate a certain amount of time each week to planning what you want to say and when you want to say it.
How do you manage social media in your office? Tell us about your best practices in the comments section below.