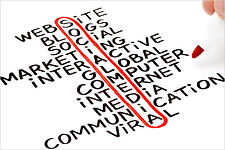 As a financial advisor and small business owner, you are probably interested in getting started with social media (if you don't use it already). But you might not know where to start or what exactly you need to do, and, for sure, you probably think you don't have enough time for it. You're not the only business owner who feels that way. The good news is that, when it comes to social media for financial advisors, there are some very simple steps to get up and running so that it doesn't feel overwhelming.
Decide on Your Objectives
As with any marketing effort you undertake, it's important to think through and define your objectives. Social media can be effective in helping you target any and all of the following:
Create awareness and/or build your brand
Enhance existing relationships
Find new prospects
Gain efficiencies in the way you receive and deliver news
By defining what you hope to accomplish via social media, you can then determine the best strategy to implement. Although a coordinated plan across a few different social media sites is arguably the most effective approach, we recommend getting started with social media one site at a time. This will help you build your comfort level with each site so that when you are ready to increase your participation, you'll know just what to do.
LinkedIn: Networking, Prospecting, and Professional Forum
LinkedIn is the best social media site for financial advisors to get started with. That's because LinkedIn is recognized as a professional site and is used primarily for business purposes such as networking and prospecting. LinkedIn users are, on average, slightly older, more educated, and more affluent than users of some of the other social media sites.
To get started with LinkedIn:
Set up an individual profile.
Join a couple of groups, which are essentially online forums. Select Groups from the dropdown menu next to the Search box and type in some keywords. For example, entering "Independent Financial Advisors" will bring up a list of existing groups for independent advisors to exchange questions and ideas. You can participate in these groups or simply monitor the discussions that are taking place—and hopefully pick up a few tips.
Spend some time watching how your connections use LinkedIn and monitoring the groups you've joined. When you feel comfortable:
Review the People You May Know suggestions on your LinkedIn homepage to see if there are any additional people with whom you might want to connect.
Monitor your LinkedIn Updates to see who is connecting with whom. Perhaps a client of yours connected with someone you'd like to contact. Ask your client for an introduction.
Monitor the Groups You May Like recommendations in the right column of your LinkedIn homepage to see if there are other groups you might want to join.
Consider setting up a LinkedIn group for some of your clients and prospects. For instance, maybe you have a group of executives who have unique financial questions or benefits issues. Set up a group and ask them to invite some of their peers to join.
Begin posting updates to your individual and/or company LinkedIn profile. Be sure to include a link back to your firm's website.
Add LinkedIn icons to your website homepage and your bio page to encourage site visitors to connect with you or follow your company on LinkedIn.
E-mail clients and prospects, as well as centers of influence, asking them to connect with you. Be sure to tell them how they will benefit from this connection. For instance, you might say, "I will be posting a weekly a market recap in addition to other articles you might find interesting throughout the week."
Accept invitations from others to connect. Unless you feel strongly that you do not want to connect with another person, we typically recommend accepting all invitations. Remember, networking is all about who you know—and who they know!
It really is that simple. Be sure to stay tuned for part 2 of this post, where we'll discuss how to get up and running with Facebook and Twitter.
Do you use LinkedIn? Tell us what features you've taken advantage of to build your network.